Police are investigating after a haul of gardening equipment was stolen from Bolton Abbey.
Thieves forced the padlock off the doors of a lock-up on the estate, at around 3pm on Tuesday 10 May 2011, taking five strimmers, four lawnmowers and four leaf blowers.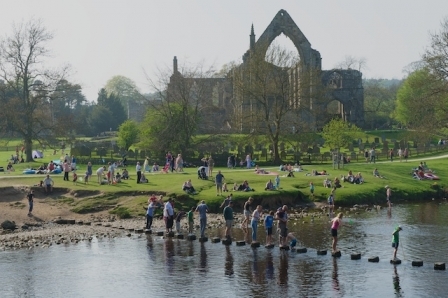 The suspects loaded the equipment onto a flatbed transit van, with a registration plate beginning with YJ53, and made off in the direction of the A59.
As the suspects loaded up the van they parked by the archway at Bolton Abbey and officers believe that a vehicle of that size would have been blocking the road.
Police are appealing to anyone who was in the area at the time and recalls seeing the vehicle or its occupants to come forward with information.
It is believed that two men were responsible for the theft. The first man has been described as white 5ft 8in tall, with a chubby face, a green hat and a high-visibility jacket
The second man was slightly taller, with black hair, long sideburns and was also wearing a hat and a high-visibility jacket.
PC Andrew Middlemiss, of Skipton Safer Neighbourhood Team, said: "I am appealing for anyone who was in the Bolton Abbey area at the time of the theft to contact the police if they noticed anything unusual.
"The van the suspects used will have caused a disruption on the road at the archway and if anyone saw that vehicle I would like to hear from them.
"I would also be keen to hear from anyone who has been offered any petrol gardening equipment for sale recently."
Anyone who can help the police with their enquiries is urged to contact PC Andrew Middlemiss, of Skipton Safer Neighbourhood Team, on 0845 60 60 24 7, quoting reference number 12110076032.
Alternatively, Crimestoppers can be contacted anonymously on 0800 555 111.