Alberts Bar & Grill in Harrogate was given an unusual challenge to come up with a new cocktail entitled the "Boiling Frog" at a competition held last week.
The Parliament Street venue is currently involved in Boiling Frog, a new stage musical written by local man Keith Humphrey, which premières at Harrogate Theatre on 14-16th July 2011. Set in Harrogate, Boiling Frog is about a family man, Lewis Angel, and part of the storyline is set in a local bar.
"We thought it would be a good idea to base the set on a place that the audience would have been to and could relate to, – Alberts seemed perfect," said director/producer Phill Ruddy.
The in- house Boiling Frog Cocktail Competition was held between the staff at Alberts and its associated restaurants; the Cattlemens Association, Salsa Posada and the Damn Yankee, and judged by members of the Boiling Frog cast and team.
The winning cocktail was invented by Ed Hardcastle, Assistant Manager at Alberts, whose cocktail hit all the right notes with its combination of presentation and taste. The full ingredients of the cocktail are to be kept secret, however the judges agreed that the use of colour and splash of champagne made the drink memorable and a great reflection of its title.
Alberts hosts the launch of the musical later this month and instead of a conventional welcome drink, will offer guests a Boiling Frog cocktail. The cocktail will also be available for purchase by Alberts' customers throughout May.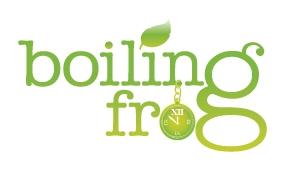 "We are delighted to be so actively involved in this new production and flattered that Humruddy Productions chose our contemporary Alberts interior as the design for the bar scenes. As firm supporters of local arts, it's exciting to be part of a piece of musical theatre history!" commented Nicola Triffit, Company Director.
For more details regarding the launch later this month, contact hannah.r@humruddyproductions.co.uk
Tickets for Boiling Frog are now available from Harrogate Theatre Box Office on 01423 502116.