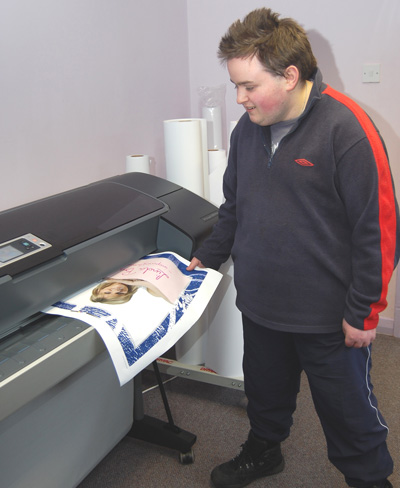 Henshaws Means Business has designs on success through social enterprise – its new print service has been commissioned to produce a series of canvasses featuring interiors celebrity Linda Barker.
Henshaws provides a range of educational, residential, day-care and community services support for visually impaired and disabled people of all ages. A team of students from Henshaws College is running the state of the art print service as part of the award-winning charity's social enterprise programme, Handmade at Henshaws.
As part of this scheme 120 visually-impaired and disabled art makers produce items including artwork and handmade cards and paper to sell in the Henshaws Arts & Crafts Centre shop, as well as to local businesses. Work experience is central to the curriculum at the college, where training is provided in a real work environment and students are also able to work at local businesses including cafes, offices and print works.
This latest milestone will allow Henshaws to expand its range of products to include canvasses and prints, large banners, corporate stationery and even conference lanyards. The printer's introduction also compliments Henshaws Means Business' other services which help employers to meet their corporate social responsibility targets.
Henshaws Means Business provides visual impairment awareness training, disability etiquette training and advice, along with corporate volunteering opportunities. Other aspects include the conversion of company literature, including menus, signs and employment contracts, into Braille – as well as art commissions.
Backed by educational advisory service TechDis, the print service will be officially launched at the next Henshaws Means Business breakfast on 25 March. Kevin Hollinrake, managing director of Hunters the estate agents – who ordered the Linda Barker canvasses – is the guest speaker at the event.
Said Henshaws Yorkshire CEO Caroline Smale: "Six of our students are running the state-of-the-art print offering as a social enterprise venture, which underpins our ethos of providing students with vocational opportunities and practical experience in a real work environment.
"The service also represents a key and exciting expansion to our Henshaws Means Business menu of services. It's the perfect cross-over: a growing number of local organisations who are committed to a culture of 'putting something back' into their local communities are enjoying being involved in our vibrant social enterprise programme."