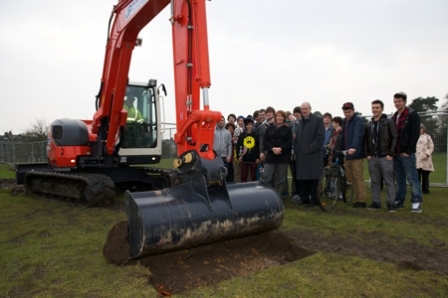 Harrogate Borough Council invited local skatepark enthusiasts to celebrate the 'turning of the turf' for the start of works on the site of the skate and BMX park planned for the Valley Gardens in Harrogate.
Skaters, Josh Hallett and Stuart Aitken, and bmxers Dave Logan and Flea Brewis are among many local people who have worked tirelessly alongside the council to get to a position where a site could be found, approvals granted and the skatepark build started.
Following planning approval in January, the council appointed Gravity Engineering from Romsey who are leading skatepark contractors and they will start on site on Monday 21 February 2011.
Depending on weather conditions, it is hoped that that the facility will open in early May.
The skatepark, which will be open to all non-motorised vehicles such as scooters as well as skaters and bmxers, will be located near to the play area to the rear of the tennis courts in the Valley Gardens.
Councillor Anthony Alton, Cabinet Member for Cultural Services, has welcomed the start of works on site adding that it is appropriate to invite future users to be the ones to turn the turf. "They have all shown integrity as well as true grit in not letting up on their desire to see a skate park in Harrogate.
This council has had its own ups and downs in trying to find a solution regarding the site. There are many advantages to the Valley Gardens including the fact that we will be able to include CCTV coverage so that fears of any vandalism or misuse can be properly managed.
"We have had meetings with residents, enthusiastic future users and other groups and organisations and I am sure that everyone is well aware that this park has to be properly run and used so that these young people can enjoy the fun and thrills that the park will bring them."
Whilst the skatepark is being built, the council is also carrying out work to improve the ground conditions in the play area.
The play area's popularity has meant that the grass has struggled to grow on compacted ground and this has resulted in a muddy site.
Work will involve laying new turf and re-laying the protective matting, this will be followed by the installation of a land drain to prevent the flow of surface water.
Work will start after the half-term holidays as the play area will have to be closed for three to four weeks.