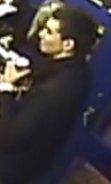 Police hunting three fare dodgers are appealing for the public to help identify them.
Officers have released CCTV stills of the three men who took a taxi from Harrogate to Ripon before running off without making payment.
In the early hours of Thursday 30 December 2010, the three suspects took a cab from the Mainline taxi office on Kings Road, Harrogate and asked the driver to take them to Ripon.
When the taxi arrived in Ripon's Market Place, the offenders requested that the driver called at a cash point, so they could get some money to pay the £20 fare. As the cab stopped, the men jumped out and ran off in the direction of Hillshaw Park Way.
The driver pursued the men but soon lost them and police are now appealing for the public to help the investigation.
PC Andrew Tiffany, of Ripon police, said: "I am appealing for anyone who recognises the suspects from the images we have released, to get in touch with the police or Crimestoppers and let us know who they are.
"It was an annoying and inconvenient incident for the taxi driver and I would like the public to help bring the offenders to justice."
Anyone who can help the police with their enquiries is urged to contact PC Andrew Tiffany, of Ripon police, on 0845 60 60 24 7, quoting reference number 12110001055.
Alternatively, Crimestoppers can be contacted anonymously on 0800 555 111.