Starbeck Level Crossing between Harrogate and Knaresborough was today (Tuesday 8 February 2011) the focus of British Transport Police's (BTP) attention during a second day of action targeting the crossing.
Following a successful operation on 9 November 2010 officers from British Transport Police, North Yorkshire Police and staff from Network Rail were  busy at the level crossing throughout the day aiming to make motorists and pedestrians more aware of level crossings and to educate them to use crossings correctly.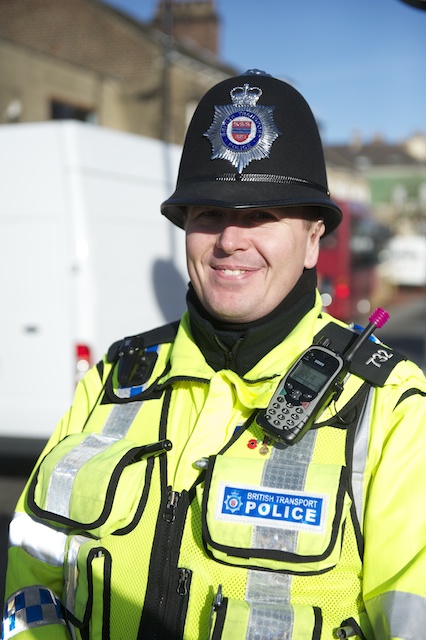 Police Constable Craig Virco of BTP, said:
"We undertook a similar operation last November, which resulted in four drivers being summoned to court for failing to conform to traffic signals"
"We also spoke to a number of drivers in relation to other road traffic offences such as not wearing a seatbelt, vehicle condition and waiting on the yellow hatched box areas of the crossing"
"Despite our warnings and enforcement action, motorists continue to risk their lives and the lives of others at the crossing. In the past 12 months we have recorded 45 offences at this crossing, with a spike in offences in the darker and wetter months"
"Incredibly some people are still willing to put their lives on the line by ignoring warning lights and sirens and trying to dash through crossings when trains are approaching"
"Even more dangerously, doing so in the dark and rain when visibility is impaired," he added.
PC Virco continued, "Education is key to everything we do around level crossings. By informing people of the potential dangers of misusing crossings – and how to use them safely we aim to reduce incidents at these sites"
"We are working closely with Network Rail in the area to improve knowledge and, where necessary, to take action against those who continue to misuse crossings"
"Those who flout the law and ignore the crossing signs can expect action to be taken against them which could be in the form of a fine or points on their driving licence and end up in court."
Around 70 passenger trains travel through Starbeck Level Crossing every day, with approximately 5,000 vehicles and more than 1250 pedestrians and cyclists using it.
Vicki Smith, Community Safety Manager for Network Rail, added: "It is disturbing that people continue to misuse this crossing.
We understand that waiting can be frustrating, but warnings including lights and barriers at level crossings are there to protect the public from an incredibly busy rail network.
Recklessly ignoring them as a train approaches seriously puts your life and potentially others at risk. We urge people to obey the warnings and not risk their lives or cause costly delays to the network."
Further images on our Facebook page