Young people in North Yorkshire will benefit from a share of the £1 million donated by the public to the gift fund set up by Prince William and the Duchess of Cambridge to celebrate their wedding.
Keyfund, a North East charity run in North Yorkshire by the county council's 4Youth service, is one of 26 charities nationally personally chosen by the Royal couple for a wedding gift fund. The couple had asked that anyone who might wish to give them a wedding gift to consider instead giving to a chosen charitable fund.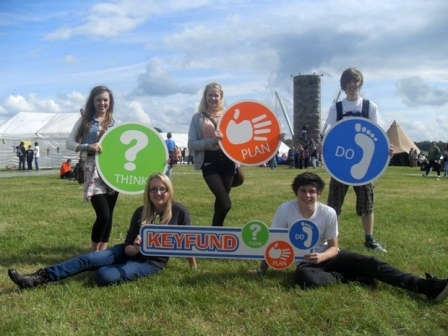 In the last year alone Keyfund in North Yorkshire has supported around 1,000 young people. It is an award-winning charity for the North East, set up 19 years ago with a mission to provide young people with opportunities to develop the skills, confidence and self awareness needed to reach their potential in life.
Keyfund grants in North Yorkshire are administered through the 4Youth service and offer funding from £250 to £2,000 to young people with initiatives beneficial to their communities. These vary from art projects, outdoor education, team building to organising music gigs.
For example, a group of young men in Richmond received £2,000 from the Keyfund to set up Castle Calling, a summer music festival for young people and which supports other young people's gigs in the area.
Young people have to make presentations to a Keyfund panel, made up of young people, Keyfund facilitators and local business and community leaders, in order to show how their projects will be beneficial in developing the skills of other young people in their local area.
Arthur Barker, North Yorkshire's executive member for the youth service said: "We are delighted that a charity which has achieved so much for young people in this county, has been chosen to benefit from the wedding gift fund of the Duke and Duchess of Cambridge."
Hannah Eyres, Keyfund's chief executive said: "We're all so excited about this and what we can achieve with this new found support and the impact we can have on the lives of young people in the North East and beyond."
For more information about Keyfund visit www.keyfund.org.uk or contact James Parkes, Keyfund Coordinator on 01609 533932 or email james.parkes@northyorks.gov.uk