Members of the Harrogate Green Party delivered messages to Harrogate Borough Council asking the planning committee to refuse the Danone Harrogate Spring Water expansion – Friday, 22 January 2021
A decision is set to be made next week, with a number of groups urging the committee not to let an international food business destroy community woodland to expand a polluting water bottling plant.
SOS: Save Our Spaces
Clear messages delivered to Harrogate Borough Council today from the Green Party and Extinction Rebellion Harrogate
Delivery of local residents' messages asking the planning committee to refuse the Harrogate Spring Water/ Danone larger extension into 4 acres of community woodland
Local groups hope that the delivery of the local messages in bottles emphasises the need for those on the planning committee to question who and what they are representing when they make the long-awaited decision next Tuesday 26th.
Harlow Greens Campaigner Rebecca Maunder says:

We've had a lot of shocked and appalled responses from local people who were firstly unaware of the plans to destroy a community woodland, and secondly that the Council can even consider being complicit in this.
Rebecca added:

We are acutely aware of the climate and ecological crises and people are realising what really matters is our health and wellbeing which is intrinsically connected to the health of the ecosystem and the nature that surrounds us. We can work together for positive change, and we need those in positions of power to engage and collaborate with the wider community for long-term solutions.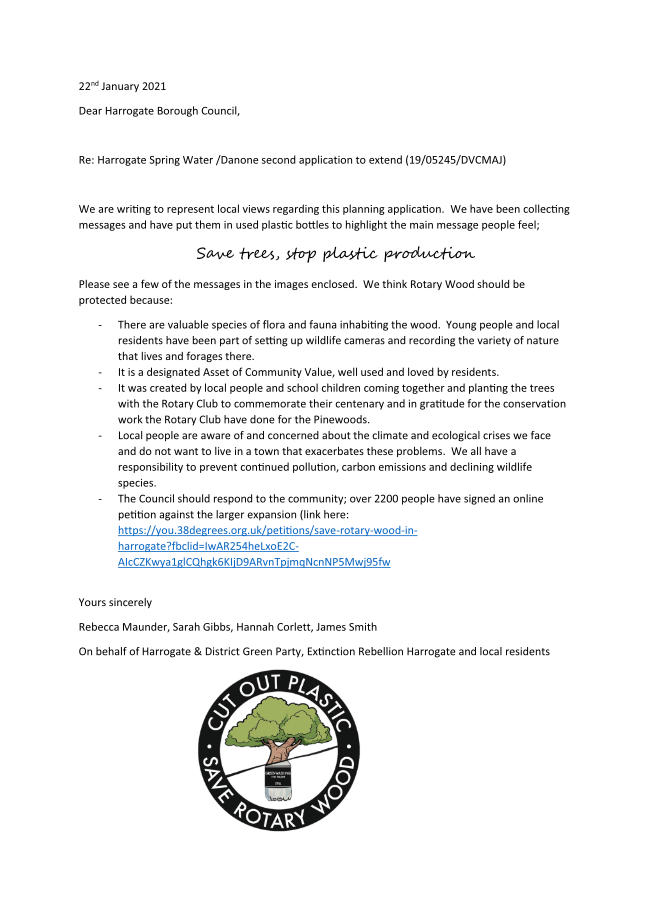 Sarah Gibbs, who has been demonstrating outside the Council Offices on Fridays says:

The economic benefits do not outweigh the negative impacts. Rotary Wood is the people's wood: a community asset. It is 4-acres of our local children's hopes and dreams of a healthier future. It is health and well-being; carbon sequestration; a linking corridor and a thriving habitat to many species of flora and fauna. It is a piece of a jigsaw puzzle that is the bigger picture: deforestation, plastic pollution, water extraction, and carbon emissions on a global scale. And of a system that is failing us.
Sarah added:

The decision that our council makes on Tuesday will communicate to us where their priorities lie: to represent the people of Harrogate District or the interests of a global corporation: the world's fourth worst offender for plastic pollution.

We need refill not landfill. We need more habitats. We need to cut out plastic and save Rotary Wood.
Local groups have united over this controversial decision as they make their final plea to the Council to reject the 40% larger expansion. The Council approved a smaller factory size in 2017 and the groups argue that this is a compromise that could be taken as long as the compensation plans can be fully agreed to replace the loss of valuable amenity and wildlife space.