Bingo has a long history in Britain, stretching right back to the 1960s when it was brought to our shores from America. But while the modern game that everyone knows may be a fairly recent invention, the game can trace its roots back to sixteenth century Italy, where an early version was played in marketplaces and taverns. As the game grew in popularity, the question of venues was raised again, and the first Bingo Halls came into being. Large, purpose-built venues filled with tables where dozens of people could meet together and all take part in the fun of the bingo games.
But it wasn't just the games themselves that drew customers to the bingo halls, it was the atmosphere. They were great places to meet friends, somewhere safe for young people to gather together away from their parents. When your game had finished you could still hang out, enjoying a drink and a chat, until you bought a card for another one. In the pre-internet era, it's easy to see why bingo halls became so popular.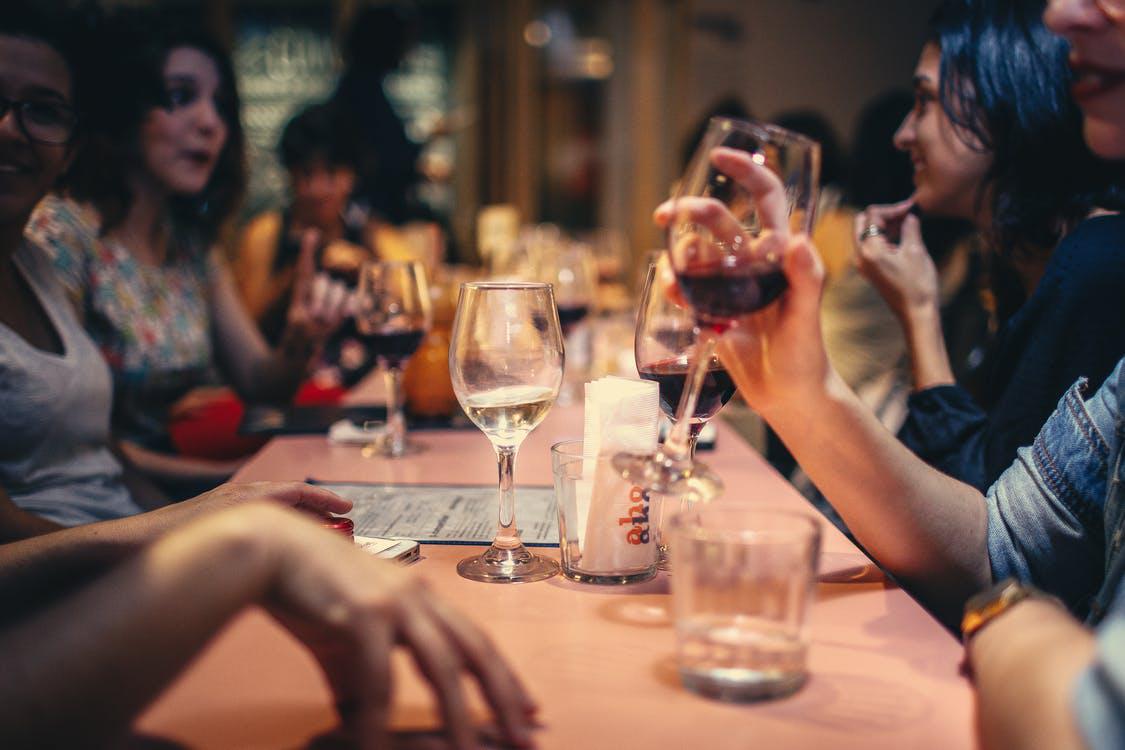 Many people visited Bingo Halls for the social experience, meeting friends and catching up over a game of Bingo and a drink.
Soon there was a bingo hall in nearly every town. Further rapid expansion took off in the 1980s and 90s, with large companies owning multiple venues and having the revenue behind them to offer bigger jackpots and special events. This era also saw bingo halls moving away from the town centres and into satellite industrial estates, with the halls getting bigger and introducing a schedule of events to take players right through the evening.
But then the bingo bubble popped. From 2005, the use of bingo halls began to register a steady decline. It wasn't the game itself – bingo is still one of the most popular forms of entertainment in the UK – but the appearance of the internet brought bingo bang up to date with a new online version that people could play from home. Online bingo brought with it the flexibility to play whenever and wherever you wanted to. Websites offered a huge range of bingo playing options, with different themed games, rolling jackpots and the option to play multiple games at once. They didn't forget the social aspect either, with bingo chat rooms where you could meet your friends and talk while the numbers were drawn.
Nowadays online bingo is more popular than ever. Playable in a browser or through one of the many downloadable apps, it offers far more variety and flexibility than the traditional game ever did or could. With games starting every minute, play is always available, and you won't have to wait long for your favourite variant to come around. There are low-cost bingo cards with small jackpots, higher-cost cards with multi-room jackpots, and everything in between. Whether you've never played before or bingo is your one true love, it couldn't be easier to give the online game a go.
Unfortunately, online bingo has meant the steady decline of the tradition brick and mortar bingo hall, with the number of clubs still in operation now halved from 2005. Many of those clubs which had to close their doors were the smaller, historic, town centre clubs, like the Lucky Numbers on Skipton Road in Harrogate. Formerly the Palace Theatre, then the Ritz Cinema, Lucky Numbers opened in 1962 and kept many hints about its history intact, including the stage. For over half a century, the Lucky Numbers remained a popular destination for residents looking for a good time, before the rise of online bingo called patrons away and it locked its doors for the final time in 2013. The building has since been demolished and turned into luxury apartments.
For those Harrogate fans of the traditional bingo experience, it's bad news: there are no plans to open another bingo hall in the town. The nearest venues are in and around Leeds, meaning a road trip is necessary if you want to indulge. But what could be more fun than bundling all your friends in the car and heading out on Saturday night? With four venues to choose from, you're sure to find somewhere to settle, and the drinks, games and conversation can flow into the early hours. There are even companies like Bongo's Bingo who set up one-off bingo events aimed at a younger audience. These bingo 'raves' turn the game into a giant party, with spot prizes, music and drinks galore, and are hugely popular with the new generation of bingo fans.
But for those unwilling or unable to make the journey, online bingo offers a very reasonable alternative. Almost everyone has the technology in their homes to support online play – whether that is a computer, tablet or smartphone – and setting up an account is very simple: often all you need is an email address. There are also many online bingo sites which offer sign-up incentives, like free plays and deposit bonuses, which you won't get from bingo halls.
It might seem strange that, in an age where bingo remains popular, its much-loved venues are disappearing. But, as with so many other things, it seems that the future of bingo lies online. Unrestrained by laws around building capacity or operating hours, these sites can offer around the clock service which benefits all players, leaving them free to concentrate on developing new games and running new events. Bingo fans who haven't tried the game online yet will find it well worth their while to give it a go.