A number of paintings from Brian Shields, who was better known as Braaq are exhibiting at the Northern Antiques Fair an artist often compared to Lowry.
He was one of 12 siblings and was discouraged by his father to become an artist.  After leaving school, in 1968, he moved to Harrogate to become a trainee chef in a Harrogate hotel.
He continued to paint, but was refused an exhibition in Harrogate – that only happened following wider success.
Brian wanted to brighten the hotel he worked in and painted a mural signing it Braaq, keeping his identity a mystery.
This mural caused a great deal of interest in the area and a local journalist identified Brian Shields as the painter, a pivotal moment in his career.
From this point he never looked back, holding his first exhibition in 1974. In 1977 he was invited to hold his first of four exhibitions in London's West End. It was after this exhibition that 'The Times' described him as "one of the six most successful artists in England".
The name a Braaq is a misspelling of French artist Braque which, a nickname given to him at school.
Glenn Rowles of Rowles Fine Art of Ludlow is exhibiting, said:

His style is very similar to Lowry, but with more movement and colour.

Brian included his sister Ann's name along with his own signature on his paintings, dedicating all his work to the sister who died aged 21.

These paintings have become increasingly collectable over the years.
All Brian's paintings are based, in a humorous way, on his childhood memories of Liverpool. He frequently painted himself as a boy wearing a striped jumper.
In 1997 at the age of 46 Brian died, leaving a contribution to the art world which ranks him among the leading artists in the country.
The Fair is running between the 3 to 6 October at the Harrogate Convention Centre. There are many items of local interest.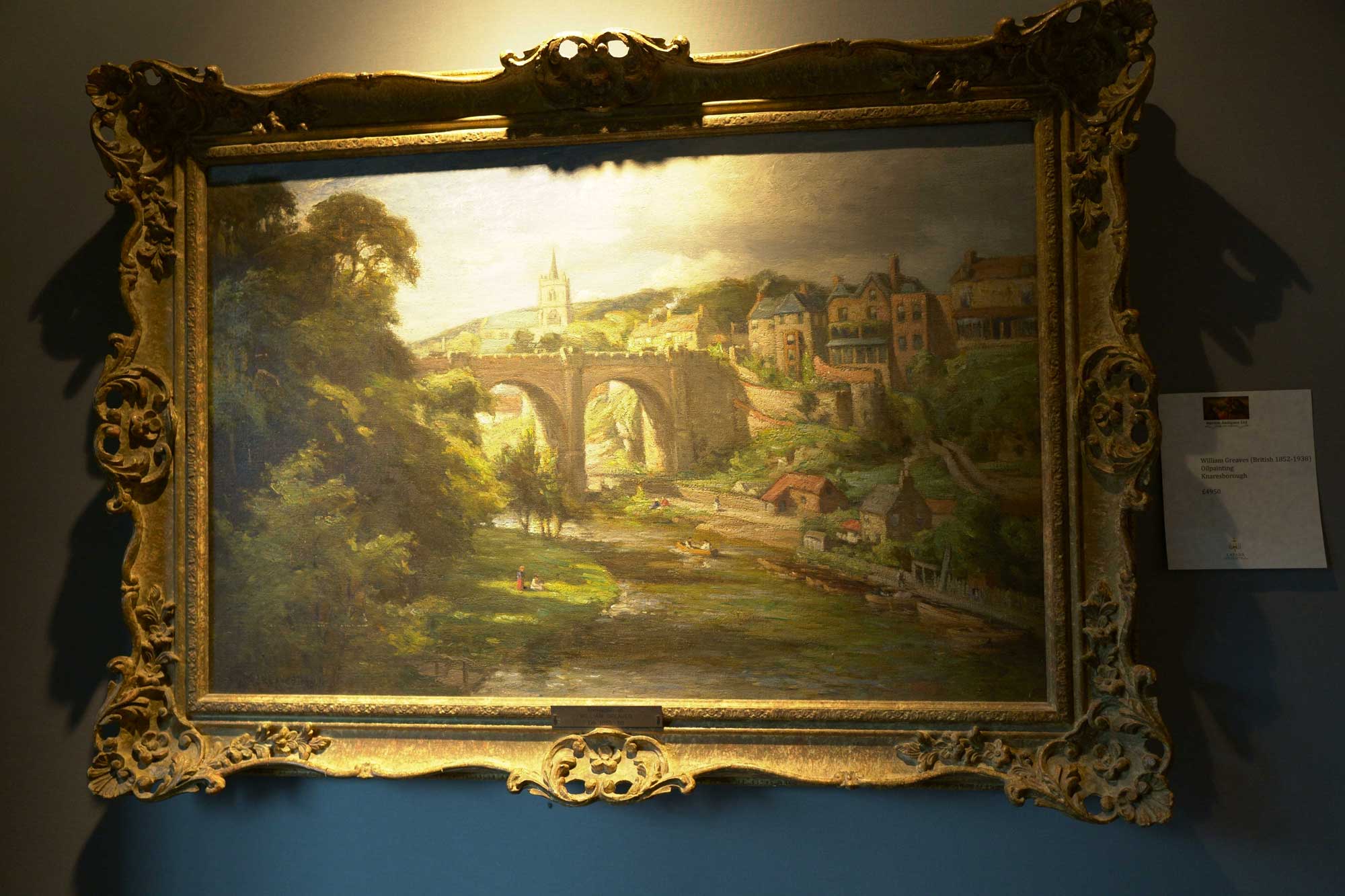 Helen Sutcliffe of Sutciffe Galleries in Harrogate, said:

The fair has been well attended so far and it's one of the most prestigious antiques fairs in the country.

For us it is an important showcase as we have recently combined our contemporary and fine art into one Harrogate gallery.
List of exhibitors 2019
| | |
| --- | --- |
| S & J Abbott Ceramics Plus | Fine quality 18th to 20th century ceramics, prints and small collectibles |
| The Antique Enamel Company | English and Continental enamels, Viennese enamels, gold and enamel snuff boxes, rare perfume bottles and automation boxes from the 1700s to the 1920s |
| Ashleigh House Fine Art | Fine 18th to 20th century oil paintings |
| Berlin Walls Gallery | Works on paper by mid 20th century Berlin artists |
| | |
| Bryan Bowden Antiques | British pottery and porcelain, specialising in northern ceramics (pre 1850) |
| Bridgefields | Furniture, fine art and antiques transport and storage |
| John A W Briggs | Fine quality Persian rugs |
| Mark Buckley Antiques | Fine Victorian and Edwardian furniture and works of art |
| Burton Antiques | Important sculpture, Old Masters to modern art, fine English and European furniture, silver and works of art |
| Roger de Ville Antiques | Specialising in 18th and 19th century English pottery |
| Dementia Forward | A local for local charity supporting people affected by dementia |
| J Dickinson Maps & Prints | Fine quality antique maps, views and prints |
| Ellis Fine Art | Late 18th to early 20th century oil paintings and country furniture |
| Garret & Hurst Sculpture | Bronzes and sculpture by the Master sculptors of the 19th century. Featuring contemporary works by Margot Homan and Robert Glen |
| Granta Fine Art | Modern British paintings |
| Greenstein Antiques | Fine diamond jewellery |
| Harrogate Tipple | The home of Premium Harrogate Gin and Premium Harrogate Rum |
| Haynes Fine Art | Dealers in quality 16th to 20th century paintings in London and the Cotswolds |
| Hickmet Fine Arts | Fine Art Nouveau and Art Deco sculpture and glass |
| Hispanic Antiques | Fine quality Spanish antiques and decorative works of art |
| Howards Jewellers | Fine quality antique jewellery |
| Howell 1870 | Victorian and early 20th century jewellery and vintage watches |
| Stephen Kalms Antiques | Fine English and Continental silver |
| Valerie Main Ltd | Fine quality Worcester porcelain |
| Markov | Fine jewellery, decorative and applied arts |
| Marris Antiques | Fine quality 18th & 19th century English and Irish glass |
| Melody Antiques | Purveyors of seriously good antiques |
| Millington Adams | Fine quality period furniture, clocks and paintings |
| NFU Mutual Vale of York | Insurance and financial products |
| Olde Time | Fine antique clocks and barometers |
| Opus Antiques | Antique treen and decorative wooden items |
| T. L. Phelps Fine Furniture Restoration | Specialist restoration and conservation services in the North of England |
| Elaine Phillips Antiques | Antique oak furniture and associated decorative items |
| Ptarmigan Antiques | Period furniture, paintings and works of art |
| Rountree Tryon Galleries | Specialising in sporting, maritime and wild life paintings |
| Rowles Fine Art | Fine 19th, 20th and 21st century British and European paintings |
| Graham Ruddock Antique Ceramics | Specialists in pre 1850 British porcelains |
| Shapiro & Co | Interesting and unusual jewellery, silver and objets d'art, including Arts & Crafts |
| Jack Shaw & Co | Fine quality silver, specialising in canteens of silver cutlery |
| Solo Antiques | 20th century designer glass and Art Nouveau & Art Deco sculpture and works of art |
| Something Different | Small pieces of period furniture, portraits and works of art |
| Sutcliffe Galleries | Dealers in fine paintings from the 18th century to the present day |
| Sutcliffe Contemporary | Fine contemporary paintings |