Harrogate's online local parenting community, Harrogate Mumbler raised their glasses at the sixth annual Mumbler Awards in association with Bristol Street Motors. The event was held on Friday 23rd November at the Old Swan Hotel. This year the awards were themed "Mumbler at the Races"
Once again, the Mumbler Awards were a sell-out success and over 300 guests enjoyed a 3 course black-tie dinner, decorated race day hats and placed bets on the Mumbler Nurseries Derby race.
All money collected from the race and from a raffle went to local charity Just B Bereavement (part of Saint Michaels Hospice) with over £1300 raised in total.
The Mumbler Awards are a celebration of the very best parenting related businesses and individuals from our district and are co-organised by two local mums, Sally Haslewood of Harrogate Mumbler and Liz Theakston of Liz Theakston Events.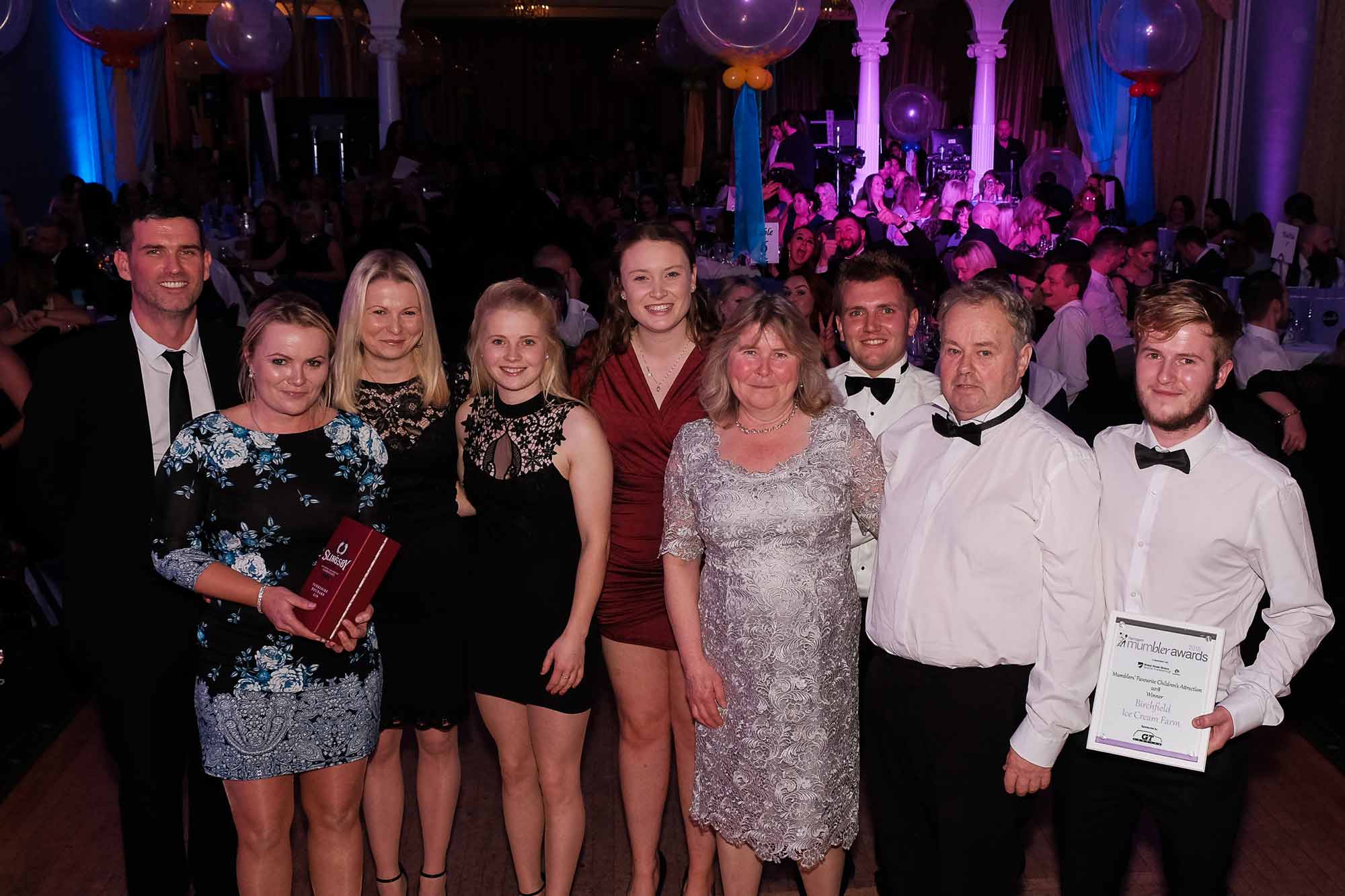 Over 10,000 public votes had been cast and the 12 category winners on the evening were:
Mumblers' Favourite Children's Retailer, sponsored by Heal Medical & Wellness Spa:
Winner: Stomp, Knaresborough
Highly Commended: Hopscotch
Mumblers' Favourite Day Nursery, sponsored by Watson Training Services:
Winner: Twinkles Knaresborough
Highly Commended: Woodlands Day Nursery
Mumblers' Favourite Pre-School, sponsored by Raworths Family Law:
Winner: Woodlands Day Nursery Pre-School
Highly Commended: Little Crickets
Mumblers' Favourite Class or Activity, sponsored by Queen Ethelburgas Collegiate:
Winner: Hartbeeps
Highly Commended: Water Babies
Mumblers' Favourite Children's Attraction, sponsored by GT Service:
Winner: Birchfield Ice cream Farm
Highly Commended: The Valley Gardens
Eating out with the Kids, sponsored by Goose
Winner: Billy Bob's Ice Cream Parlour
Highly Commended: Mrs Smith's Café
Mumblers' Favourite Party Provider, sponsored by Stewart Amos, Mortgage Advisor, Barlow Barton:
Winner: Painting Pots Knaresborough
Highly Commended:  Winkies Soft Play Harrogate
Childminder/Nanny of the Year, sponsored by Andrew Hill Estate Agents
Winner: Sue Harrison
Highly Commended: Caroline Winter
Teacher/Child Practitioner of the Year, sponsored by Elavon:
Winner: Craig Radcliffe, St Peter's School Fun Club
Highly Commended: Kirsty Eastwood, Water Babies
Mumpreuneur of the Year, sponsored by BCT Accountants:
Winner: Laura Dudley (Painting Pots)
Highly Commended: Emma Spalding (Emergy Fitness & Wellbeing)
Newcomer of the Year, sponsored by Holberry Signs
Winner: Vicky Little, Fiit Like A Girl
Highly Commended: World of Their Own
Mumbler Community Award 2018: sponsored by Bristol Street Motors Vauxhall Knaresborough
Mike Collier (Scotton Scorchers Football Club)
Among the winners were Knaresborough's shoe shop, Stomp, who pulled it out the bag yet again for the fifth year running winning Mumblers' Favourite Children's Retailer.
Among the winners there were plenty of "new faces" this year as Birchfield Farm won the "Mumblers Favourite Childrens Attraction" category and local community hero, Mike Collier of Scotton Scorchers Football Club won a new category "Mumbler Community Award"
The night was a huge success for everyone involved. Sponsors and guests alike partied well into the night after the awards ceremony had finished.
Harrogate Mumbler founder Sally Haslewood described the evening:

The room was filled with such an amazing, positive atmosphere. It is wonderful to see so many well deserving winners and every year all of our Mumblers are so enthusiastic about the awards. It just gets bigger and better every year!

I want to thank everyone who supports us each year because Mumbler wouldn't exist without the immense support we get from the community.