An electrical project engineer apprentice that has been learning his trade at leading power consultants and energy management company N-ERGY, based in Wetherby, has been awarded 'Apprentice of the Year'.
William Colyer won the Level 3 Apprentice of the Year accolade on Tuesday 6 March at the annual Wakefield College Apprenticeship Awards Ceremony. The awards tie in with National Apprenticeships Week and were held at the National Coal Mining Museum for England (NCMME). They celebrate the region's aspiring apprentices and recognise those who have shown hard work and commitment, both in their College work and in their workplace.
Businesses, such as N-ERGY, were also acknowledged at the ceremony for providing placement opportunities and supporting and mentoring the apprentices.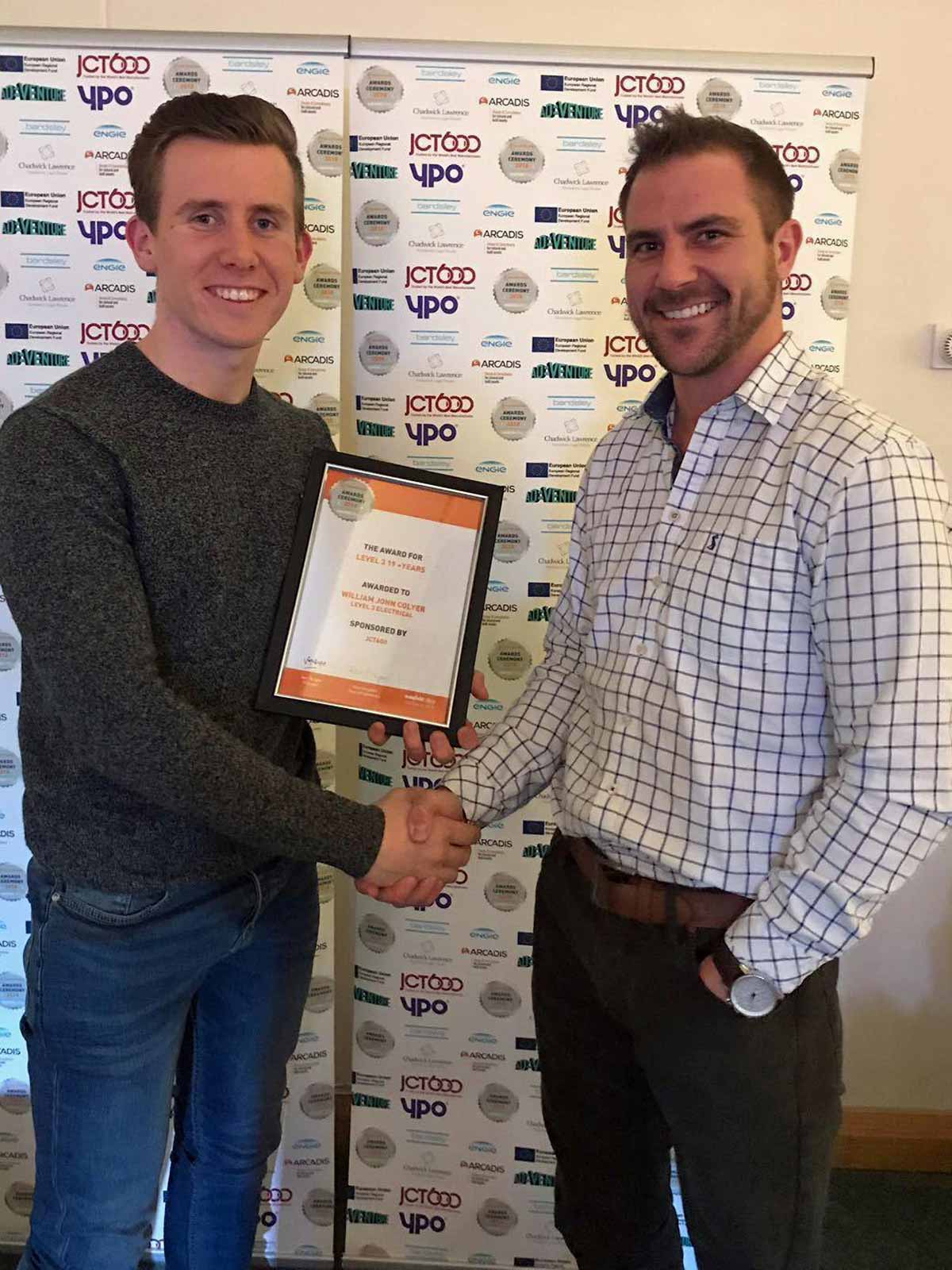 William's interest in the electrical industry was sparked at 16 years old when he briefly worked for a family friend who was an electrical engineer and owned his own business. It was the industrial side that caught his attention, due to the complexity and variety of electrical works involved.
William said:

I chose to enrol for an apprenticeship because I wanted to study the industry in college, understand the theoretical side and then transfer and utilise my practical knowledge in the workplace. I felt I would learn at a much quicker pace and pick up additional skills from my supervising Electrical Engineers than I would being in a college environment.

N-ERGY has provided the perfect platform for me to work my way up to electrical project engineer. I enjoyed working in the field, building my installation skills and knowledge, but was eager to get involved in the electrical design and management of the electrical installation. At N-ERGY I get a balance between design work and working in the field, but from a project engineering point of view rather than from the installation, which is where I want to be.

I put a major amount of effort into my college studies and apprenticeship portfolio, so to win this award has been a cherry on top of the cake, completing my apprenticeship with the highest award for any apprentice. I always put 110% into my career and that's what is needed to be successful in my industry.
David Bowman, managing director at N-ERGY, said: "We're really proud of Will for winning this award. He is a talented young man and has been a real asset to the team during a period of accelerated growth for the business over the last year. The award is a well-deserved recognition of his achievements and testimony to the effort he's put in. We're looking forward to working with him for many years to come."
Throughout his Apprenticeship, William has studied at Wakefield College (Castleford Campus), including the City & Guilds 2365 Level 2 and 3 Diploma in Electrical Installation.
At the end of his apprenticeship, he will have gained 3 years' work experience in the industry which will serve as a big factor when being employed as a fully qualified Electrical Engineer. He is planning to go to University to study a HNC/HND in Electrical and Electronic Engineering and hopes to return as Senior Electrical Project Engineer at N-ERGY.
N-ERGY is a specialist provider of services to the power generation sector, covering Power Solutions and Maintenance Solutions from servicing, maintenance and repair services.