A Harrogate artist who has taken the Yorkshire Air Ambulance charity under her wing, has produced a series of notelet designs to be sold as part of the YAA's fundraising drive.
The YAA commissioned Anita Bowerman to do the work following the success of a paper-cut card artwork she donated last year which featured a distinctive yellow helicopter flying over a woodland scene.
Inspiration for the three latest designs, which Anita originally painted in watercolour and gouache, came from her early days as an artist and as a fashion accessories buyer at Liberty of London. Many of the fabric designs featured miniature animals and flowers. The striking Yorkshire butterflies with a YAA helicopter, each took hours to create and Anita is delighted with the result.
Anita said:

As a Harrogate artist, I absolutely loved creating these designs for the Yorkshire Air Ambulance. It is such a worthy charity and we all may need the help of their helicopters one day. The cards feature traditional themes but with a Yorkshire twist.
Last year, Anita held a 1980s-themed disco which raised an amazing £2,244.60 for the YAA. She also produced two special pieces of artwork to commemorate the YAA's previous fleet of helicopters, G-SASH and G-CEMS. These pieces are available to buy from the YAA website: www.yaa.org.uk and make perfect collectables.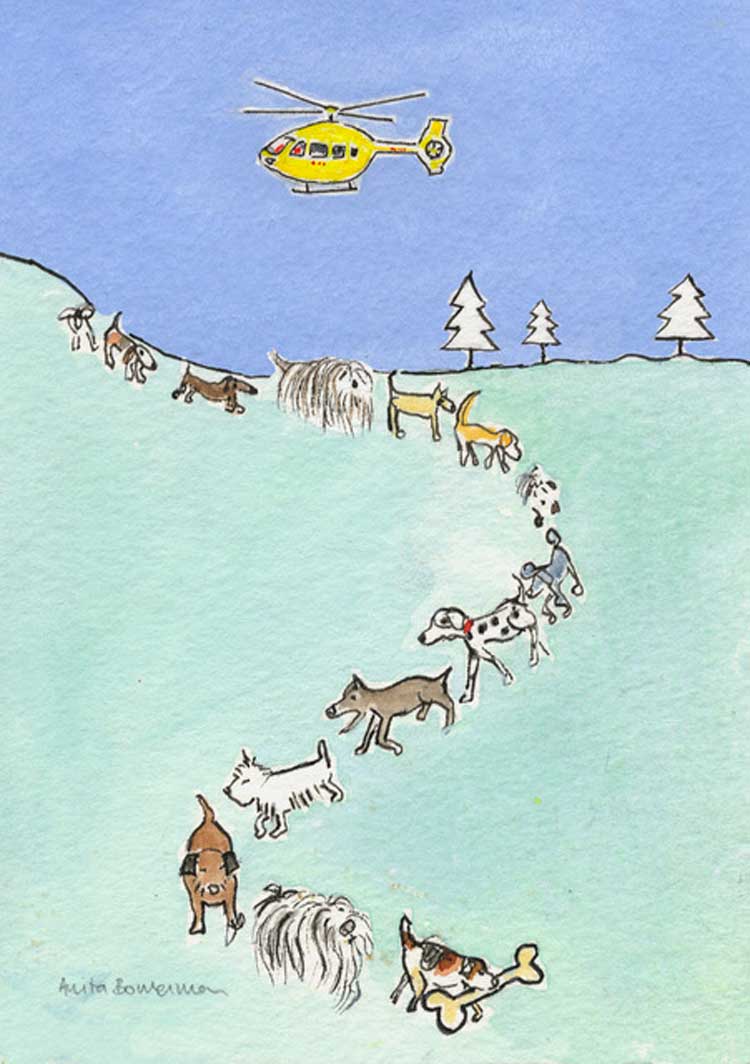 Anita is organising a Wine Tasting Event on Friday November 10 at Almscliffe Village Hall in aid of the Yorkshire Air Ambulance (75 per cent) and the Village Hall Fund (25 per cent). Tickets are £20, to include five glasses of wine and a sharing platter. The theme is French wines for the Christmas table with Patrice Lipatti-Mesme, sommelier from Yorkshire-based wine suppliers Le Bon Vin.
Limited Edition A6-size copies of the Eiffel Tower paper cut will be available to buy on the night and afterwards at Anita's gallery, with all proceeds going to YAA.
Tickets are available from Anita.bowerman@btinternet.com or by phoning 07760 157046.
You can buy the original notelets and the three latest designs from the YAA charity online at https://www.yorkshireairambulance.org.uk/shop/ or call in to see Anita at The Dove Tree Art Studio and gallery, Back Granville Road, behind Cardamom Black Restaurant, Harrogate. See website for opening hours.
The original artwork is on display at the Dove Tree. The notelets cost £5 for a pack of 10 high quality cards and envelopes. You can view Anita's work on her website www.anitabowerman.co.uk