Jacques recently competed for North Yorkshire at the English Schools National Championships and won the Silver medal in the final of the 1500m Inter Boys competition.
Having finished top two in the National final, Jacques has been selected to represent England in the Home Nations' Schools' International Track and Field Match in Dublin next weekend. Teams from England, Scotland, Wales, North and Southern Ireland will be competing so it will be a great experience for Jacques.
Jacques trains incredibly hard, 6 times a week, whilst also keeping focus on his GCSE studies, a truly fantastic achievement!
What got you interested in athletics?
I always enjoyed running so put myself forward for the Harrogate and Craven XC trials in Year 7 and went along with my older brother (Louis). Harrogate Harriers coach, Jon Ireland, came over to talk to us at the end of the event and invited my brother to join the club but we persuaded him to take me on too!
I joined a small Middle Distance group coached by Joanne Day and have been fortunate to train with older athletes including George Mills (St Aidans) and Jack Brennan (King James) for the past three years. They have been a great support and training with them has definitely pushed me on.
What motivates you?
I am competitive and am always looking to improve my performance. In middle distance races it's mainly about times and my goal is generally to set a new PB and improve my UK ranking in 1500 and 800m.
Another motivation for me is to make my family proud. They spend a lot of time taking me training and races all over the country so it is nice to reward them with good performances!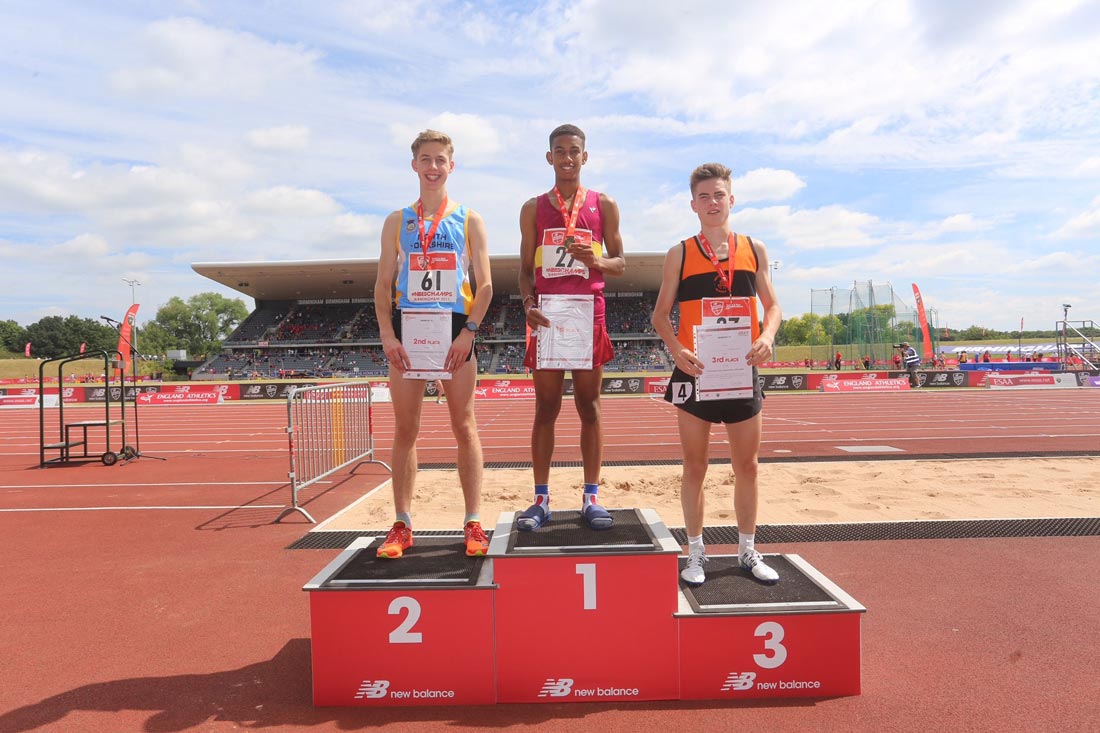 What is your training schedule?
I train 6 times a week. As endurance is required for middle distance races, I do 3 aerobic runs a week. The other 3 sessions are more intense interval training on the Stray or the track at Leeds Beckett University. I alternate between the two types of session which allows me to recover from the previous days' training.
What was your race plan for the National Schools Final?
In Championship races, it is less about times and more about getting my race tactics right to be in with a chance of medaling. In the National Final on Saturday, I decided to get near the front but allow someone else to lead the race so I could be in their 'slip stream'. I held this position for most of the race until the final lap when I kicked on the bend before the home straight. It was a very close race for medal positions so I had to push hard and remember to run to the line to secure my silver medal.
What it means to you to win and go on to compete in Dublin?
This is my first England vest for the Schools team so it is my greatest achievement so far.
It will be a new experience travelling together as a team and competing against other home nations. It will also be good to get to know other English athletes in the team who I am usually competing against.
Photographs by RWT Photography