Footsore staff from a Harrogate estate agency have broken new ground – quite literally – in the way they are raising £20,000 to help children with life-limiting illnesses.
100,000 Calories burned
8,000 Flights of stairs climbed
20 Lake District peaks conquered
Linley & Simpson marked its 20th anniversary by setting staff the gruelling non-stop challenge of hiking 20 miles across 20 Lake District peaks in support of its chosen charity of the year, Martin House children's hospice, near Wetherby.
Just over 13 hours after they set off, and having burned over 100,000 calories and climbed 8,000 flights of stairs between them, the team of 11 conquered the stamina-sapping challenge – taking a route never attempted before.
The independent sales and letting agency, which also has branches in Ripon and Wetherby – is a home-grown success story that has helped more than 100,000 people move home since it first opened its doors back in 1997.
Now its staff are celebrating a very different logistical feat, by winning the race against darkness to complete an extended version of the Patterdale Horseshoe route in double-quick time. Most hikers opt to complete it in two days.
To put their feat into perspective, this represents an ascent totalling 2,434 metres or 8,032 feet – the equivalent of almost two Ben Nevis mountain climbs.
Led by founders Will Linley and Nick Simpson, the team included Danny Tasker, Martin Elliott, Greg Smallwood, Katie Radcliffe, Eileen Cahill, Mark Sheridan, Neil McGroarty, Paul Bridgeman and Carl Willock – with Mark Christopher and Emily Wilkinson acting as support staff on the ground.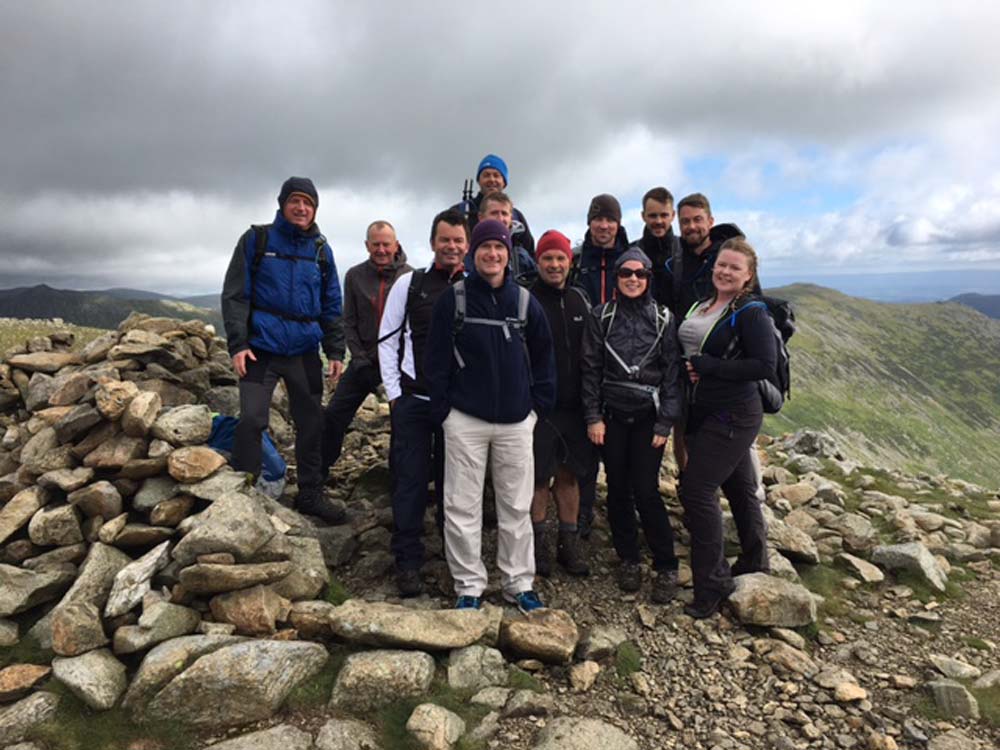 As part of its "20 Twenty" challenge, they took in Arnison Crag, Birks, St Sunday's Crag, Fairfield, Hart Crag, Dove Crag, Little Hart Crag, Middle Dodd, Red Screes, Caudale Moor, Thornthwaite Crag, Mardale Ill Bell, High Street, Kidsty Pike, High Raise, Rampsgill Head, The Knott, Rest Dodd, Brock Crags and Angletarn Pikes – all of which are designated Wainwright fells.
Director Will Linley said: We've set ourselves some tough challenges before – ranging from Tough Mudder army assault course to the Brownlee brothers' triathlon.

But this was far tougher than we had anticipated. Many even went as far as to say they'd rather run a marathon that do it again, which gives you an idea of how physically testing it was for us.

I'd like to praise all my colleagues for rising to the challenge, and thank all those who backed the cause with generous donations.
John Haigh, corporate fundraiser for Martin House and itself celebrating its 30th anniversary year, said: Team Linley & Simpson have been an absolute delight to work with over the last year, supporting the children and families at our hospice in so many ways – but in no way more gruelling than their 20 peaks challenge!

Ascending and descending more than 2,400 metres in a challenge lasting 13 hours 28 minutes can only be described as masochistic!

But what Linley & Simpson start, they invariably finish, and deliver on their promise.

A very personal and sincere thank you to the whole team from each and every one of the 550 children and families supported by Martin House.
The agency's network of offices also includes four in Leeds, York, Ilkley, Saltaire and Wakefield.
Ahead of a different kind of finishing line, there is still time to donate before the presentation of the year's proceeds by visiting the agency's dedicated JustGiving page: https://www.justgiving.com/fundraising/LinleyasonMartinHouse