Two very special guests joined the pupils of Spofforth Primary School for a Festival of Cricket on the penultimate day of Yorkshire Tea National Cricket Week. On Thursday 22nd June James Taylor and Charlotte Edwards hosted a full day of cricket activities at the school with Yorkshire Tea and national cricket charity, Chance to Shine.
To kick off the day, Charlotte Edwards, former England Women's Cricket captain, led an MCC Spirit of Cricket assembly that culminated in an exciting bowl-off. The assembly introduced the children to the values of hard work, fair play and respect that are vital to the integrity of the sport.
Next on the agenda was a Junior Journalist workshop with Year 5 and 6 students where they were given an opportunity to draft an article about their 'favourite cricketing moment'. Charlotte mentored students on sports reporting skills including interview techniques.
Finally, the pupils welcomed former England cricketer, James Taylor, for an afternoon of activity. James took the school down to Spofforth Cricket Club for a coaching session before allowing them to put their newfound journalistic skills to the test with a Q&A. James, who was forced to retire from cricket in 2016 due to a serious heart condition, answered questions about cricket, discussing his health problems and how the lessons learnt from cricket helped him to overcome them.
Speaking at the event, James Taylor said: What a day we've had at the Festival of Cricket. Yorkshire Tea National Cricket Week is a proper opportunity for schools to inspire pupils through the power of cricket and I'm proud to have been a part of it today.
Laura Burton, Senior Brand Manager at Yorkshire Tea added: Every year we visit schools all over the country as part of National Cricket Week so it's very exciting to have hosted an event in our home town of Harrogate today. Thank you to James, Charlotte, Chance to Shine and the staff and pupils at Spofforth for an amazing day.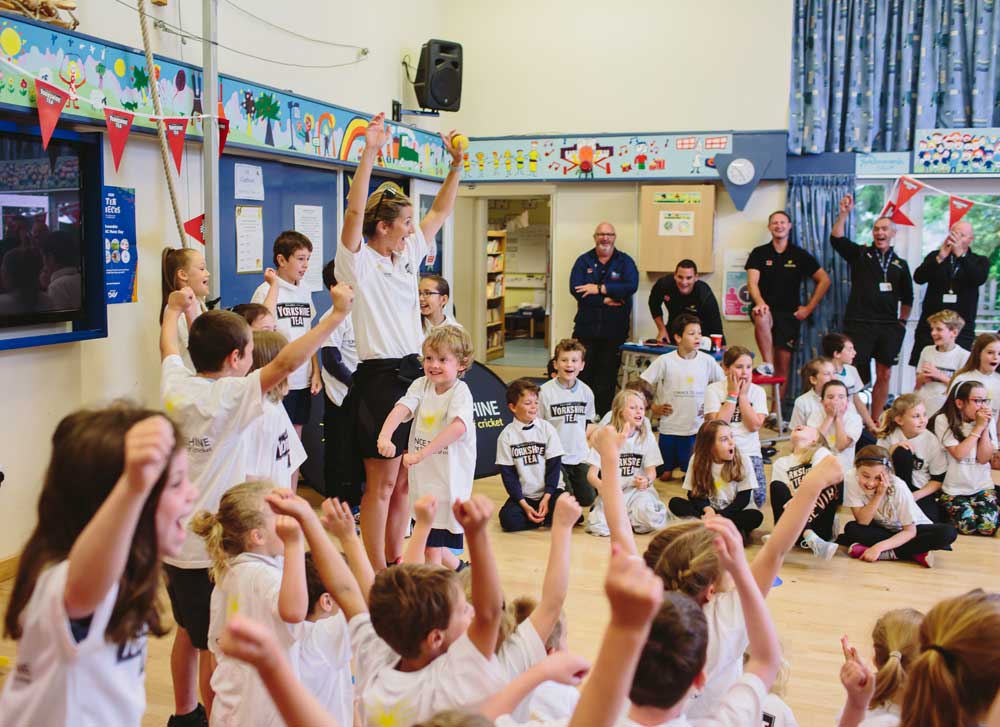 Yorkshire Tea National Cricket Week is a week of cricket-themed activity – in class and in the playground – for thousands of state schools across England and Wales. The week showcases the ongoing work of national cricket charity, Chance to Shine.
To find out more go to www.chancetoshine.org