One of Yorkshire's leading businessmen and entrepreneurs has joined forces with Harrogate-based multi-channel retailer High Street TV to create an ingenious handheld waste compressor to tackle the rapidly-increasing litter problem which is blighting Britain.
Gordon Black CBE, former chairman of Keighley-based Peter Black Holdings, has invented the Elefoot, designed to stamp out overflowing household bins and wheelies.
Elefoot has now been launched by High Street TV, the rapidly-expanding Harrogate retail business which has turned Mr Black's idea into reality.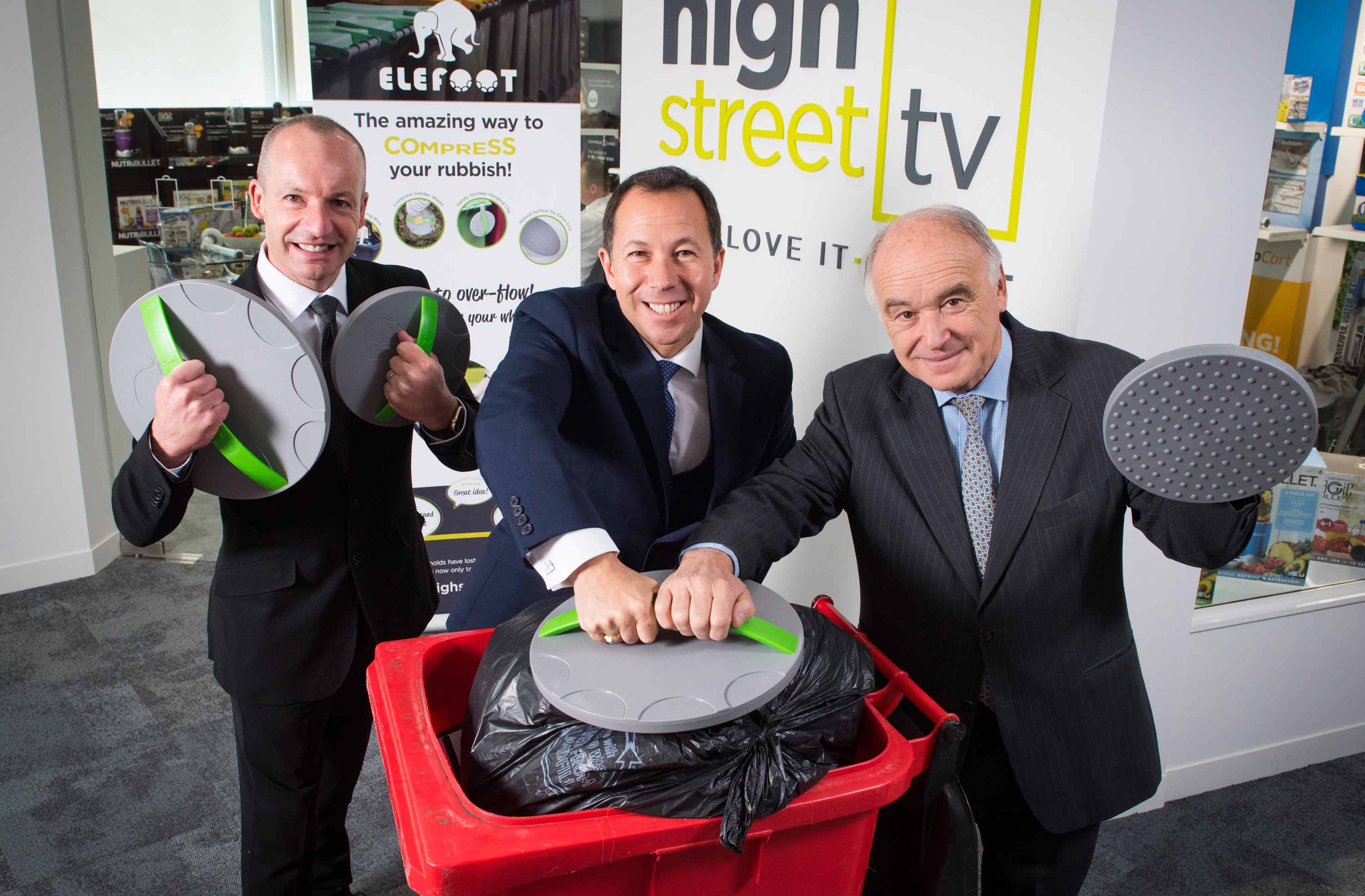 Mr Black commented: No-one needs reminding of how bad the litter problem is in the UK right now. Our cities, towns, countryside, rivers and canals are being used as dumping grounds for every kind of waste. Last month ITN's News at Ten led on how litter is disfiguring our beautiful country, which, in view of all the other high-profile global stories at the moment, is a telling indication of how serious this problem is.

I believe the beauty of Elefoot is its simplicity. It is a sturdy, fully-assembled easy-to-use, handheld waste compressor that enables you to generate more space in your bins whilst protecting your hands from coming into contact with the contents. It's easy to clean and very hygienic.

It comes in two sizes. The larger Elefoot compresses bin bags, recycling and garden waste in outdoor wheelie bins and the smaller Elefoot does the same on household and food waste, which generates more room in internal bins. It's a real trashbasher!

In essence, it condenses excess pockets of air, making it easy to squash that overspill, to fit even more rubbish inside and completely close your bin lid. With cuts in bin collections becoming an increasingly common problem, and councils often refusing to empty waste bins which aren't completely closed, Elefoot is the ideal solution for households generating an increasing amount of waste and struggling with the overflow.

The advantages are many. Elefoot contributes to cleaner and tidier backyards, driveways and neighbourhoods. It is a hygienic, mess-free and odour-free solution, helping prevent vermin, birds and cats getting into your waste. There's no need to worry about being fined if your bins are closed, while the smaller Elefoot generates more room in inside bins, reducing the frequency of trips to the outdoor bin.

I would like to thank Andrew Malcher and Jim Coleman, the founders and dynamic driving forces behind the highly-successful High Street TV, for taking my idea and running with it. They have brought Elefoot to market, from design, to manufacture to branding, and without them, it would have remained just an idea that I had in my kitchen one day as I got splattered by yogurt, trying to squeeze everything into our bin by hand.
Elefoot is now available through High Street TV and Amazon and will soon be stocked at a number of leading retailers across the country.
Jim Coleman, Chief Executive of High Street TV, explained: I believe that Elefoot has huge potential. Whilst clearly ideal for households, it would also be incredibly helpful for organisations like local councils, hospitals, hotels, restaurants and care home operators, saving time and money and helping to protect the environment from the awful litter blight. We are already have interest from councils in both England and Scotland.
It is estimated that £1bn of local government money is spent on collecting litter every year.   It therefore follows that less litter means more much-needed money for education, the police and social care – and would also help to keep Council Tax low.
Jim said: It's very much the right product at the right time.

There's also no doubt that the litter problem will get worse, as on-line companies such as Amazon create more and more packaging, while local councils are under increasing pressure to cut costs. It's a vicious circle. The beauty of Elefoot is that it tackles this problem head on – and helps to solve it.