Filming has begun from the viaduct on the Nidderdale Greenway near to Harrogate.
It will take place from the 2nd until the 7th of April and at times will cause restricted access to the route for the public. It is not related in any way to the current proposals being discussed for a relief road in the area.
Harrogate Borough Council has agreed the intermittent closures and say that it has economic benefit to the area. But the flip-side is that the filming is also causing inconvenience to the regular users of the route, a route that is now experiencing both cars and HGV's along the route on a regular basis, pushing walkers and cyclists into verge.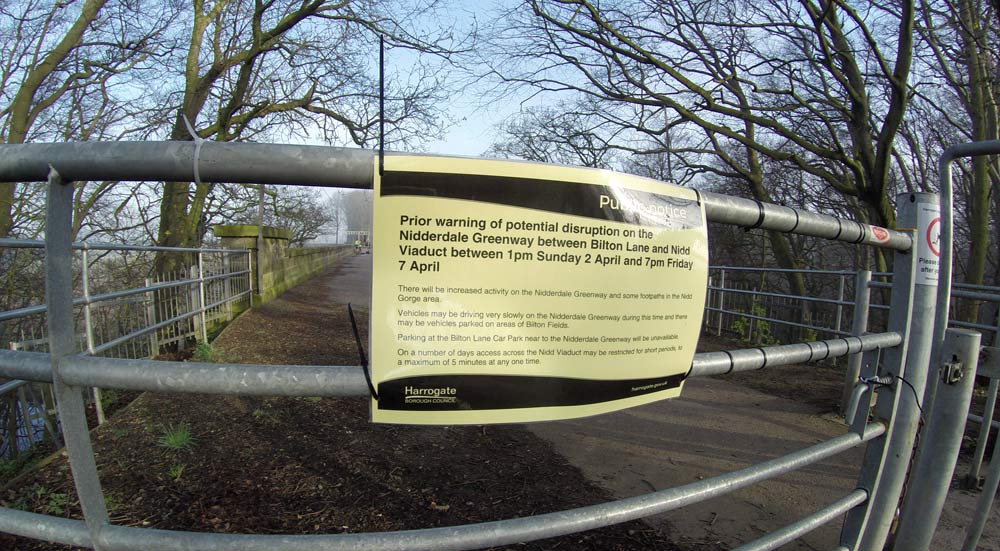 Additionally, the Council have closed the public carpark on Bilton Lane, making it exclusively available to the film company. The problem has been made worse as the film company has also used their own traffic cones to exclude other cars on the roadway – this means that the public is forced to park somedistance away, in residential areas.
Nigel Avison, Harrogate Borough Council's Director of Economy and Culture said: We have sought to respond positively to a request which will see a Harrogate district location feature in a film due to receive widespread cinema distribution. Such opportunities are a wonderful way of promoting our beautiful district and the money which is spent by the production crew whilst they are here can only be good for our local economy.

As a film friendly district, we are keen to take advantage of similar opportunities which may present themselves in the future. Filming will be confined to a few days and we have worked with the production company to ensure disruption is kept to the bare minimum. Public access will only be affected for short periods of time when actual filming is taking place.

We take our health and safety responsibilities extremely seriously and we have been working with the production team closely so that appropriate arrangements are in place to ensure the safety of both their crew and members of the public.

We would like to thank the public in advance for their co-operation.