Some of the Harrogate district's most talented musicians will provide festive entertainment at the town's popular Christmas Market when it kicks off later this month.
Local 'buskers', including solo artists and groups form schools, churches and other organisations, have been performing live music at the four-day event since 2014, entertaining visitors and collecting donations at the same time.
Last year, Harrogate Christmas Market attracted around 60,000 people, with many stopping to enjoy the music as they shopped.
And this year the line-up is set to be bigger and better than ever, with many past performers returning to play at the event, as well as a host of new names joining the programme.
Marian Farrar, of St Aidan's High School, who has organised the busking schedule, said:

The 'buskers' are such a key part of the Christmas Market as they create a wonderful festive atmosphere and we get so many lovely comments about the music from visitors and traders.

We have a lot of musicians who have performed for us in the past and who signed up quickly to join us again. It's also a great way for new or up-and-coming musicians to share their talents.

With a potential audience of more than 60,000, it's a major showcase for musicians and it provides the perfect opportunity to highlight how fantastic our local music scene is.
A handful of busking slots are still available for musicians to book. For details, email m.farrar@staidans.co.uk
Now in its fifth year, Harrogate Christmas Market is proving more popular than ever. The 200 spaces for traders sold out in record time and interest in the four-day event is at its highest yet, with special Virgin train services set to bring more than 60,000 visitors to the market from across the country.
The fifth annual Harrogate Christmas Market takes place from Thursday, 17 November  to Sunday 20 November, in the area around St Mary's Walk, opposite the Crown Hotel and the White Hart Hotel.
It is open daily from 10am to 8pm, except Sunday when it closes at 5pm.
The 'busking' line-up at the Christmas Market so far includes the following groups and individuals, who will be playing by the bus shelter on St Mary's Walk:
The Puffin Ensemble – Saturday 11am-noon and 2pm-3pm
The Puffin Ensemble was formed in February 2005 from members of the White Rose Concert Band, based in Harrogate.
Consisting of flute, two clarinets (who also play bass clarinets), and French horn (who also plays piano), the group has performed at Markenfield Hall, in the Valley Gardens, Harrogate, and to audiences for open garden engagements, raising funds for different causes.
The ensemble will play a variety of music from Baroque to modern and will be collecting for Follifoot Riding for the Disabled
The Harrogate and District Gang Show – Saturday 12pm-1pm
The money raised by these performers will go towards putting on the Gang Show at the Royal Hall on April 7 and 8, 2017. 'The Gang' is made up of young people from across the district who attend Beavers, Rainbows, Cubs, Brownies, Scouts, Guides and Explorers.
Spa Saxaphone Quartet/Quintet – Sunday 12pm–1pm
Based in Harrogate, the Spa Saxophone Quartet or Quintet has an extensive repertoire and provides music in a number of styles for weddings, corporate events, garden parties and during the festive season. This Christmas the group will be raising money for Children in Need, playing at various venues in and around Harrogate.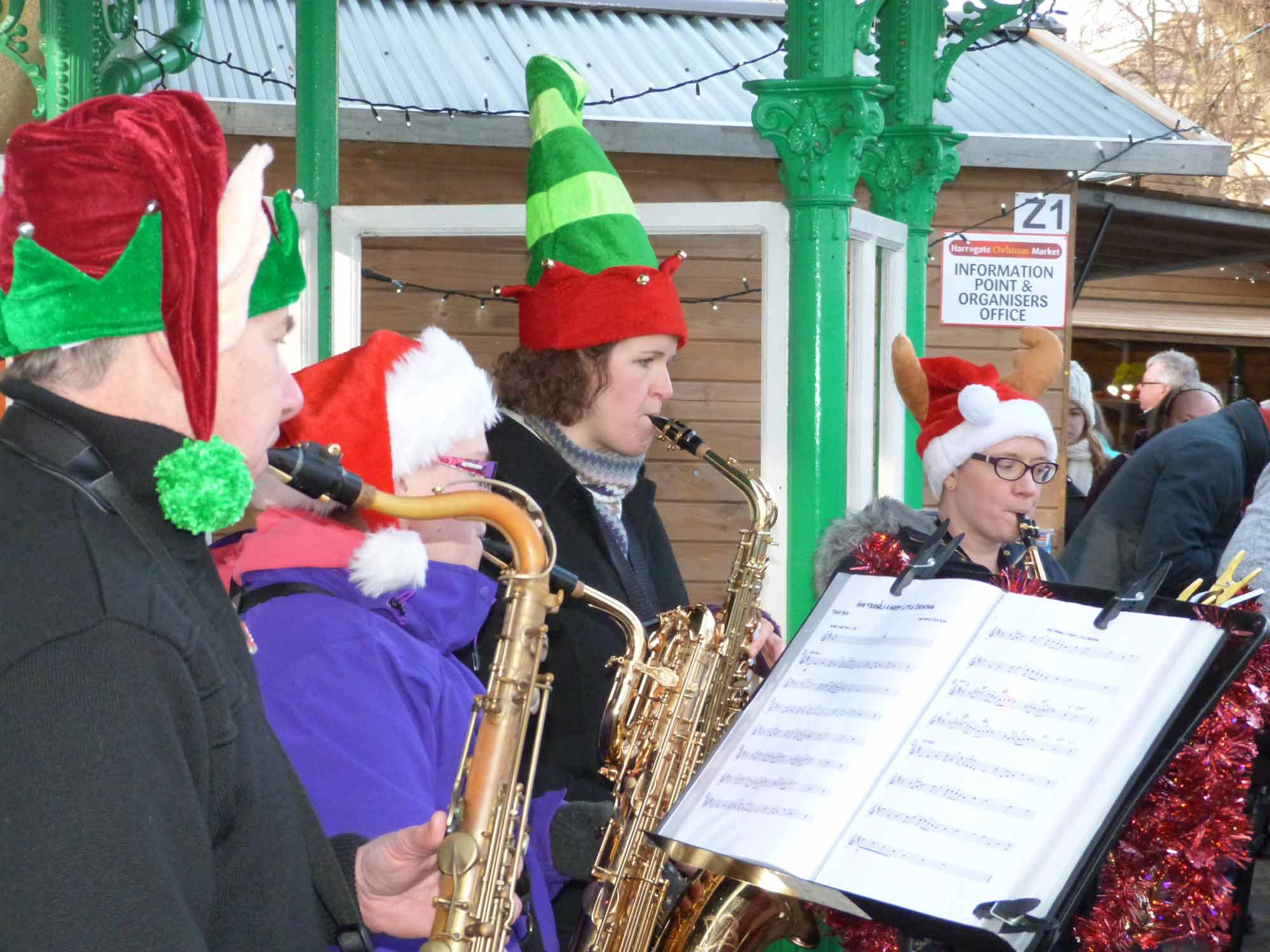 Den Miller – Friday 4pm–5pm and 6pm–7pm
Dan is singer-songwriter and multi-instrumentalist from Keighley and has played at many festivals around the north and other outdoor events. He performs mostly his own songs on guitar, keyboard (or both at once with a loop pedal), and harmonica. His music has been described as strongly melodic with intelligent lyrics. His songs often use comedy to make serious points and he also performs comedy parodies.
Harrogate Spa Town Ukes – Saturday 1pm–2pm
Harrogate Spa Town Ukes was formed in May 2014 to provide a social venue for people to go along and play the Ukulele.
The group plays all styles of music and meets every Wednesday evening between 7.30pm and 9.30pm at the Roberts Club, Robert Street, Harrogate. It will be raising money for Saint Michaels Hospice, Harrogate.
Casual Sax – Friday 3pm–4pm and 5pm–6pm
Casual Sax is a Yorkshire-basd group that was set up four years ago when they met at a saxophone course in the Midlands. Since then they have played regularly at events throughout Yorkshire, including events in Ouseburn, Dunnington, Bradford, Tollerton and in Nidderdale.
Their repertoire includes classical and contemporary pieces. They have taken part in several charity and fundraising events, including supporting Haxby Village Hall 'Raise the Roof' appeal. They have also played at the Wensleydale Music Festival and private functions.
At the Christmas market last year their chosen charity was Dementia Forward, this year they will be raising funds for cancer charities.
North Tyneside Steel Band – Saturday 4pm–7pm
North Tyneside Steel Band is the North East of England's top steel band. A registered charity, run by a board of volunteers, the band has been performing locally across the UK and internationally since 1992, and can boast amongst its players prize winning musicians who travel all over the world to play steel pan.
Roaming Carollers – Friday 7pm–8pm, Saturday 10am–11am and Sunday 1pm–3pm
The Roaming Carollers is a group made up of family and friends from Harrogate who have performed at the Christmas Market for several years. This year they are raising money for the Frazer Theatre in Knaresborough.
Little Bards – Thursday 10–11am and Friday 10–11am
Little Bards is an exciting new literature class in Harrogate for children aged three months to four years. Each week the class brings a new book alive through props, music and much more.
Having recently relocated from London, Jane Apperson is a trained actress and has a Masters in English Literature. She is passionate about bringing stories alive through music and drama.
All donations received at the Christmas Market will go directly to the Harrogate Library children's' book section.
Harrogate Gilbert & Sullivan Society – Thursday 7pm–8pm, Friday 12pm–1pm and Sunday 3pm–4pm
The group is a society dedicated to the promotion of the works of Gilbert and Sullivan. They perform one of their operas annually at Harrogate Theatre. Additionally, they hold a Christmas concert at the Royal Hall in conjunction with the Brighouse and Rastrick Band.
Chorus Crew – Thursday 6pm–7pm