Simon Bolton will support asbestos-related cancer patients at Harrogate District Hospital.
Simon Bolton has been appointed as a Mesothelioma Clinical Nurse Specialist (CNS) at Harrogate District Hospital to cover the west and north Yorkshire region.
The new post has been made possible through funding from Mesothelioma UK, a national charity dedicated to this asbestos-related cancer. Simon's post will be the 12th addition to Mesothelioma UK's Specialist Nurse team.
Over the past year, there have been over 100 mesothelioma cases in and around Yorkshire. In this new role, Simon will work across the region and with colleagues to ensure that there is access to specialist support and information, and to promote a growing appreciation of the mesothelioma public health disaster currently being faced in the UK. Simon will also promote awareness about the full options available for mesothelioma patients by supporting, signposting and disseminating information, leading and generally offering appropriate clinical support.
Having qualified in 1995, Simon spent a couple of years at St. James Hospital working in cardiology, general medicine and coronary care. In 1997, he went to work as a cancer nurse. Simon then took on his first lung cancer role with Mid Yorks Hospitals NHS Trust where he was in post for seven years. He has also held the position of Night Nurse Practitioner at Cookridge Hospital (a cancer Hospital in Leeds).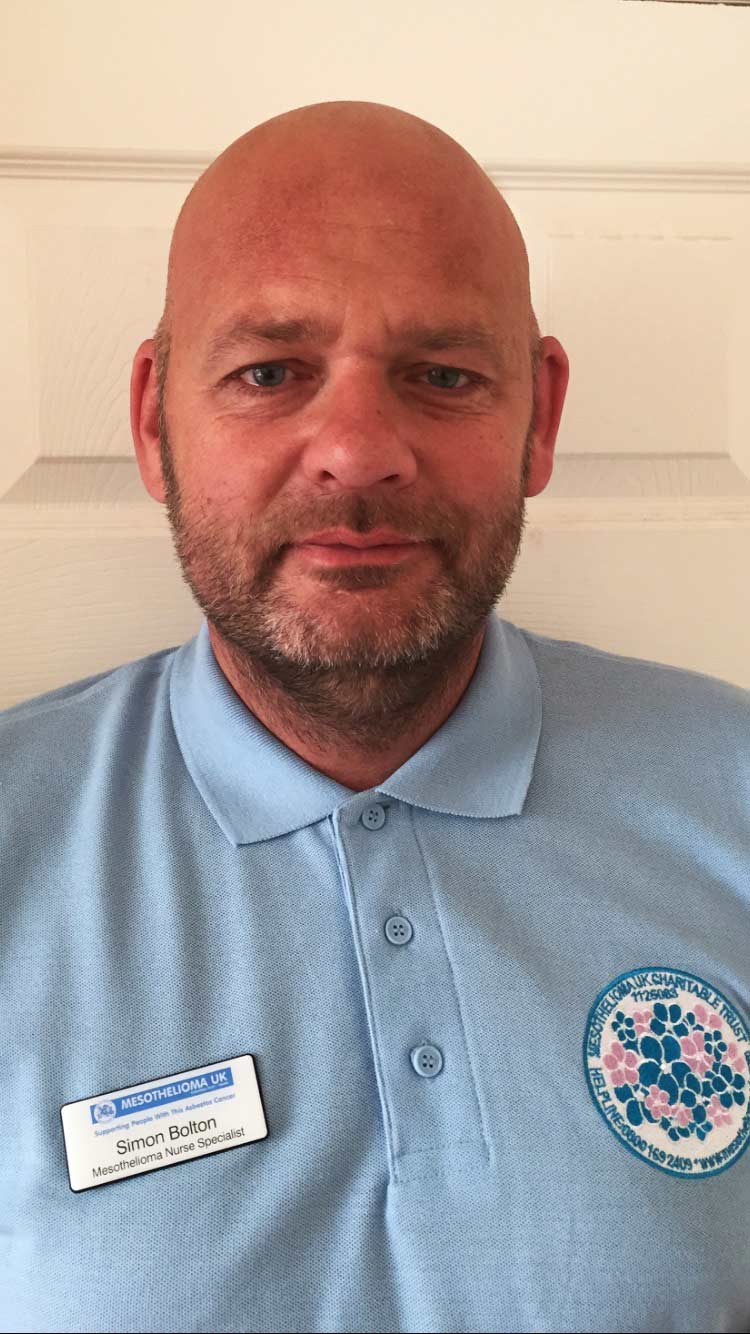 Most recently, Simon has worked for the Harrogate and District NHS Foundation Trust as a lung cancer nurse specialist and is also involved with the Sir Robert Ogden Macmillan Centre (SROMC). In 2014, he ran the Great North Run, raising money for the Roy Castle Lung Cancer Foundation and last year, completed a full marathon in York raising over £700 for Mesothelioma UK.
Commenting on his new role, Simon Bolton said:

I'm delighted to be taking on this new role, funded by Mesothelioma UK. There is a real need for more clinical trials and research in the region to support the growing number of mesothelioma cases. I also hope to support other healthcare professionals about anything relevant to mesothelioma and ensure patients receive the highest quality care, support and treatment. Patients still need to be made aware about the treatment options available to them and I hope to provide the vital information and support for them.
Liz Darlison, Mesothelioma UK Director of Services and Consultant Nurse, added:

I am delighted to welcome Simon to Mesothelioma UK, a passionate and dedicated team that is having a remarkable impact across the UK. With the increased number of mesothelioma patients in and around Yorkshire, Simon will focus on patient care, encouraging more clinical trials and research to take place, and taking the lead to support and educate more people on all aspects of mesothelioma.
Mesothelioma UK is a national resource centre dedicated to providing specialist mesothelioma information, support and improved care and treatment for all UK mesothelioma patients, their carers and health care professionals. The centre promotes the development of Specialist Mesothelioma Nursing practice and funds 12 specialist nursing posts around the UK.
Mesothelioma UK Charitable Trust is based at Glenfield Hospital in Leicester. Our services are free of charge and we rely entirely on donations, legacies, fundraising and sponsorship for financial support. For more information, visit www.mesothelioma.uk.com, email mesothelioma.uk@uhl-tr.nhs.uk or call the freephone helpline number on 0800 169 2409 (Monday – Friday 8:30am – 4:30pm).