Aldi's Harrogate store has transformed one of its checkouts gold in honour of Team GB ambassador and Yorkshire native, Jack Laugher.
On 10 August 2016, the nation watched intensely as Jack alongside diving partner Chris Mears, made history by securing Team GB's first ever gold medal victory in the men's synchronised three-metre springboard final.
Aldi is the first supermarket sponsor of Team GB and has been supporting Jack on his road to Rio. To celebrate the triumph, visitors to the Harrogate store are now able to revel in the gold medal victory in Rio as the till was unveiled on 18 August 2016. Customers will be urged to dive in, go for gold and check out their items on the winners till.
Jack is a proud Aldi Team GB ambassador and is among over 650 Team GB members to receive £25 of vouchers per month to spend in-store during the run up to the Games. Aldi supported the Team GB athletes by ensuring they had access to fresh, affordable, Great British food as they fuelled their performances on the road to Rio; which for Jack, proved a huge success!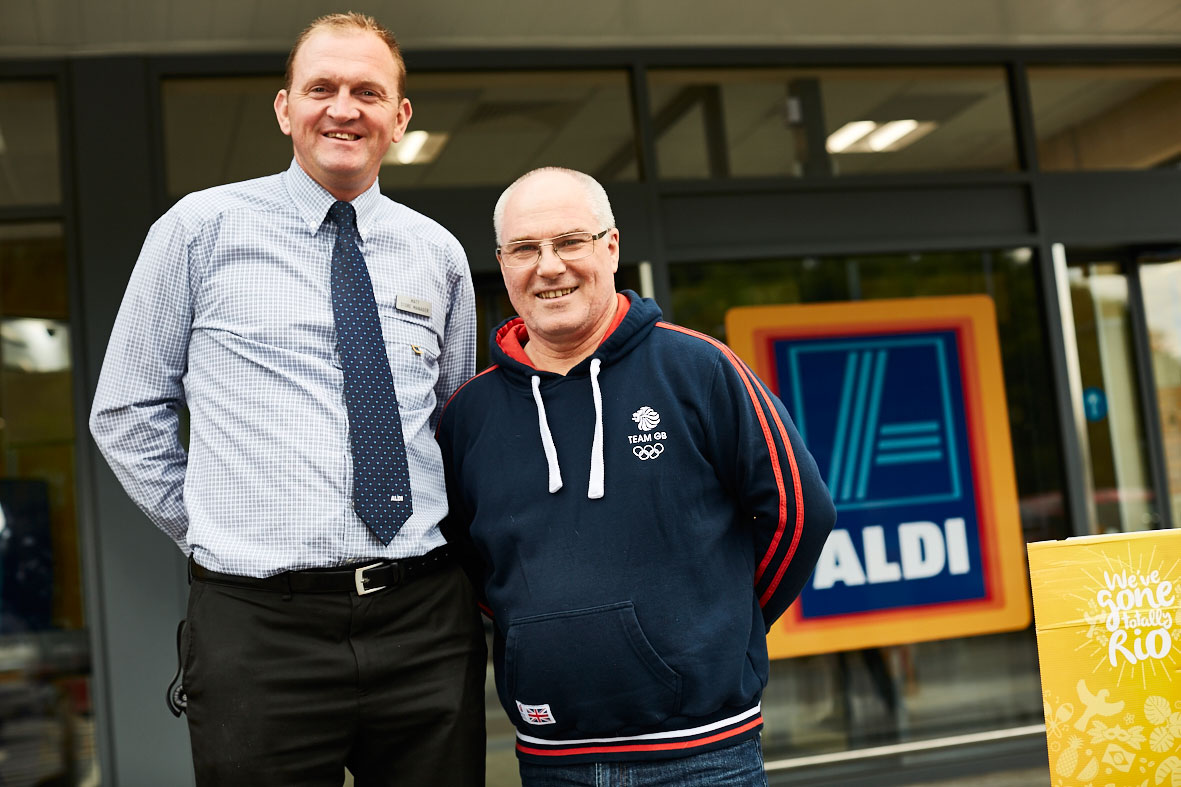 Aldi has handed out over £145,000 in vouchers to spend in store.  Team GB members including Sally Conway, Jazz Carlin and Samantha Quek have all been spotted in Aldi stores all over the country, picking up a variety of fresh produce.
Tony Baines, Joint Managing Director of Corporate Buying at Aldi, commented:

Everyone at Aldi is extremely proud of all of the Team GB athletes and we're thrilled to have seen one of our ambassadors win a gold medal. We absolutely wanted to do something to celebrate and turning one of our tills gold at Jack's local store will help us and our customers celebrate this victory.
In addition to supporting the athletes, Aldi and Team GB's Get Set to Eat Fresh initiative has been helping young people understand the pleasure of cooking and eating healthy meals, whilst gaining the skills they need to feed themselves using fresh, nutritious ingredients. The initiative combines Aldi's love and knowledge of food and Team GB's dedication to nutrition programmes that encompass healthy and fresh produce. Up to now, over 1,900 schools have taken part.
Members of the public can also find out what food some of their favourite athletes love to eat and leave messages of support for their favourite 'Homegrown Hero' via the dedicated website www.teamgb.com/homegrownheroes
They can also follow all of the action from Rio on Facebook and Twitter using #TotallyRio.