Harrogate International Festivals estimate 20,000 people attended the Fire Garden, hosted over three nights in Valley Gardens.
Queues stretched up Valley Drive, with around 80 percent of attendees being family audiences and 20% returning night after night.
The magical event also sparked romance with a marriage proposal in front of one of the installations.
Flaming flower-pots, cast iron sculpture and resonating music enticed audiences through the blazing landscape, delivered by the renowned French street arts company, Cie Carabosse, who deliver largescale installation-spectacles in public spaces across Europe.
The event was the centrepiece of Harrogate International Festivals' 50th anniversary celebrations. Its month-long programme of summer festivals begins this Friday, 1 July, in venues across the town.
Sharon Canavar, CEO of Harrogate International Festivals, said:

We're delighted that we were able to welcome so many people to celebrate with us, and see the Valley Gardens, and perhaps the Festival, in a new light. This was an event of scale, risk and ambition and the feedback has been both wonderful and very moving.
The event was also a co-commission for Yorkshire Festival 2016 – the UK's newest international festival which is filling the county with world-class artistic experiences until 3 July. It was also supported by Harrogate Borough Council.
Councillor Richard Cooper said:

What a way to celebrate Harrogate International Festival's 50th anniversary.  I was pleased that Harrogate Borough Council was able to support the event both financially and with in-kind support too.  It is great that local organisations working alongside the Council can bring this kind of spectacular event to the district drawing thousands from near and far.
Yorkshire Festival's Artistic Director, Matt Burman, said:

Big, ambitious, international projects like this are only possible through imaginative, positive and creative partnerships, and the team here at Yorkshire Festival and I are delighted to have worked with Sharon Canavar and the team at Harrogate International Festivals on Fire Garden and we look forward to working with them in the future on even bigger and bolder new shows.
Welcome to Yorkshire chief executive Sir Gary Verity said:

Fire Garden in Harrogate was simply stunning – a true spectacle – and it's been the talk of the town ever since. This was one of Yorkshire Festival's magical moments and it's not over yet, there's still plenty more events to enjoy coming up.
Audience feedback expressed warmth and praise over the three nights. Audiences particularly appreciated the low price to make it accessible for all. Around 70% of bookers were new audiences for the Festival.
On Twitter, Karen Weaver, Chief Executive of HARCVS, said it was 'magical and beautiful art'.  Raworths LLP called it 'a stunning and surreal evening'. David Elliott called it a 'truly stunning night and landmark magical event in Harrogate.' Jane Barrett called it 'an uplifting and mesmerising night'.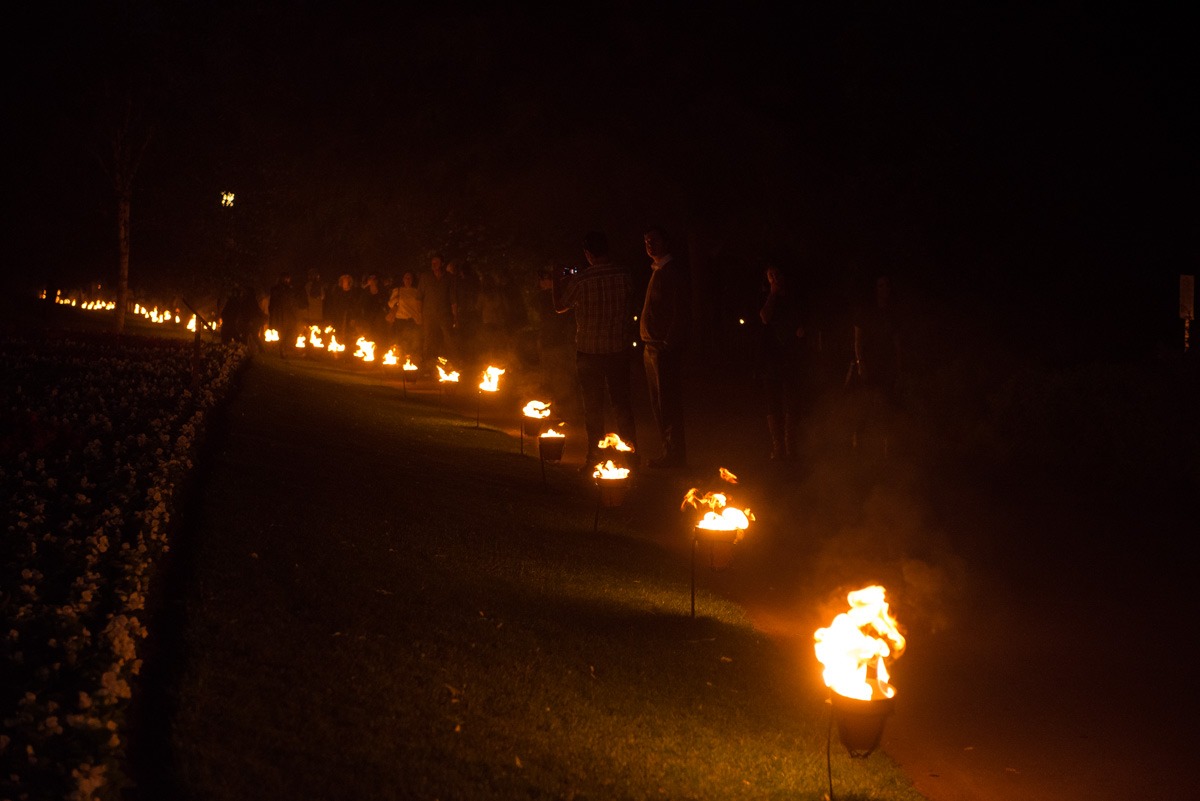 One commented, 'Don't miss a bit of Harrogate history in the making.' Another congratulated the festivals for 'the most amazing piece of public interaction art ever staged in Harrogate.'
Mike Newby, Director of Visit Harrogate, also congratulated Harrogate International Festivals saying the event showed 'what Harrogate is capable of doing. We are increasingly becoming an area that can offer something special for both resident and visitor alike.'
Sharon added:

We'd love to repeat the event – as with all outdoor events on this scale it comes at a cost but it gives us great ambition to bring Carabosse back and do more large scale events in the future.
The Festival, which has embarked on a Future 50 fundraising campaign to raise £1m to secure its future, has ambitious plans to position Harrogate as a leading cultural tourism destination.  Its events already have an economic impact of £8.2m for the town each year.
Matt Burman added:

There are many more events still to come for Yorkshire Festival over the next week, so we'd encourage everyone to come along and be a part of it.
Yorkshire Festival runs until July 3. To view the full programme visit www.yorkshirefestival.co.uk