A Harrogate decorator has swapped her brushes for burlesque to stage a charity tribute event in memory of iconic stars lost this year to raise funds for Leeds-based Yorkshire Cancer Centre.
Mum of two, Nikki Dadswell, 45, who runs Nicola Shepherd Decorating, took up Burlesque dancing 2 years ago with Lily la Belle Burlesque.  She has now recruited fellow dancers to perform at The Floral Dance, a Celebration, A Tribute, A Jolly Good Night on June 25 at the Harrogate Hockey Club (8pm-midnight).
A lifelong Prince fan, Nikki was so moved by the passing of her music idol and celebrity greats from the worlds of music, comedy, acting, broadcasting and magic, she decided to organise a charity tribute night in their honour.
Celebrities remembered include David Bowie, Victoria Wood, Paul Daniels, Maurice White, Alan Rickman and Lemmy with a nod to broadcasting legend Sir Terry Wogan in the event title.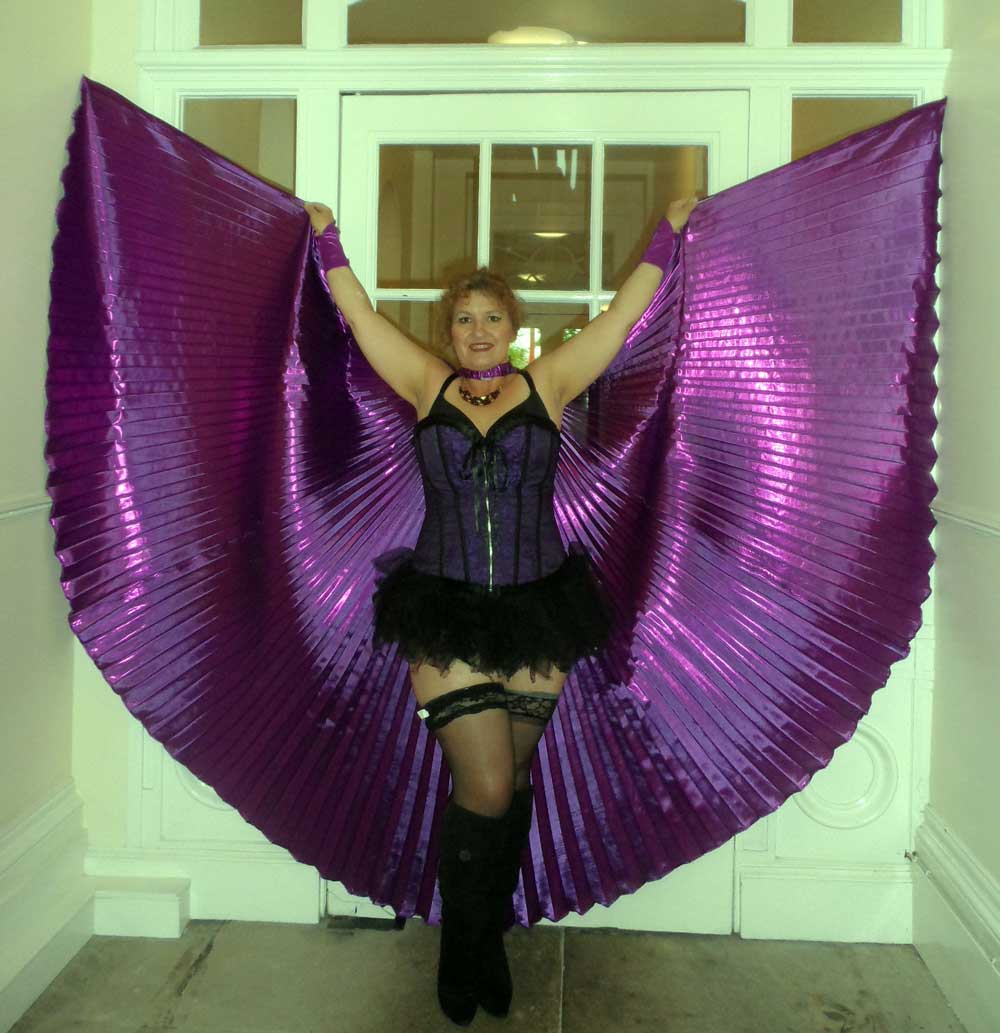 Guests will enjoy seven tribute acts performed by local ladies whose day jobs range from yoga teacher and milliner to tattooist and museum actor.   The fundraiser will also offer supper, a raffle, festival face painting, cupcakes; food stalls, beauty stalls, glitter tattoos, a disco and more.
The Burlesque tribute line up led by Marina Minx aka Nikki Dadswell (Prince) includes Little Miss Ickle aka Ickle Hill (Paul Daniels); Aurora Pearl aka Maria Miller (Lemmy); Ginger Nuts aka Tabitha Atyeo (Alan Rickman); Mrs No Overall aka Kath Morgan-Thompson (Victoria Wood) and Lola Chocolat (Maurice White). The group will be supported by belly dancer – Farasha Albaydaa,
Nikki also plans to sell helium balloons at the event for guests to release in memory of loved ones lost to cancer.  Nikki's own mum, Mary, died aged 69 in 2009 after a battle with breast cancer, so the event is close to her heart.
All profits from the event will go to Yorkshire Cancer Centre, the fundraising arm of Leeds Cancer Centre at St James's Institute of Oncology, which provides specialist medical equipment, research and development and patient 'home comforts' to 2000 patients every day.
Nikki Dadswell said:

I've been a fan of Prince since I was 11 years old and I was deeply saddened when I heard he had died.  I've followed his career, but was never fortunate enough to see him perform live, although I did pass him on the M1 travelling to Leeds, which was a big thrill!   I realised how many great legends we had lost, mainly to cancer, in the last 6 months and decided to use my dance skills to mark their passing with a fun tribute event to celebrate their lives and raise much needed funds for a cancer charity.

As a working mum with my own business I had little time to focus on me, so I took up Burlesque performing to try something fun and challenging.  I signed up for a 6 weeks beginners course with Lily La Belle Burlesque and loved it.   It really is great fun, helps me to keep fit and is very empowering.  I have met some fantastic ladies and they are incredibly supportive of my idea to host a charity fundraiser.
Tickets cost £9 and can be purchased at https://www.ticketsource.co.uk/event/EGEIJG
Tif Carter, Fundraising Co-ordinator, Yorkshire Cancer Centre said:

We're delighted that Nikki has chosen Yorkshire Cancer Centre Appeal as beneficiary of proceeds from this novel fundraising event.  We wish Nikki and all her tribute artistes every success with their performance for this worthy cause – it sounds like a fantastic night's entertainment.