Regulars at The Three Horseshoes in Killinghall near Harrogate, are celebrating the pub's £100K refurbishment thanks to a joint investment by pub operator, Punch, and publicans Lorraine and Phil Hampton.
The popular, village pub on Ripon Road, has been given a makeover both inside and out creating a much-improved pub experience for its customers.
As well as full redecoration, new curtains, lighting, booth seating and fixtures and fittings have been added with existing furniture and flooring refurbished and repaired.
The kitchen has been refreshed with new equipment installed and both the ladies and gents toilets have been updated.
Outside, The Three Horseshoes has been given new signage and lighting to improve its appearance for passers-by, and a new patio area completes the project providing plenty of seating including a covered timber pergola.
Commenting on the investment, publican, Lorraine Hampton, said:

The Three Horseshoes is a popular pub with both the locals and tourists staying at nearby caravan parks and visiting local attractions. We are known for our home cooked meals using local produce and excellent range of drinks including real ales. The pub was in need of a refresh and it now looks fantastic. The improvements to the outdoor space have enabled us to increase our number of covers which is great for the summer months. We've had some great comments since we re-launched and it was great to have the opportunity to show it off to our local MP.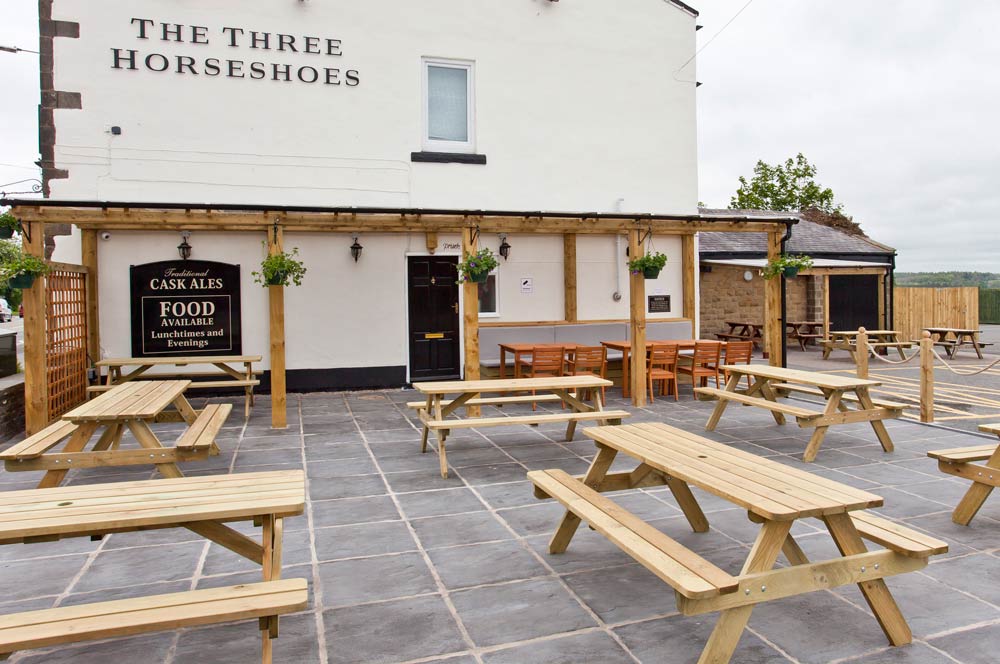 Commenting on the success of the investment, MP Andrew Jones, said:

It's fantastic to see this great local pub getting the investment it deserves placing it firmly at the heart of the community. I was happy to raise a glass to its future success and I hope locals and visitors also enjoy the warm hospitality I received at The Three Horseshoes.
Caroline Edwards, new business development manager for Punch, said:

The Three Horseshoes is a cosy, country pub close to Harrogate serving excellent food and drink which offers a warm, friendly welcome to everyone. The investment has given the pub a boost and I'm looking forward to continually supporting Lorraine, Phil and their team as they develop the business going forward.