The Mayor of the Borough of Harrogate took to the tees at Valley Gardens on Monday (16 May 2016) to officially open the refurbished crazy golf course.
Built in the 1970s, this is the first time in over 30 years that refurbishment has been carried out on the 18-hole course, which is situated in the Valley Gardens next to the tennis courts. Holes include rocks and timber obstacles which make the course more challenging and exciting.
The refurbishment work on the crazy golf course took four weeks to be completed and included removing the old obstacles and edging stones but keeping the footprint of each hole the same. New obstacles have been installed along with new edging stones, and each hole has been carpeted with a specialised product.
Refurbishing the crazy golf course is the latest in a series of improvements that have been carried out to upgrade the sports and play facilities in Valley Gardens. Over the last five years the tennis courts and paddling pool have been refurbished, along with a new play area and grass mat surfacing has been created, and a new games pavilion and a skateboard park have been built.
The Mayor (Councillor Nigel Simms) was joined by the Mayoress Lynn Simms; Wallace Sampson, the council's Chief Executive; and members of the Parks team for a round of crazy golf.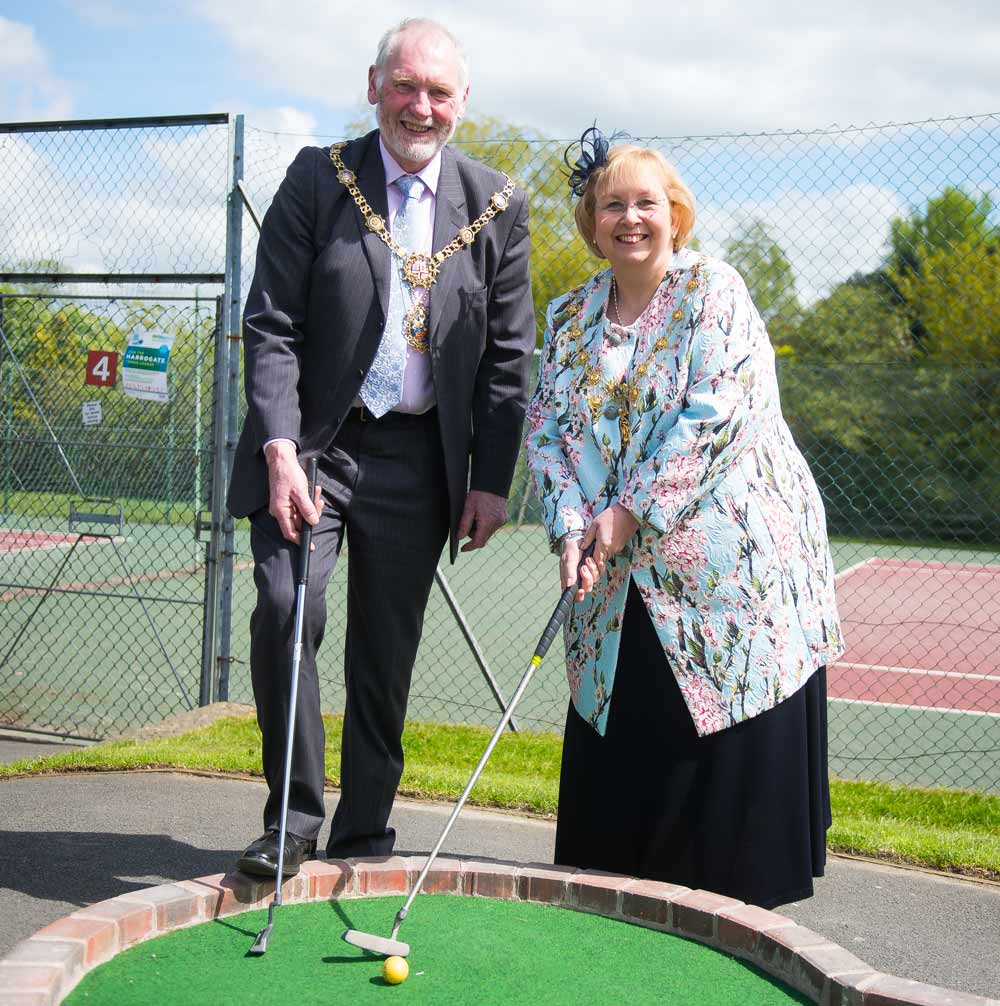 Councillor Nigel Simms, the Mayor of the Borough of Harrogate said:

Over its 30 year history, the crazy golf course has proved a hit with residents and visitors alike but its lumps and bumps meant it was becoming something of a challenge for even the most ardent and patient of players. Now, once again, it will provide a true test of a crazy golfer's skill!
Wallace Sampson said:

The council are extremely proud of the award winning Valley Gardens and we work extremely hard to ensure that it always look its best. The gardens are extremely popular attracting over three million visits annually and we are always looking at how we can improve its attractions. The refurbished crazy golf course will provide a fresh challenge for visitor's to the gardens to enjoy.
As well as an 18-hole crazy golf course, Valley Gardens has a pitch and putt, a putting course and disc golf. More information about the games available in local parks is available at http://www.harrogate.gov.uk/pos/Pages/Games-in-Parks.aspx