Jo Banks has always had a passion for gardening and now she has finally realized her dream of being able to share her knowledge and enjoyment with others by launching her own garden and flower school in Harrogate.
That desire to nurture took Jo in a very different direction for many years as she pursued a career in nursing, working as a health visitor in North Yorkshire before deciding to make gardening her career.
Jo said:

Plenty of people have a garden but wouldn't describe themselves as gardeners, although they would like to be.

The garden school is about giving them the confidence to have a go and discover the therapeutic joy that gardening can bring.

I've always loved the maternal nature of gardening, the satisfaction that comes from nurturing and taking care of the seedlings until they are big enough and strong enough to go out and fend for themselves.
She studied horticulture at RHS Harlow Carr in Harrogate and ran her own garden maintenance and design company before moving to London, where she worked at the internationally renowned Petersham Nurseries in Richmond, Surrey.
Since returning to Harrogate she has been preparing for the launch of Harrogate Garden and Flower School, which she runs from her Harrogate home.
Jo is also a member of the British flower growing network Flowers from the Farm and works hard to promote and support home grown flowers.
Jo uses British cut flowers in all her workshops and enjoys showing people how to arrange and display flowers in the home as well as grow them in the garden.
To find out more about Jo's classes and workshops visit www.jobanksflowers.co.uk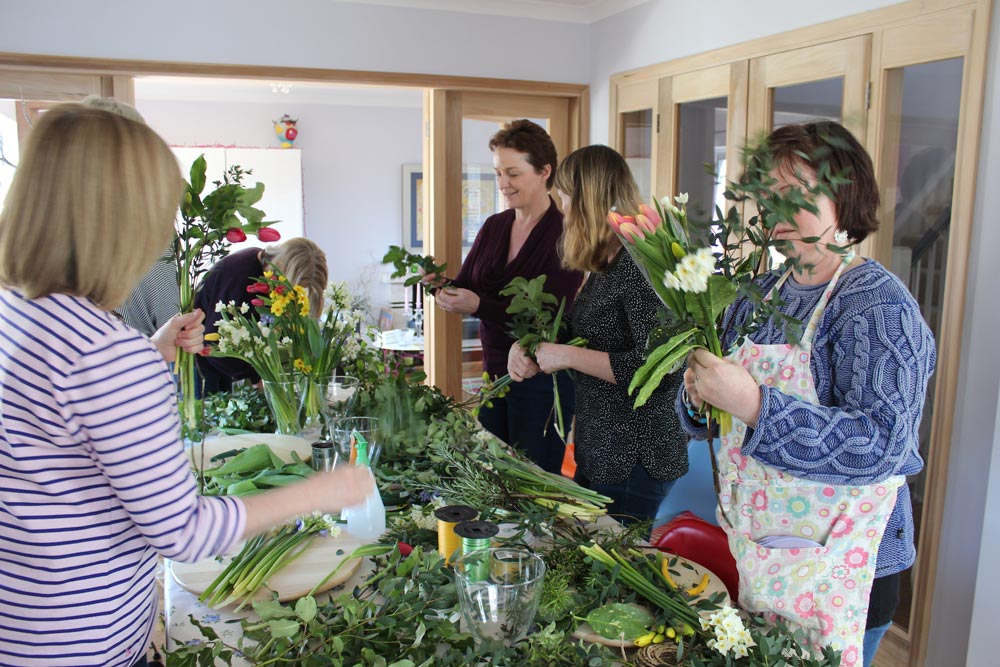 Forthcoming workshops
(All classes limited to 6 people. To book email jobanksflowers@icloud.com)
Flower Crowns, Corsages and Boutonnières  4/6/16
Stand out at this year's prom or party
Come alone or with your friends for a bespoke morning of floral escapism, creativity, indulgence and fun
10am-1pm
£65.00 to include all materials, champagne and canapés
DIY Wedding/Event Flowers 18/6/16
Delight in what beauty can be achieved using locally grown flowers and foliage.
From jam jar arrangements to hand-tied bouquets, learn how to put together stunning combinations of blooms to achieve a truly unique look.
Why not bring along your mum and bridesmaids for a bespoke morning of floral escapism and indulgence
10am-1pm
£65.00 to include all materials, champagne and canapés
The World of Herbs 25/6/16
Discover the ease and benefits of growing herbs on your plot/pot!
Make a hand-tied bouquet using home grown herbs and flowers
10am-1pm
£55.00 to include all materials and light refreshments
The Summer Table  9/7/16
Using British flowers, we will make arrangements to grace your Summer table
10am-1pm
£55.00 to include all materials and light refreshments
Edible Flowers  16/7/16
You wouldn't believe how many flowers are edible and can add such colour and style to your food.
Come and learn ways to add 'wow factor' to your cooking
10am-1pm
£45.00 to include all materials and light refreshments