Bettys & Taylors of Harrogate, the iconic Yorkshire tea room, bakery, and tea and coffee merchants, was delighted to welcome Their Royal Highnesses, The Prince of Wales and The Duchess of Cornwall who visited the family business for a tour behind the scenes on Thursday 18 February.
Their Royal Highnesses visited the tea tasting room at Taylors of Harrogate to find out more about tea buying and the business's commitment to strong ethical trading relationships, and to meet craftspeople at Bettys Craft Bakery and young chefs at Bettys Cookery School.
They were invited to create their own special tea blend and watch the finishing touches being made to Easter Eggs for Their Royal Highnesses Prince George and Princess Charlotte.
Chair of the Group Board and member of the Bettys family, Lesley Wild, said:

We welcomed His Royal Highness to Bettys in Harrogate in 2003, making this the second time The Prince of Wales has personally requested a visit to our business.

It's a significant honour and recognises our commitment to quality, service and the work we do to put social and environmental responsibilities at the heart of our business.
The family-owned business, which employs over 1,400 people, has previously been recognised with Queen's Awards for Sustainable Development and holds a Royal Warrant of Appointment as Suppliers of Beverages to The Prince of Wales.
Hand piping Easter Eggs 1 & 2: TRHs hand piping Easter Eggs at Bettys Craft Bakery under the watchful eyes of Bakery Director Caroline Grant and Chocolatier Kirsty Mitchison
Bettys Cookery School:  TRHs helping to make pasta dishes with Bettys Cookery School Tutor Chris Taylor and Young Chef course attendees Charlotte Wing and Ethan Taylor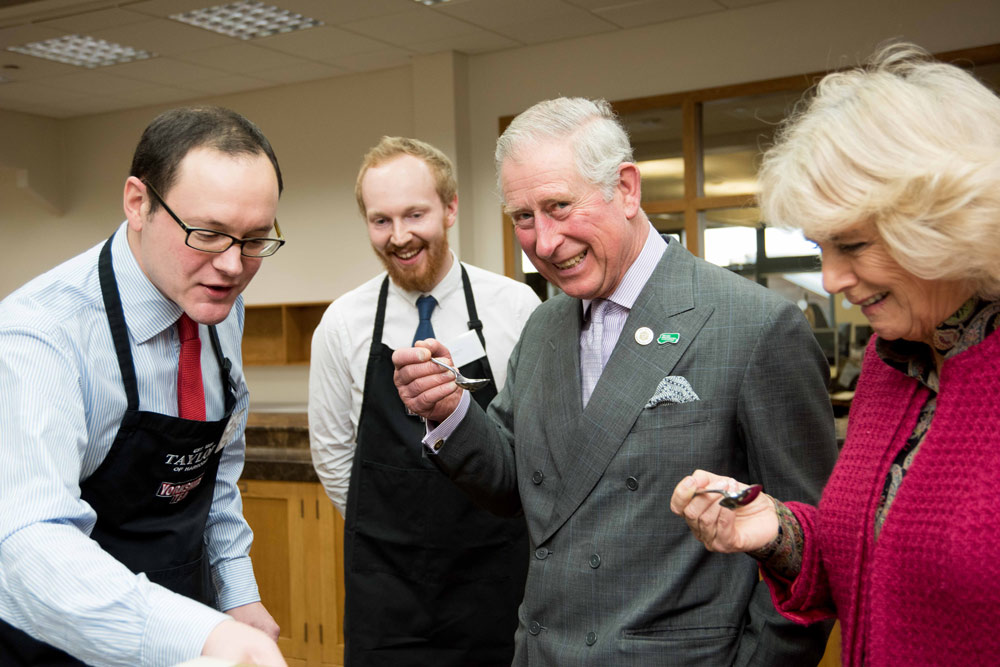 Tea Tasting at Taylors of Harrogate: TRHs in the Tea Tasting room at Taylors of Harrogate with Commodities Director Keith Writer (left) and Assistant Tea Buyer Henry Bookcock