Twelve members of the public will follow in the footsteps of Frankel and Frankie Dettori when they saddle up at York Racecourse to race and raise thousands of pounds for Macmillan Cancer Support, in the Best Western Hotels sponsored, Ride of their Lives.
The 12 riders – who include a mother of two, a nurse and a salon owner – face months of intense training before riding fully-fledged thoroughbred racehorses in front of a bumper crowd expected to be in excess of 25,000. On top of that, all have pledged to raise at least £2,500 each for Macmillan.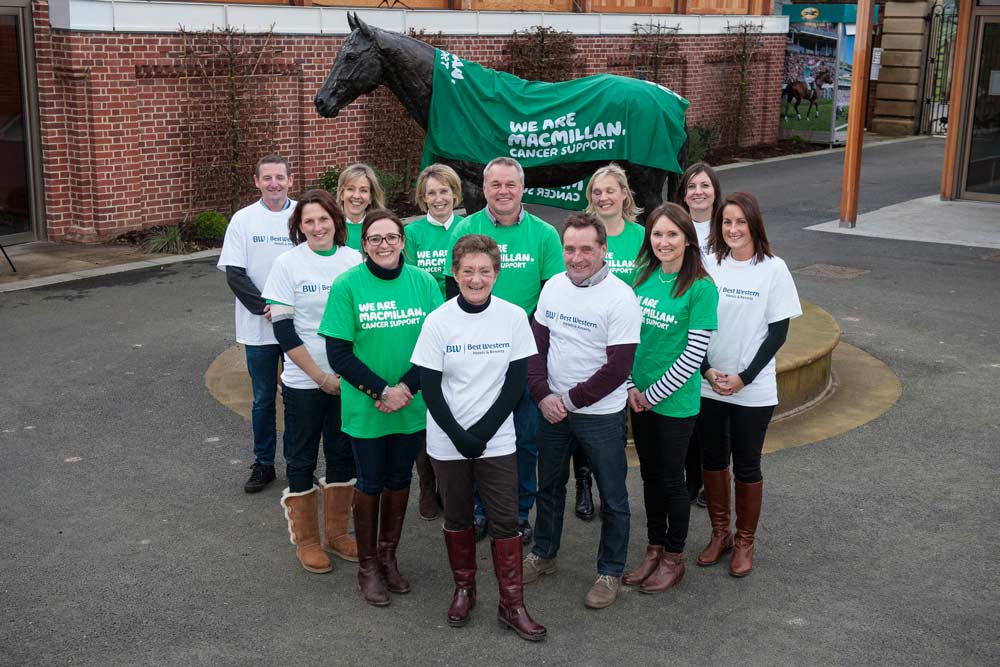 The riders will all enter the record books as the race is part of the oldest and biggest charity raceday in the world – the Macmillan Charity Raceday – which will see its 46th year on Saturday 11th June, having already raised over £6.5m for carity.
Among the dozen is 48-year-old Julie Kelshaw from Harrogate. The mother-of-two is set to race almost three years to the day from being diagnosed with cancer in her tongue. She was successfully treated following major surgery.
Julie said:

When you're told you have cancer, you're in shock and it's difficult to take it all in.  I had two Macmillan nurses who were there for me from the start, through my treatment and recovery. I had all sorts of questions about my operation – it was going to last 10 hours so I was quite worried. They knew the treatment like the back of their hand so they were able to put my mind at rest. They visited me everyday I was in hospital and when I was back home I knew they were only ever a phone call away. They were fantastic.

I wanted to take part in the race to give something back to Macmillan, and because it's in York where I had my operation. I'm really excited about the day; there are plans for a coach-load of friends and family to come over to cheer me on.

I've ridden since I was a child but I've only started riding again regularly since last summer. I've got a lot of riding ahead of me and work in the gym. It's a big challenge but that's exactly what I was looking for.
Riders had a meet and greet day at York Racecourse on Monday 18 January to begin their challenge. In the months to come, they will be given expert riding tuition at the Northern Racing College in Doncaster and a training day back at York with former champion jockey Kevin Darley.
Nikki Denton, Special Events Manager at Macmillan Cancer Support, said:

We're so grateful these 12 amateur riders are taking on such a huge physical challenge to raise money for Macmillan. Money raised for Macmillan helps fund our vital services which are there for anyone affected by cancer.
Head of Marketing and Sponsorship at York Racecourse, James Brennan, said

Once again a dozen brave amateurs have committed to ride their dream around the Knavesmire. With thousands watching they don't want it to become a nightmare, so I know they'll listen to Kevin and their other coaches as they prepare for the big day in June. They will be acutely aware that a successful ride means a successful fund raising event so please come to cheer them home.
Rob Payne, chief executive of Best Western Great Britain, which is also sponsoring the Ganton Stakes earlier in the day, said:

We are delighted to be the first company to sponsor the charity race. To us the Ride of their Lives is one of the biggest races at any racecourse in the world this year because of what the riders have committed to achieve.

They are inspirational and we are delighted to be helping them with their fundraising efforts and sharing their stories. Best Western was built on stories and a proud spirit of independence and that is why the race and the Raceday was such a good fit for us.
The Best Western Hotels & Macmillan, Ride of their Lives, is the finale of Macmillan Charity Raceday, which features seven races alongside charity lunches, auctions, raffles and collections all helping raise money for Macmillan and other charitable causes-  just by attending racegoers will play their part as a contribution comes from gate receipts. Last year, the Macmillan Charity Raceday attracted a crowd of more than 28,000 people who helped raise £429,000.
Riders in the charity race will be hoping to better the impressive figure raised by the class of 2015, who brought in more than £110,000 towards the grand total.
Macmillan Charity Raceday is a fundraising collaboration between York Racecourse and Macmillan Cancer Support. The event has been held annually since 1971, raising more than £6.5 million in total for Macmillan and other charitable causes.
To purchase tickets for Macmillan Charity Raceday, visit www.yorkracecourse.co.uk
The full list of riders for the race:
Owen Dukes, 48, from Acklam, Malton
Christine Swiers, 53, from Helperby, York
Ruth Carr, 39 from Stillington, York
Julie Kelshaw, 48, from Harrogate
Marcia Sanderson, 47, from Ripon
Steve Charlton, 61, from Bishop Auckland
Rebecca Robinson, 44, from Brompton by Sawdon, Scarborough
Debra Boyes, 35, from Pickering
Susanne Martin, 41, from York
Siobhan Carey, 34, from Chalfont St Giles, Bucks
Keith Oakes, 51, from Appleby in Westmoreland, Cumbria
Jules Brown, from Mottram in Longdendale, Cheshire