A centre in Harrogate designed to provide a tranquil setting for cancer patients has won a major award.
The Building Better Healthcare Awards declared The Sir Robert Ogden Macmillan Centre a winner, praising a mix of art, interior design and landscaping to create a "welcoming" space for treatment and support. The centre won the "Patient Experience – Best Internal Environment" category.
Opened in March 2014, The Sir Robert Ogden Macmillan Centre at Harrogate District Hospital is an outpatient oncology centre which provides state-of-the-art consulting, treatment and patient support facilities, as well as a cancer information centre. The build was made possible thanks to a £3.5 million donation by philanthropist Sir Robert Ogden. This figure was matched by Macmillan Cancer Support, while Harrogate and District NHS Foundation Trust provided £2 million. The centre was built to replace an older unit at the hospital, which wasn't large enough to meet a growing need.
Simon Henderson, Head of Service Excellence and Support at Macmillan Cancer Support, said:

We know that good physical environments support personal wellbeing, contribute to positive treatment outcomes, and enable caring and effective staffing. By listening to what patients and staff told us they wanted, we have turned the traditional treatment centre on its head and put their needs at the heart of this inspiring building.
The BBH Awards judges added:
This has been designed to enhance outcomes and there is expansive use of design to connect the inside and outside spaces. The building is welcoming, with lots of informal spaces to sit, and patient privacy, preferences and accessibility have informed the design throughout.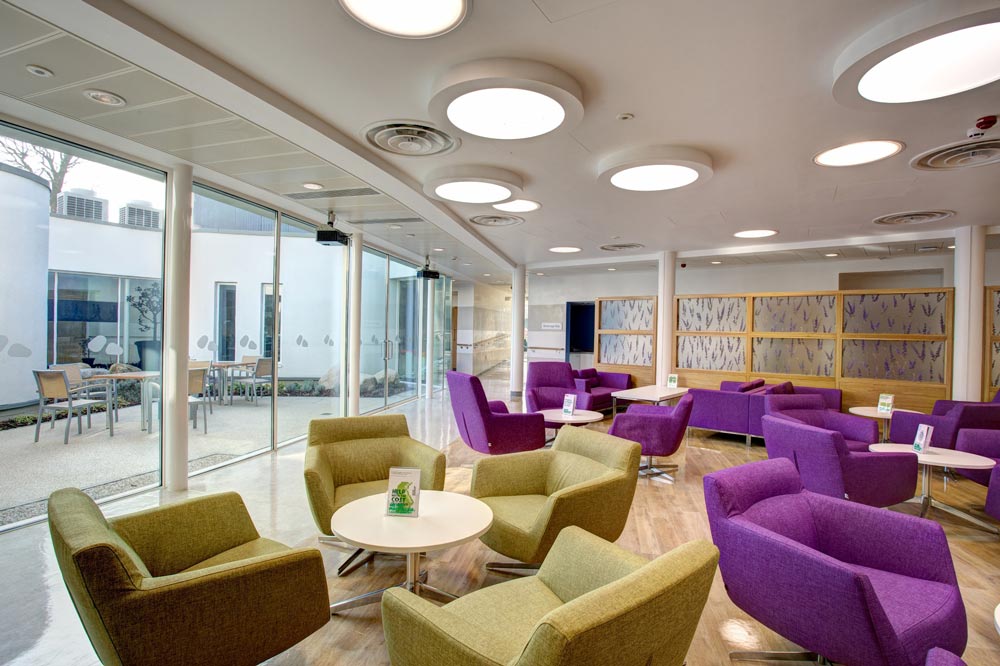 The centre includes a treatment area, which has 14 chairs for patients to receive chemotherapy, and separate surgical areas for procedures such as blood tests. There is also space for six clinic rooms, two rooms for counselling and a staff room. By the main entrance is the supportive care, health and wellbeing area, where services include patient information and support, complementary therapies and welfare benefits advice.
Sir Robert Ogden said:

I am delighted that the Centre has been recognised in this way. It is a superb resource for the people of North Yorkshire and I am proud to have funded the project with Macmillan. My wife and I take particular pleasure in the award because together we contributed fully to the development of the design of the interior.
Sarah Grant, Macmillan Patient Information and Health & Wellbeing Manager at The Sir Robert Ogden Macmillan Centre, said:

We're really pleased the Centre has been recognised in this way, especially because staff, patients and their relatives were so involved with the design. We know from the feedback we receive from staff that it is a very positive and modern environment to provide care, and patients particularly appreciate how the design features maintain their privacy and dignity.
Construction of the centre began in autumn 2012 and was completed by the end of 2013. Staff and services moved across in March 2014. The design of the centre was heavily influenced by patient representatives and delivers Macmillan's Quality Environment Mark (MQEM) – a benchmark for cancer patient experience. Receiving the award were the architects for the project, IBI Group.
The Building Better Healthcare Awards "celebrate innovation and improvement" in buildings, medical devices and people working in the healthcare industry. The annual awards are attended by more than 500 representatives from the NHS and healthcare industry.