Harrogate Ladies fought in poor conditions and a player short against a tough full 15 side of York RI on Sunday. The odds already against the squad playing from home, Harrogate showed the determination of any professional side. Unfortunately losing for a third time in a row 53 -6 in the Women's NC North 2 East League.
York quickly got onto the scoreboard, getting over the try line after 6 minutes with a clean conversion to take the lead to 7-0. Harrogate quickly replied, earning a penalty which Claire Williams kicked over to pull the score to 7-3. Following tough play between both sides, York dominated the possession and scored three tries in quick succession but with only one conversion, ending half time on 24-6.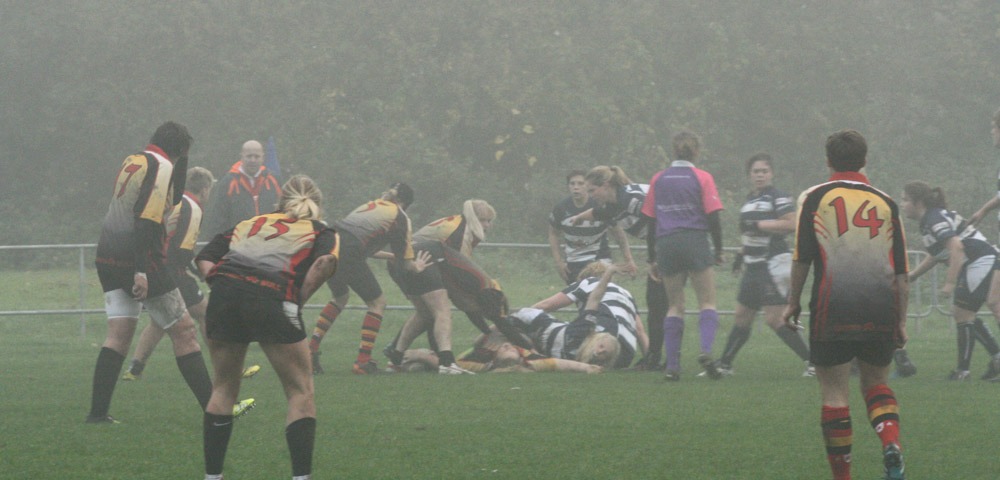 Entering the second half, York's discipline wavered. Harrogate earning four penalties, defending from their own 22m line pushing York back into their own half to their 22m line, allowing Claire Williams to take another shot at the post and adding further points to the board.
Coming towards the end of the game, York dominated with the ball but had issues in the scrum, despite having a much heavier pack, and line out. Harrogate's defence was stronger as the game went on with number 6 Kirstie Butler named player of the match with her numerous steals of the York ball and massive line breaks.
Even with a large scoreboard difference, Harrogate Ladies are bound for a win soon, and with Barnsley to play next on November 8th at Rudding Park, the improvement in this side is seen every single match.
Harrogate Ladies: Lizzie Townsend, Kate Taylor, Rebecca Haigh, Debra Humphries, Steph Mallinson, Kirstie Butler, Zoe Hardy, Ellie Ward, Claire Williams, Karina Pringle, Caroline Lacks, Sarah Jane Pritchard, Kat Currums, Nicole Jones.
York RI Ladies: Kirsty Parr, Theresa Westmoorland, Marie Spence, Kat Reed, Nicola Sipika, Ashleigh Lambert, Adebisi Adedji, Lizzie Prance, Katie Rushton, Freya Wilde, Laura Harris, Vicki Woodgate, Gemma Webster, Sam Bates, Rachel Demoraes, Jenni Cook, Yasmin Hayton, Charlotte Handcock, Lauren Van Bullen, Brooke Charlton.