A baby who nearly died after contracting meningitis on Christmas Day has inspired a family friend to lace up her trainers for the hospital that saved him.
Young Jacob Dodsworth, now 18 months, was rushed to Sheffield Children's Hospital on Christmas Day 2014 with pneumococcal meningitis – a virus causing swelling of his brain and spinal cord. The Ripon youngster, who also had fluid on his brain, was on intensive care for several days while doctors fought to save him, before being transferred to the neurosciences ward where he stayed for four more weeks.
Harrogate District Hospital nurse Eve Geldart, best friend of Jacob's mum Joanne, was so moved by the family's plight that she vowed to give back to the hospital through The Children's Hospital Charity by running the Great North Run.
Eve said:

It was a horrible time for everyone. Having a little boy of a similar age to Jacob really brings it home. You never think it is going to happen to someone that you know and love, but when it does it is devastating.
Jacob was thankfully saved by doctors at Sheffield Children's Hospital, but was left with hearing problems.
Dad, Tim Dodsworth, said:

We were in Weston Park looking at the ducks, and my wife noticed that unlike normal, Jacob wasn't reacting to the ducks quacking. Usually he would laugh hysterically, but this time he wasn't reacting at all. It felt like we were turning a corner, he was coming back to us, he was starting to smile, and then our world was shattered all over again when we found out he was profoundly deaf.
But under the hospital's hearing department, Jacob was referred for cochlear implants, and underwent surgery in March this year. Now he is a happy, healthy little boy who is going from strength to strength.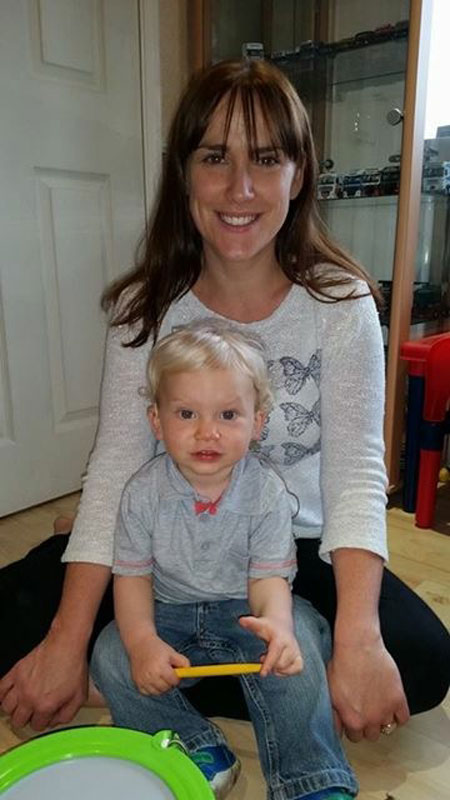 Eve, of Southfield Avenue, Ripon, added:

The treatment has been fantastic. Everyone was there to support the family, to explain things and to guide them through it. It is incredible now to see how far he has come, and his hearing has really improved. He is looking around now when he hears things and is recognising sounds. I just want to do this race so I can raise money so the charity can continue helping other children like Jacob. You never know when something like this will happen to you.
Eve will take part in the Morrisons Great North Run half marathon in Newcastle on September 13th. The money she raises will help The Children's Hospital Charity to make Sheffield Children's Hospital even better, by providing lifesaving equipment, funding research into the prevention and cure of childhood illness and improvements to the environment.
Tonya Kennedy, events fundraiser at The Children's Hospital Charity, said:

We are so grateful to Eve for taking on this challenge. A half marathon is no easy feat, and it is brilliant that she has chosen to support us to help other children like Jacob get better more quickly. Our hospital is Yorkshire's only standalone children's hospital, seeing children from across the region, the UK and further afield. But we couldn't keep our hospital at the forefront of paediatric care if it wasn't for the generosity of our donors, like Eve.
To donate to Eve visit https://www.justgiving.com/Eve-Geldart1/
For more information, including details of how to get involved with The Children's Hospital Charity, visit www.tchc.org.uk