Raworths, one of Yorkshire's leading law firms, returns as title sponsor of the Raworths Harrogate Literature Festival, part of the Harrogate International Festival for the fourth year.
The annual Raworths Harrogate Literature Festival takes place from Thursday 2 July to Sunday 5 July at The Crown Hotel, Harrogate.
Picked by Harper's Bazaar as one of the UK's best literary festivals, the event features a wealth of stars.
Zoe Robinson, managing partner at Raworths said:

It's a remarkable line-up of authors this year.

We strongly believe our business should enrich the community in which we live and work.

As a forward-thinking law firm and one of the longest established, like the Harrogate Festival, we are part of the fabric of Harrogate.

We're proud to continue our support.
Literary heavyweights include Louis de Bernières, Joanne Harris and Sadie Jones, whose prizewinning novel The Outcast is being screened by the BBC this year.
From the world of politics, Labour MPs Dennis Skinner and Alan Johnson present their memoirs and Sam Delaney's Mad Men and Bad Men gives a behind-the-scenes tour of the election campaigns of the last four decades. Former Newsnight journalist Gavin Esler will reveal the leadership techniques of celebrities from Bill Clinton to Angelina Jolie – many of whom he's interviewed himself.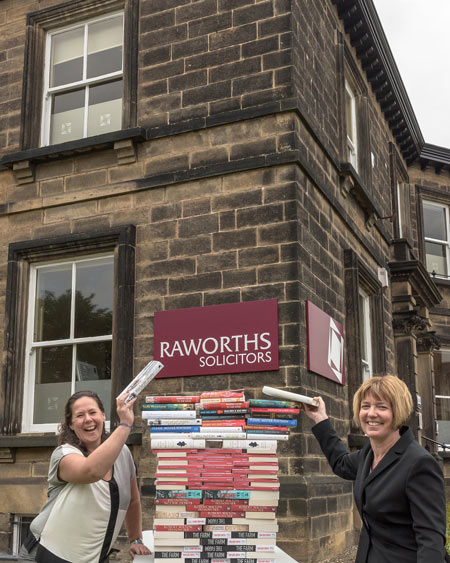 Ultimo founder, businesswoman Michelle Mone, stars in the Raworths Literary Lunch, in association with Yorkshire Life, while political economist Will Hutton explores how to change the way we do business for everyone's benefit.
Other authors include Tracey Thorn of Everything But the Girl, BBC broadcaster Edith Bowman, Countrywise presenter Paul Heiney, comedian Dom Joly, Noddy Holder of Slade, Bill Oddie, priestess of pottery Emma Bridgewater, and Guardian beauty guru Sali Hughes, with comedians Jenny Eclair and Viv Groskop delivering a double act.
Richard Madeley and Judy Finnigan are also back for a second year.
To mark the 150th year since the death of Admiral Robert Fitzroy, whose revolutionary work on weather forecasting gave every Englishman something to talk about, Peter Moore tells the story of how it became a science.
2015 is also the 150th anniversary of Alice in Wonderland, Robert Douglas-Fairhurst's Story of Alice reveals how Alice Liddell's relationship with Lewis Carroll influenced the stories we know and love, while Robert Sackville West explores his family history that rivals the best in costume drama.
Cathy Retzenbrink will discuss her moving memoir on her brother, The Last Act of Love, In Conversation with Matt Haig, who will be opening the lid on mental health, exploring how to live better, love better and feel more alive. Oxford muse Theodore Zeldin will explain how to find the Hidden Pleasures of Life.
Sharon Canvar, CEO of Harrogate International Festivals, said:

As an arts charity, only 2% of our income is from public money and we are therefore so grateful for Raworths continuing support. Harrogate attracts the biggest names; it shows what's possible when the business community steps up for the arts.
Raworths became the inaugural sponsor of the new literature festival in 2012 to celebrate the law firm's 125th anniversary in Harrogate. It has since become a key strand in the diverse festival portfolio.
As well as benefitting residents, Harrogate International Festivals boost tourism, with an annual £8.2m economic impact on the town.
To book: www.harrogateinternationalfestivals.com Box Office: 01423 562 303