Traditional skills and the most modern and up-to-date woodland practices will come under scrutiny in the Forestry Arena at the Great Yorkshire Show, England's premier agricultural event.
More than 130,000 visitors are expected to come through the gates at Harrogate over the three days, Tuesday 14 – Thursday 16 July, to enjoy a mix of entertainment and fun as well as learning more about the countryside.
The Forestry Arena, is dominated by the two 80ft-high poles needed for the show's Great British Pole Climbing Championships, and has an action-packed programme of activities planned for each day.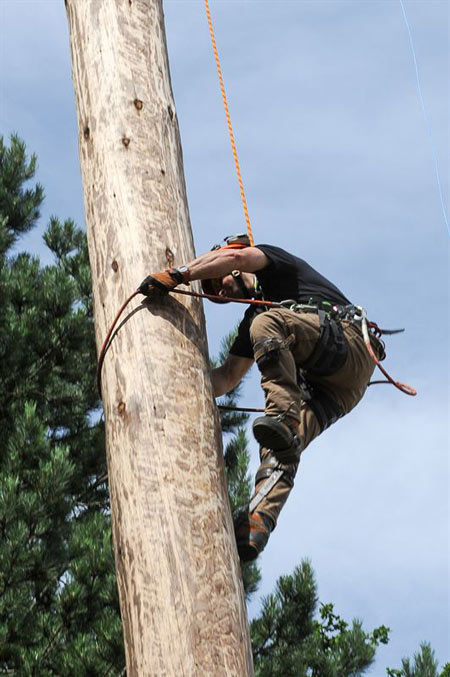 Forestry steward Will Richardson is excited about the mix of old and new at this year's Great Yorkshire Show.
Will Richardson said: We have a real mix for the visitors this year, demonstrating traditional forestry skills with The Cumbrian Axemen display, and the working horses, through to the most modern, high-tech harvester machinery. This will give people an insight into the full range of what goes on in a forest.
Taking centre stage is the pole climbing competition, sponsored by re:heat, which sees dare devil competitors pit their climbing skills against each other, and the clock, in a thrilling race to the top of the two poles.
Many of the UK's leading climbers have signed up for the annual competition, a popular feature of the Great Yorkshire Show, along with the oldest pole climber in the business.
George Tipping, 81, from Merseyside, a regular at the Great Yorkshire Show, is returning again this year along with his grandson Daniel Whelan, another past competitor.
All the climbers will be hoping to beat the current Great Yorkshire Show record of 9.57 seconds which was set in 2009 by former UK Pole Climbing Champion, Grant Gallier of Oswestry, Shropshire. There are two heats per day, culminating in a grand final on Thursday afternoon when the fastest climber will win a top prize of £250.
Another exciting feature will be demonstrations by The Cumbrian Axemen, and hopefully some Axewomen too, who are making a welcome return to the event – their axe-wielding skills will be sure to wow the crowds.
Events in the Forestry Arena kick off at 8.30am, allowing visitors to watch demonstrations of traditional forestry skills, including working horses being put through their paces, as well as seeing the latest high-tech timber harvester machinery in action.
The Great Yorkshire Show is organised by the Yorkshire Agricultural Society. This year sees the 157th show.
Tickets are available either on line – go to www.greatyorkshireshow.co.uk  – or call 01423 541222.