Andrew Mearns, Porsche specialist Business Owner of Gmund Cars, knows potential and talent when he spots it. That's why Gareth Jenkins, a student of Harrogate College's 14+ Skills Academy was hired as an Apprentice as soon as he successfully completed his Motor Vehicle Engineer Course.
Whilst studying for core GCSE's at King James's School Knaresborough, Gareth came to Harrogate College two days a week and achieved a Level 2 in Motor Vehicle Engineering.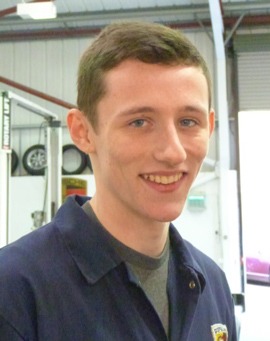 Gareth said: It was thanks to a teacher at school that I was recommended for the 14+ Skills Academy Course.

Miss Ramsay saw that I loved to learn in a practical way, and advised me that this course would put me one step ahead of the competition for an Apprenticeship or Job when I finished school.
Miss Ramsay was right, as Gareth can now be spotted with his beaming smile under the bonnets of, or stripping the engines of very expensive, specialist Porsche Classic Cars. Business Owner, Andrew has been so impressed with Gareth's commitment and skill that he's invested in a 1962 Porsche 356, which he is training Gareth to strip and renovate from scratch.
Andrew said: The Porsche 356 has just been imported from Cape Town and is currently a wreck!

I have every confidence in Gareth being able to take on such a high value project in the near future; the car will retail for £250,000.00 when it's finished.

Gareth is very much part of our small specialist team at Gmund, as we really are a big close family.

As soon as Gareth finishes his Apprenticeship there's a permanent job waiting for him.

I too was an apprentice and started this business from scratch, so who knows, maybe Gareth will take over from me one day!