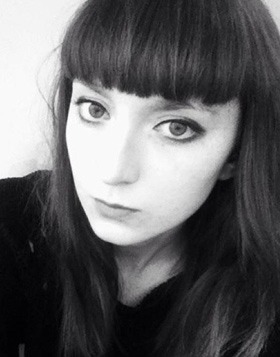 Harrogate, North Yorkshire – Some of the most eye-catching animal rights demonstrations that have swept the UK in recent months have been successful thanks in part to Rose Patterson, a Harrogate native who's never afraid to stand up against the abuse and killing of animals for food, clothing, experiments and entertainment – and in honour of International Volunteer Day, 5 December 2014, Patterson will take home PETA's Volunteer Award.
PETA Director Mimi Bekhechi said: Rose Patterson is tireless, passionate and willing to use every tool at her disposal to bring the suffering of animals to light.

PETA is honouring her for her work as well as her ability to inspire others to become involved in the worldwide struggle for justice for animals.
Patterson, 25, is a photographic arts student. This November, she joined 100 other PETA members in Trafalgar Square to strip down, splatter herself with fake blood and lie naked in a heap in a pro-vegan demonstration – held on World Vegan Day – to encourage passers-by to have compassion for the billions of animals who are slaughtered for their flesh by the meat and fishing industries every year.
Patterson delivered a model "dead goose" to Fortnum & Mason to serve as an upsetting reminder of where foie gras really comes from. And on International Pillow Fight Day, she led the PETA members who attended the flash mob in Trafalgar Square with a large "goose", holding signs that encouraged pillow fighters to spare a thought for the ducks and geese who are plucked alive to the point of bleeding and to choose down- and feather-free pillows.
She'll receive a framed certificate from PETA – whose motto reads, in part, that "animals are not ours to abuse in any way".
For more information see PETA.org.uk