The 11 November 2014 was a particularly special and moving day at Harrogate Grammar School. Participating in the dedication of memorial trees on the Stray, partaking in the nearly one hundred-year old tradition of holding a minute of silence at the Cenotaph and laying a wreath and standing with hundreds of others in Harrogate to both commemorate and celebrate the sacrifices of our Armed Forces.
The Cenotaph Ceremony was further complemented by the Evening of Remembrance that was led by the Head Girl, Ciara Martin, and Head Boy, Jamaal Mens, which saw several musical, dramatic and dance performances arranged and delivered by students in order to raise money for the Royal British Legion.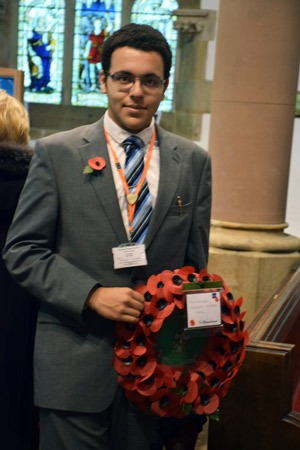 The Jazz Ensemble opened with a vibrant rendition of In The Mood, by Glenn Miller, followed by an emotionally honest and brave description by Jamaal of what it felt like as a 15 year old student when his father went to fight in Afghanistan in 2012. As he said, he was lucky, his father came home, unlike 402 other families from that particular deployment.
The HGS BTEC Dance students performed two pieces: This Is War and Fix You. They wanted to represent the anger and terror they feel about war, and also the love we have for those involved in it. The Wind Band broke the mood with more Miller, this time Moonlight Serenade.
One group of students worked with the drama team to devise their own piece of theatre. This was performed including a nod to the giving of white feathers; women starting to work, the millions of letters written to loved ones, the famous 1914 Christmas day football match between English and German troops, ending with raw statistics of just how many men lost their lives in those four years.
The choir followed with the beautiful Nightingale Sang in Berkley Square and then For the Fallen, an exquisite version of Laurence Binyon's poem. Will Hain led the audience in a minutes silence with a haunting Last Post sailing through the air of Harrogate Grammar School.
It was an emotional evening enabling the audience to take time to remember and honour the millions of people that died for our freedom.
Harrogate Grammar School are proud to have participated in Remembrance Day, and hope that their presence, as well as that of their peers and students from other local schools, will serve to ensure that this generation will continue the tradition of honouring the service and sacrifice of our troops for years to come.