The Manhattan Skyline were back with a vengeance this week with an 8-1 thrashing of an under par Trades Hall, Alex Roadley said "Someone had this coming, and soon, I am happy with the team's performance, but beating Graham Coates was the icing on the cake".
Division 1
                                              Pyd     Won     Sng    Prs     Pts
Bilton Batsmen                                7         5         27      18      45
Cons Club MaHoosive                      7          7         29       15     44
Manhattan Dales                             7          5        26       11     37
George & Dragon                           7          4         21       11     32
Empress show form
The Empress team took the honours as the won their second game of the season against bottom of the table Londesboro 2, winning 6 – 3.
Captain Daz Murthick was once again "well impressed"
Mark "China" White in action, beating Jez Davey in a comprehensive 7 2 Victory over Harrogate Railway
Congratulations to the Manhattan Skyline, in breaking there "Beaten Run" of 6 games in a row, with an 8-1 smashing of Trades Hall, and also to the Empress with their second win of the season, over the Londesboro 2 side.
Congratulations go to players with 180's this week.
– Rick Harper (Manhattan Dales)
– Steve Higgins (Bilton Batsmen)
– Lewis Pride (Bilton Batsmen)
– Dave Pilgrim (Harrogate Railway)
– Wes Gotting (Stonebeck)
This week's outstanding performance goes to Nick Hanslow with games of 16/17 darts, and an overall average of 91.09.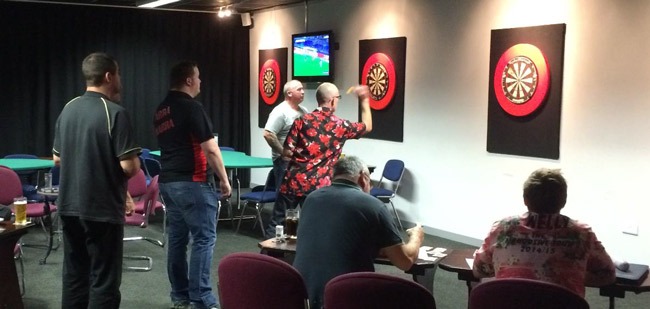 For more news and all results on the Harrogate Darts league please find us on Facebook, and on line at www.harrogatedarts.co.uk.
Wayne Campbell: League Secretary