Harrogate accountant and classic car enthusiast Robert Horner is planning to cover 2000 miles in 48 hours in his 1964 Triumph TR4 this weekend to raise funds for Macmillan Cancer Support.
Mr Horner, a partner at Lithgow Perkins chartered accountants, is taking part in the Round Britain Reliability Run with his 78-year-old father-in-law Eric Cartwright as co-driver.
Mr Horner said he hoped Eric's background as a mechanic in the 1960s working on TR4s will stand them in good stead as they take to the road.
Their vintage vehicle will be one of more than 100 Triumphs attempting the drive from London to John O'Groats and back again, via Lands End.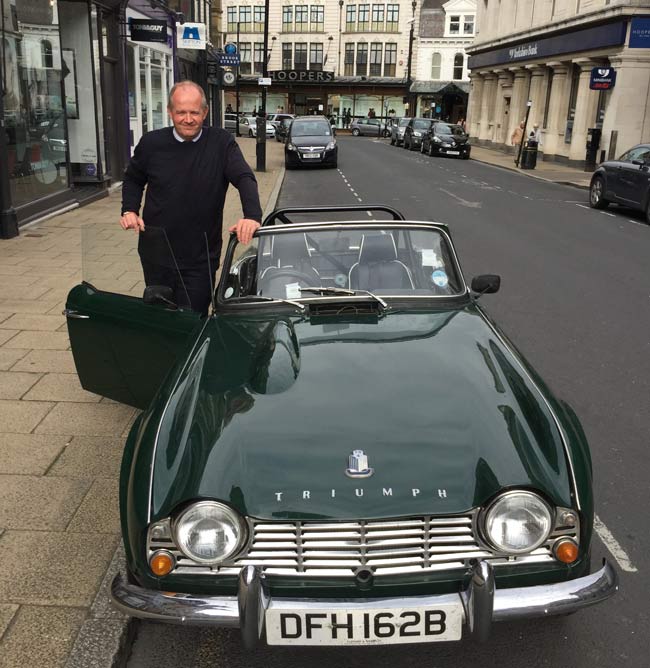 They will take their place alongside Spitfires, Dolomites and other iconic Triumph cars including a rare 1975 Stag Saloon and a 1950 Renown.
Mr Horner said: My passion for classic cars dates back to childhood and was inspired by my father who was a Triumph enthusiast and proud owner of a TR2 and Spitfire.

As well as the TR4 I'll be driving on the reliability run I also have a 1958 TR3A which is in mid restoration and currently in bits.

My colleagues at Lithgow Perkins have been hugely supportive as have many of our clients and I am hoping that the trip will raise plenty of money for Macmillan as well as giving me an opportunity to indulge in my passion for classic cars with fellow enthusiasts.
The 24th Round Britain Reliability Run set off from Enfield on Friday 3 October 2014 with the cars expected to arrive back at their departure point on Sunday October 5. In between they will hope to make it for breakfast in John O'Groats on the Saturday and Lands End on the Sunday.
To support Mr Horner's classic car challenge and donate to Macmillan Cancer Support visit www.justgiving.com/Robert-Horner3