Harrogate car dealership, the Benfield Motor Group, has donated the proceeds from its Tour de France celebrations held over the weekend of 5-6th July to local charity, the Harrogate Easier Living Project (HELP). Over £576 was collected from the general public who had poured in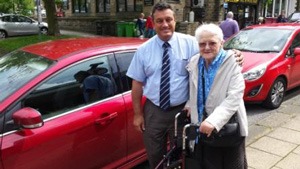 to the Knaresborough road based dealership to watch the Tour de France and take part in a family fun day organised by official Tour de France partner, Skoda.
This donation was the culmination of a year of fundraising and support by Benfield Harrogate for the Harrogate based charity. Over the past year, Benfield has raised over £1,000 for HELP by holding cake stalls and a 'Guess the number of balloons in the car' competition in its dealership. Benfield's support has also extended to offering transport to HELP's Opening Doors service, which organises outings and events for its clients, all of whom are either older, have a disability or visual or sensory impairment.
The decision to nominate the HELP as their charity of the year was made after reading in the local press about the charity's work supporting local people to retain their independence.
General Manager of Benfield Harrogate, Nigel Clayton, said: As a company, Benfield challenges its dealerships to make a difference in the communities in which we work under its 'Be More' scheme. We were looking for a charity to whom we could offer ongoing support, rather than just ad hoc activity. We had fuel, vehicles and staff which meant we could provide practical assistance to HELP which had a defined outcome.
Over the past year, Benfield drivers have taken HELP clients out and about on several outings, including trips to Newby Hall and to Ilkley.
Rachel MacKenzie, Service Co-Ordinator for the charity's Opening Doors service, commented: Our social outings and events provide a lifeline to our clients, many of whom would struggle to get out otherwise.

The Benfield team has gone the extra mile. Not only have their drivers provided an efficient and comfortable transport service, they have also been very caring and courteous. We have received many positive comments from our clients about the excellent support they have provided.
The charity has also benefited from Benfield head office matching any funds raised by the Harrogate dealership.
Nigel commented: We set out to support a local charity whose work directly benefits local people. We are really pleased to have assisted HELP in making a difference to people's lives locally.
The Harrogate Easier Living Project (HELP) provides support for older people and those with a disability to remain independent in their own homes. The three services – Help at Home, Carers' Time Off and Opening Doors – offer practical help around the home, carer relief and accompanied outings for people who cannot get out and about by themselves.
The service is provided with the support of a team of volunteers. The charity is currently looking for additional volunteers who could offer their time for a wide variety of roles either regularly or occasionally.
Anyone interested in finding out more about the service, or becoming a volunteer, should contact Anna Woollven on 01423 813090 or anna@harcvs.org.uk