Charity Watch – In a change to regular programming, when usually I tell you some stuff I like the sound of, then go on and on about "all" the charity work I am doing (that will return next week), there are actually a couple of very nice and worthwhile Charity things going on I can talk about without referencing once my "tireless" three gigs a year that I do for nowt. Although I may (will) still shoehorn in my "bit" at a later paragraph.
On Sunday, Charrity Hair Design on West Moorland Street, are holding a special Charrity Charity Day (Though they aren't calling it that, that name was my invention). All the proceeds from the day are going to Thea's Trust, which is a really nice idea.
Meanwhile my close personal celebrity showbiz friend Jonathan Skinner has done a single for Thea's Trust. I've just listened to it and it is, typically of music involving Jonny, a well written tune superbly sung. Untypically for Jonny though it's got a string section! A String section! This is next level stuff! I asked Jonny what it was all about and he said, and I'm copying and pasting our "interview" here:
"Keep The Candle Burning Keep was written when I heard the news my friends child was diagnosed with mps1 Hurler Syndrome, which she unfortunately lost her battle with a few weeks ago. I thought: what better way to raise money than through music? The song came very quickly and was recorded with Dan Mizen at Active Audio with help from Steve Campbell (tunji) and Gav Ramsay (soundstorm) who helped me with the bones of the song. I later got Andy Crick and his friend Jake to play the strings. We will be sending it out on the digital highway to sell with 100% of the profits going to Thea's Trust (www.theastrust.co.uk) and the song will be available to buy digitally from iTunes etc from the 25th of July when we are having a launch night at the Den in Harrogate starting at 7:30!"
Jonny attached a couple of studio photos of himself during the recording, but frankly there isn't yet a camera made that is capable of capturing Jonny's enigmatic smile and sensual gracefulness. Instead then here is the logo for Thea's Trust.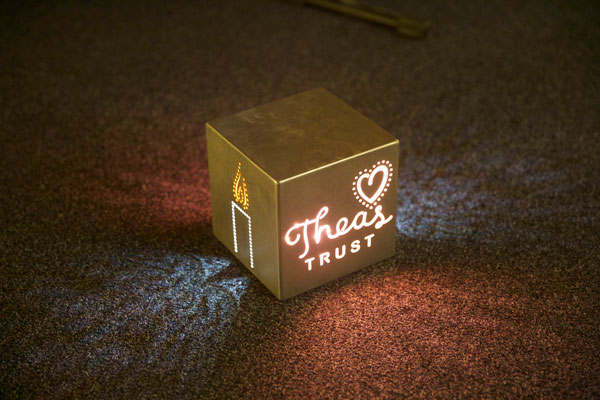 You can only applaud something positive coming from something so sad, and the resultant tune is really heart warming, uplifting, and has a classically Jonny Skinner chorus. Most importantly it's for a great cause. Hats off to everyone involved!
If you went to Bedfast a few weeks back you might wanna pick up a copy of the DVD Henshaws have released of the event. I DJed the day and had a smart time, but I'm not sure if I'm in the DVD as I don't recall anyone filming me. Seems like an opportunity missed really if I'm not in it as I'm told I have the prescence of Robert Deniro on Camera. With the good looks of that one out of Bros that wasn't one of the twins. Still, the DVD's are available for £5 each, for an extra £5 you can also have a t-shirt! The T-Shirt DOES have me on it (not like, physically me, that would be weird and gross, I've not wiped myself on them or anything! They have my name written on. Last (and in small print).) Also at Henshaws this Sunday they have an Arts and Crafts fair. So buy the DVD / T-Shirt combo while you are there! Mention me in your purchase and I will get a free latte next time I'm there! Maybe.
Getting on my Soap box
If seeing all them blokes on them bikes at the weekend got you in the mood for some crazy racing, The Harrogate Round Table are holding a soap box derby day on Sunday 25th August at the Valley Gardens. There is still space for a couple of teams but crack on as places are limited. https://www.facebook.com/events/1410655705883120 If Harrogate-News approve it, here is a photo of me with my personal pick for "Best Dressed (after me) Award winner on Le Tour Day" on Saturday just gone.


I freewheelingly admit to have been slightly cynical about the whole tour de france thang, but credit where it's due, it was a really cool day in town and those garlic munching tower builders ran the thing with German like efficiency. Beret's off to Jonny Frenchie AND good work to everyone in Harrogate who got into the party spirit of it all! I've gotta say mad props to M.F.O.R. who SMASHED that stage at the fan park whilst I was there before going to my job, their cover of Abba's "Lay all your love on me" was unreal! Truly awesome, and a great day, well done Yorkshire!
This Weekend
First off, there are potentially 2 Charity gigs on Saturday. Certainly there is the R.O.A.B. summer gala at the Police Convalescent Home on Skipton Road. This is a full days full on Summer family day out with loads of entertainment on. Now, in my notes (that I pick up and scrawl on bits of tissue when I am out and about on my daily rambles) I have written that 14 Manor road have got a United Response charity day with Bands, a Rapper and a DJ. But I can't find out anymore about that so "check with venue" is possibly advisable?
Here are some things I am certain about though:
Citizen Smith are playing Christies on Friday, meanwhile my favourite acoustic noodler, Martin Rose, is playing Jakes Café on Saturday evening. I like Jakes, their latte's and buns are superb. In passing I suppose I could mention that next Thursday, Friday and Saturday I am sitting in Oxfam Bookshops window during the day dressed as Dr. Watson (off of Sherlock Holmes) in a misguided attempt to raise money for Mosquito nets or something. It is RIGHT NEXT to Jakes Café, so I suppose you COULD, if you WANTED, go there and buy, lets say a large decaf semi skimmed latter with Hazlenut (plus a bun, your choice) and bring it to me next door. AND donate some money to charity too. Or just go in and buy a book. Reading make you clevererer aren't it?
Back to this week, also on Saturday, Retro Bar has got Selby Green live. It's free entry.
Now, I am contractually bound to mention the fact that I am djing Rehab on Saturday night and it's my Rock Night "Bottom of the Bottle"'s 12th Birthday. Entry is free for that too, and doors open at 8pm with 5 (F.I.V.E.) live bands on, genuinely ranging from Acoustic, through blues and funk, all the way to Death Metal. I feel like I'm getting to the end of my time putting on live music, as it's really hard work and sitting at a computer constructing poorly, erm, constructed sentences is a much easier way to make money. Granted, I don't get paid for this but I generally lose money when I put bands on so this classes as profitablilty for me. Do come and see the bands though this Saturday, the line up is: The Heavy Souls (acoustic), Alhonzy (Blues), Terra Omnia (Death Metal), Hell Fire Jack (Rock n' Roll) & Impyus (Funk Rock Fusion) and after that I'm djing til 4am.
As I mentioned, next week at this time I'm sitting in a shop window at Oxfam Bookshop dressed as a character I have essentially been trying to look like for 2 years, so next week's column will just be listings with non of this exhaustive preamble, which I think is a result for everyone? Here's this week's full listings:
THURSDAY 10th July
Blues Bar, live music from The Resonators, Free entry.
Lure Bar, not very good quiz with not very good Dj Trev and not very many people.
Viper Rooms Nightclub YOLO R'n'B nigh.
Rehab Nightclub with Dj Tex. "Urban R'n'B".
The Alexandra, Live music, free entry.
Christies Bar, Pub quiz with Sean McGrath.
FRIDAY 11th July
Blue Bar, live music with Absolution, free entry.
Christies Bar, Citizen Smith live. Free entry.
Lure Bar, Shuffle with Toby Skinner. House, Breaks & Funk.
Moko Lounge, Shakalakaboom club night with a weird name.
Rehab Nightclub, "Electro Circus" dance Night.
SATURDAY 12th July
R.O.A.B. summer gala at the Police Convalescent Home on Skipton Road.
Blues Bar, live music with the legendary Jed Thomas Blues Band
Jakes Café, Martin Rose playing live in the evening.
Revolution Bar, front bar Dj Tex (Soul & R'n'B), main room Disco Dave (upfront dance and chart) free entry.
Moko Lounge, Drop Out house night.
Retro Bar, Selby Green live. Free Entry.
Rehab nightclub, two floors of music: Top Floor : Bottom of the Bottle ROCK NIGHT 12th Birthday party from 8pm, FREE ENTRY with music from The Heavy Souls, Alhonzy, Terra Omnia, Hell Fire Jack & Impyus, followed by Dj Trev 'til 4am.Downstairs: Dance music with Dj Wayne & James. Free entry.
Vipers Rooms Nightclub Dj Angel Lee & The Legendary Neil Jaques playing tunes for upfront clubbing upstairs, Harvey Westwood downstairs.
SUNDAY 13th July
Charrity Hair Design on West Moorland Street, Thea's Trust Day. All Proceeds to Thea's Trust.
Arts & Crafts Fair at Henshaws in Knaresborough.
Blues Bar, live all day: Vintage 3pm, White Light 6pm & Hall Fire Jack 9pm.
Empress on the stray, Pub quiz every week.
Rehab nightclub, Dj Trev's Sunday Social.
Viper Rooms. Peek-a-Boo R'n'B night.
Hales Pub, live acoustic night.
Fat Badger, Cold Bath Road, Pub Quiz.
MONDAY 14th July
The Harlow Inn, Otley road, Pub Quiz.
So! Bar, Otley Road, Pub Quiz.
Rehab, late bar.
Blues Bar, fully hosted fully entertaining open mic session, hosted by Pete Oliver.
Moko Lounge nightclub, Karaoke.
TUESDAY 15th July
The Blues Bar live music with Stock Yard Crossing, Free entry.
The Tap n' Spile pub, folk night.
Pitcher & Piano Re:Session cheap drinks night.
Rehab, Open Deck Session.
Moko Lounge Nightclub, "Skint" main room upfront dance and electro, VIP Room Rock Box Rock night Dj Jaye Selway.
Revolution Bar, "Back to Rev's" House Night, Half Price Drinks with Toby Skinner.
Coach and Horses Pie and Peas night with proceeds to Martin's House Children's Hospice.
WEDNESDAY 16th July
The Harlow Pub "Midweek Madness" pub quiz with Dj Tim Paul.
The Regency Pub, big screen quiz.
Rehab nightclub, Dj Max Czernic. Anything goes party set with Harrogate's next big hair.
The Blues Bar, live music from the Paul Middleton Angst band
Dj Trev's BIG Literary ting RECAP, cos it's next week
The Old Peculiar Crime Writing Festival (which is in itself part of the Harrogate International Festival) is coming to town for the 17th to the 20th of July. Here are some of the main highlights, plus something that seemed like a good idea when I agreed to it some time ago, whilst possibly drunkened by strong liquors.
J.K. Rowling in conversation, on writing as Robert Galbraith at The Royal Hall. (Tickets SOLD OUT); Lynda LaPlante book signing and in conversation at a prestigious mystery town center venue. (Tickets £13); Peter May, author of the "Lewis" series, in conversation with Anne of Cleves, presumably talking about her time as one of wives of Henry VIII. (Tickets £12); Best selling author Mark Billingham doing a crime quiz; DCI Banks' star actor Stephen Tompkinson in conversation with author Peter Robinson at the St. George Hotel.(Tickets £15)
….. and me, Dj Trev (plus his Holmes) sitting Oxfam Bookstore Window dressed as Doctor Watson, reading books and looking at the evidence against him. (Strangely, this is a non-ticket free event).
If you have any listings you can message me on facebook, though please allow me time to reply as I will have to wade through the tones of messages from hot single girls asking me to leave them alone. This is also a good way to get in touch if you want to cunningly trick me into doing something bizarre for charity, such as sitting in a shop window for 3 days dressed as Dr. Watson. I'm not really sure HOW that is going to raise money for charity, perhaps there will be some stocks and you can pelt me with rotten fruit; frankly that would be an improvement on the majority of feedback I get for my output, still, I'm told with certainty that I will get free Latte's all day, so that's a start.
Thanks for reading, drink responsibly and don't be loose with your affections.
Trev x x x