Harrogate district residents and businesses have been busy getting behind Harrogate Borough Council's 101 bicyclettes project to celebrate the arrival of the world's greatest cycle race. With bikes decorated with flowers or knitting, made from metal, wood and willow or just painted Tour de France yellow.
Others around Yorkshire have been equally creative. But with two bikes hoisted 700 feet above sea level on top of the Harlow Hill Observation Tower we believe we have them at the highest point in the county – the bikes will be lit at night.
So what better way to show off the district's pleasure at hosting the Yorkshire Grand Départ of the Tour de France 2014.
Patrick Kilburn, the council's Head of Parks and Environmental Services, said: We have had a terrific response to this campaign to decorate the district.

We are extremely grateful to everyone who is taking part and particularly the Harrogate Pinewoods Group who have persuaded people to sponsor 11 bikes for the woods. Others have shown skills second to none particularly Harrogate's Oak by Design with their wooden bike that actually works and Ripon Spa Gardens Sun Parlour café who have gone cake knitting crazy – what a way to show off their businesses.

We came up with the idea of getting 101 bikes because this is the 101st Tour de France. We have maxed out that number and,as they say, the more the merrier.

We also want to encourage people to share their sightings using social media so that locals and visitors can share details of the decorated bikes and bike sightings. Please use Facebook: 101bicyclettes and Twitter: #101bespoke.
The full list of decorated bikes is available at http://www.harrogate.gov.uk/pos/Pages/101Bicyclettes.aspx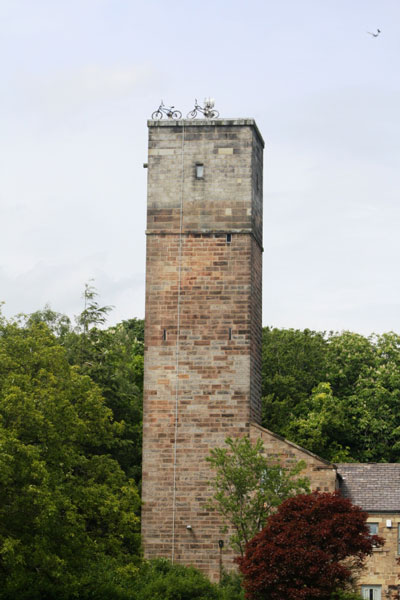 Harlow Hill (Observation) Tower is the highest building and view point in Harrogate at 700ft above sea level. The tower gives a 90ft viewpoint embracing three cathedrals, seven battlefields, seventeen castles, twenty-three abbeys, twenty market towns, over seventy gentleman's seats and nearly two hundred churches (and now two old bikes!)