Top honours for the 2014 Show Gardens at Harrogate Spring Flower Show have gone to the national charity, Perennial.
The charity, which supports people in need from the horticultural industry, is celebrating its 175th anniversary with a show garden called Essence of York Gate.
Complete with curved beech hedging, yew topiary and a steel water feature, the Premier Gold winning design aims to bring to life Perennial's public garden in Adel, Leeds. The garden has also been awarded the Newby Cup, a new trophy for the best show garden planting.
Judges of the 2014 show gardens presented four Gold Awards, five Silver Gilts and two Silver Awards.
Among the Gold winners were Driffield designer Matt Haddon, with his first show garden A sylvan pause, Harrogate Borough Council with their Grand Départ Legacy Garden, Northern School of Garden Design, Skipton, with The Harrogate Spring Water secret garden, and Selby-based Hibiscus Gardens and Landscapes with Serendipity.
Show Director Nick Smith said: The show gardens are one of our most popular features and we are delighted to have so many of the large scale gardens along The Avenue for visitors to enjoy.

The design teams have done a fantastic job this year and it is particularly nice to see Perennial celebrate their 175th anniversary with a Premier Gold and Matt Haddon receive a Gold for his very first show garden.
The results are as follows:
PROFESSIONAL
SG1 My peaceful retreat – Askham Bryan College, York SILVER
Cool, calm, secluded woodland and with a relaxation hut that blends into its surrounding landscape, providing a place of solitude to soothe the mind, body and spirit after a hectic day.
SG2 The Harrogate Spring Water secret garden – Northern School of Garden Design, Skipton GOLD
Creating a sense of privacy in an overlooked garden is just one of the aims of this playful garden, which explores thresholds and framing as it passes from formal areas for entertaining into wilder forgotten corners.
SG3 Uphill 'n down dale – BALI (British Association of Landscape Industries) Yorkshire & North East SILVER GILT
Capturing the spirit of the countryside in a small space, this design has an informal lay-out with soft curves and natural materials to take visitors on a journey through a wildflower meadow, a moisture-loving gully and a sunny spring border.
SG 4 A sylvan pause – Matt Haddon Gardens, Driffield GOLD
Shaded areas can be a challenge, but this section of a larger garden offers ideas for under-planting to provide year round interest. Vertical, permeable fencing snakes to create two different areas for planting and provide fence-line seating.
SG5 The Grand Départ Legacy Garden – Harrogate Borough Council GOLD
Celebrating the Yorkshire start of the world's biggest cycling race later this summer, this garden features a sculpture of three life-sized metal cyclists set against the backdrop of a traditional countryside landscape.
SG7 Halcyon – Generation Gardens SILVER GILT
Part of a therapeutic community garden, this is a place of calm, relaxation and positive influence for people with mental health issues. Planting attracts wildlife, while bright, light colours promote positive feelings and scents encourage relaxation.
SG8 The living room – Nicholas Edward Gardens, Harrogate SILVER
Featuring natural stone paving, timber decking, pergola and floating seating, this contemporary courtyard garden is designed to provide an entertaining space for a career couple with young family.
SG9 Tropical dream courtyard – Paxman Landscapes UK Ltd, Huddersfield SILVER GILT
Imagine re-creating the Caribbean in your courtyard. Designed for a small outdoor space, this garden utilises both hardy and exotic specimens to create that touch of the tropics.
SG10 The essence of York Gate – Perennial, Leeds PREMIER GOLD
Celebrating the 175th anniversary of the charity, Perennial, this design captures the essence of their public garden, York Gate, in Adel, Leeds. Curved beech hedging, yew topiary and a steel water feature are set to bring the garden to life for visitors.
SG11 Serendipity – Hibiscus Gardens and Landscapes, Selby GOLD
An unexpected, secluded spot within a larger garden, this design aims to provide a place of contemplation and reflection in the afternoon sun using the mellow shades of sandstone, timber sleepers for height and a splash of colour from perennial planting.
SG12 Woodlands re-united – The Wildwood, Retford NOT JUDGED
Driftwood decking and sculptures are among the highlights of this low maintenance coastal garden. The ecological, 'ecotone' concept of this design brings together natural woodland and coastal habitats to support a wide diversity of flora and fauna.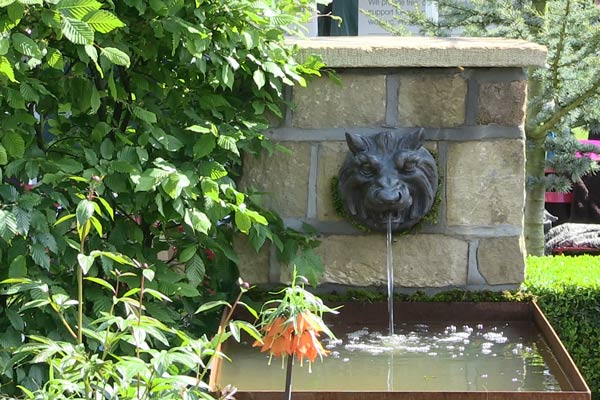 COMMUNITY
SG6 ParkMade: a celebration – Preston Park Museum & Grounds, Stockton SILVER GILT
Taking its inspiration from the Grade II listed museum and its 100 acre landscaped estate on the banks of the River Tees, this garden celebrates traditional crafts and skills, such as weaving, blacksmithing and perfumery, to be found in the park.
SG13 Celebrating 30 years of Horticap, Harrogate SILVER GILT
Representing three decades since the Harrogate charity was formed in 1984, this fun garden takes visitors through the 1980s, 90s and 00s, complete with crazy paving, hammock and veg plot!