Children from Oatlands Infants School in Harrogate saw their lessons come to life on a Harrogate construction site when they visited the on-going M&S Simply Food development on Leeds Road.
The Year 2 pupils who have been learning about the uses of clay were able to see the finished article in the shape of drainage pipes, as well as a range of other building materials.
The youngsters, who have also been learning the story of the Three Little Pigs, and hence the importance of good construction, were given an insight into modern building methods by architect David Bailey of DLG Architects and Contracts Manager Andrew Schofield and Site Manager Steve Dwan of GMI Construction.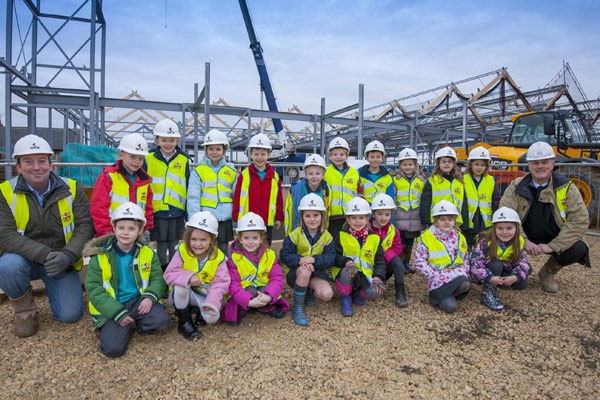 Around 75 children visited the site in total over two trips, accompanied by teachers and parents. They were shown pictures of what the completed building would look like and were able to handle items such as insulation and concrete, seeing steel lifted into place to form the frame of the building.
Construction Director Dan Murray of the site's Development Managers, St James Securities, said: The site is changing every day and we were delighted to welcome the pupils to show them some of the work that is going on.
The development, on the site of a former car showroom, is due to be completed in May, with the new M&S Simply Food store opening in June.
Main photograph: site manager Steve Dwan with, from left, Tom Osborne, Ollie Poyser-Senior, Angelina Spencer, Daniel Giliker, Eliza Webster, Eleanor Adrian-Horrocks and Georgina Scott.