An exciting flash mob took Trinity Leeds by storm this week as the Yorkshire Festival 2014 programme was revealed for the very first time.
Singers, artists and performers joined forces in a glittering spectacle at Europe's newest shopping complex, to give the public a taste of what to expect.
A carnival snail, woolly bikes, choirs and brass bands emerged from shops to join band Hope & Social on the concourse for a debut performance of the official Yorkshire Festival song, The Big Wide.
They were watched by shoppers and supporters of the Yorkshire Festival 2014 which began its procession from Angelica through the complex to watch the performance en route to Holy Trinity Church.
They are all part of the full programme of events which were announced today for the first time, as the county gears up for Yorkshire Festival 2014 – the first ever to precede the Tour de France in its 111 year history.
The festival is the brainchild of Welcome to Yorkshire and has been backed by Yorkshire Water, Arts Council England and Yorkshire local authorities. Out of almost 400 bids, 47 projects were commissioned (full programme in date order attached) to be officially part of the 100-day festival – which will also include hundreds of fringe events. Highlights include:
Los Angeles-based sculptor Thomas Houseago, from Leeds, has been tasked to create two magnificent, giant sculptures for Leeds city centre and the Yorkshire Sculpture Park. These will be his first commissions for his home county and the first ever commissions to be made by the Yorkshire Sculpture Triangle.
Phoenix Dance Theatre, in Leeds, will join forces with Scottish public arts charity NVA to create the world's first Ghost Peloton, led by Phoenix artistic director Sharon Watson and NVA creative director Angus Farquhar. Ghost Peloton incorporates a riding team of 50 road racers, stunt cyclists and large-scale projection of dancers all utilising unique remote controlled light suits to produce a stunning live choreography. Ghost Peloton builds on the worldwide success of Speed of Light, which was first commissioned for the London 2012 Olympics. An appeal has now gone out to Yorkshire cyclists to get involved in this once-in-a-lifetime experience.
West Yorkshire Playhouse will host "Beryl" written by TV star Maxine Peake to celebrate the extraordinary sporting achievements of Morley cyclist Beryl Burton. Beryl is a specially commissioned adaptation from Ms Peake's acclaimed 2012 Radio 4 play and marks her stage writing debut.
Award-winning director Daisy Asquith teams up with cult musician Bill Nelson to create a new film as part of a series of screenings to be shown on 10 outdoor screens in stunning locations across Yorkshire. Tour de Cinema presents fiction and documentary films (including Alan Bennett's rarely seen BBC film 'A Day Out', about a Halifax cycling club; and Jarvis Cocker's blazing soundtrack for The Big Melt) also in 35 local town halls and city centre big screens.
Young farmers and artists will create eight stunning major land art pieces across South Pennines landscape for Fields of Vision, co-ordinated by Pennine Prospects. This will capture the spirit and impact of the tour on the landscape of Yorkshire
Henrietta Duckworth, the festival's Executive Producer, said: Today we wanted to give people a flavour of this brand new arts festival – Yorkshire's a big wide county and we've worked with our world-class artists to create a rich and diverse programme of opportunities and surprises. It's a first for the Grand Départ and a festival of free events across all art-forms. We invite everyone to explore the new, celebrate together and be part of it.
Sarah Maxfield, Director North, Arts Council England said: Arts Council England is really proud to be supporting the festival. A festival of over 100 days is an ambitious goal but I'm very impressed by the high quality and breadth of the programme which is sure to impress the thousands of visitors from Yorkshire and beyond and will provide a lasting legacy for culture in the North.
Visit www.yorkshirefestival.co.uk, Yorkshire Festival on Facebook or follow Yorkshire Festival 2014 on Twitter – @YFest2014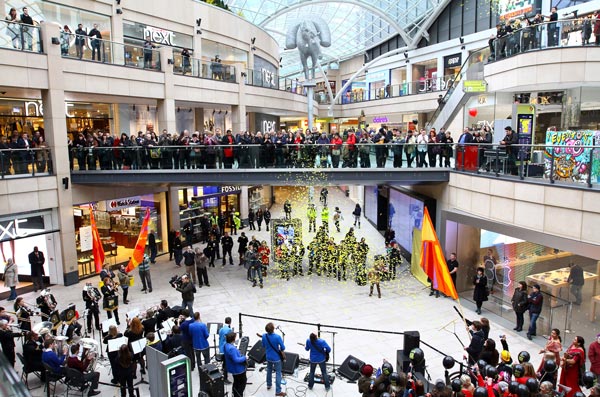 Tour De Cinema March 27 – July 5 Pan – Yorkshire
Award winning director Daisy Asquith teams up with cult musician Bill Nelson to create a new film as part of a series of screenings to be shown on 10 outdoor screens in stunning locations across Yorkshire. TOUR DE CINEMA presents fiction and documentary films (including Alan Bennett's rarely seen BBC film 'A Day Out', about a Halifax cycling club; and Jarvis Cocker's blazing soundtrack for The Big Melt) also in 35 local Town Halls as well as city centre big screens.
Fields of Vision Workshops: April & May Installation: June 1 – July 6 South Pennine
Fields of Vision will comprise of huge, grass-based land art installations in the stunning South Pennine Landscape. It will bring together artists, young farmers, cyclists and the community.
Thomas Houseago End of April – October Wakefield and Leeds
The YST's first ever commission: LA-based, Leeds-born artist Thomas Houseago who will create two spectacular sculptures in Leeds city centre and for Yorkshire Sculpture Park for the very first time.
The Tour of Infinite Possibility Workshops end of April, tours over two weekends: 7/8th June & 21/22nd June
Hope & Social will recruit, rehearse and create A Band Anyone Can Join for Yorkshire to play 12 shows in 12 locations (TBC) across the two stages of the race.They will release official festival song The Big Wide for artists and audiences to 'make their own.
Ghost Peloton May 16 – May 17 Leeds
Ghost Peloton is a highly ambitious collaboration between two of the UK's most respected arts organisations; Phoenix Dance Theatre and acclaimed Scottish public arts charity NVA.
They will create the world's first 'Ghost Peloton,' which will appear on film and see 50 choreographed cyclists in programmed light suits performing in central Leeds.
Bike Story June 20-July 5 Pan Yorkshire
Bike Story is about people and their relationship to the bicycle. Everyone has a bike story and the organisers want to hear yours. The ups and downs of cycling, the traumas as well as the triumphs. Mike Kenny and Martin Riley will weave a selection of these into a very special outdoor performance that will visit locations across the county, thrilling and entertaining audiences of all ages.
Hypervelocity July 2 – 6 Kirklees
Hypervelocity will use the streets of Huddersfield through to Holmfirth and Holme Moss as a giant canvas on which to display the most amazing creativity with performances and installations by international and regional artists and local communities. Watch out also for mysterious goings on in St George's Square!
Bonjour! Film your Tour competition Film shown at various locations and dates
Sustrans will run a county-wide competition in schools for a chance to be part of a short film explaining what the Tour de France is. Six winning schools will be selected to film six winning videos to professional quality which will form one overarching film.
Cheer Sing Workshops: March – June Cheering: July 5&6 Pan Yorkshire
Cheer-Sing workshops will teach communities along the route to devise, lead and perform their own chant-songs and clapping-raps, raising a mighty wave of support for the racers.
DepARTures March 27 Pan Yorkshire
CapeUK will enable all schools in the Yorkshire and Humber region to engage with Yorkshire Festival 2014 through 15 downloadable resources. Resources will support schools to find exciting ways to link to the Festival and encourage more young people to experience world class art and culture in Yorkshire.
Kes March 27 – April 5 Crucible Theatre, Sheffield
A world première of a new dance-theatre adaptation of a much-loved Yorkshire story – Kes
The Sheffield Steel Peloton March 27 – June 28 Sheffield
The Sheffield Steel Peloton invites local artists and public to discover Sheffield's finest export – Steel. Raw material of iron ore will be sourced from the ground in Sheffield (something not done for hundreds of years), smelted and sculpted to produce a unique one off bike head post badge designed by a Sheffield based illustrator to celebrate the Grand Départ.
A Taste of Honey March 27 – 19 April (Press night 1 April) Hull / Doncaster / Scarborough
Directorial debut at Hull Truck of new Artistic Director Mark Babych in Shelagh Delaney's classic set in Salford.
The production will move from Hull to the Cast Doncaster May 13 – 17 and then SJT Scarborough May 20 -24.
True Grit Digital Poetry March 27 – May
The True Grit Cycle uses the vibrant, engaging form of performance poetry to hear the direct, honest, imaginative voices of Yorkshire people speaking in their own communities and landscapes.
tutti frutti productions and York Theatre Royal April – June Pan Yorkshire
Monday's Child by award winning writer Brendan Murray, for children aged 3+ and their families. A simple poetic story of the unique bond between a grandmother and a child.
Wu Chi-Tsung – Dust 4 April – 31 May Sheffield
Site Gallery presents two interactive installations by the Taiwanese artist, rising star Wu Chi-Tsung. Crystal City 003 and Dust make use of everyday materials, plastic boxes, lights and dust, to create meditative dream worlds. This is the first chance for UK audiences to see Dust, which was produced by Site Gallery in 2006 and shown later that year at the Shanghai Biennial. It captures the shadows of tiny dust particles as they spiral around the audience to make a mesmerising abstract projection.
The Grand Departs April 5 Starting from Mytholmroyd, Calderdale 12 noon
Music and cycling challenge to test how many cyclists it takes to pull a grand piano up one of the longest continuous ascents in England. A range of pianists, professional and amateur, are being invited to play a specially composed piece of music as a team of cyclists attempt the arduous task. Spectators and supporters are invited to join in a send-off event and cheer the team on.
Ursula von Rydingsvard April 5 – Jan 2015 Wakefield
Major exhibition of sculpture by Ursula von Rydingsvard. The exhibition is the highly acclaimed American artist's first large-scale survey in Europe and will premiere new, large-scale work.
Theatre Tol, Spirit Festival April 12, 8pm Dewsbury
Theater Tol's Luce (Belgium): Inspired by the struggle between the mutually antagonistic Italian cyclists Fausto Coppi and Gino Bartali and set in the 40s and 50s, Luce tells of their rivalry. It's a battle on two wheels and a passionate love story with cinematic images, songs, dance, secret love letters, Luce end in a spectacular aerial show.
National Student Drama Festival – Sunday Times April 12 – 18 Scarborough
The National Student Drama
Festival is a Yorkshire institution.
It draws hundreds of rising stars –
actors, writers, directors, technicians and producers from across the UK.
Art and Yorkshire: Turner to Hockney April 12 – Oct 12 Harrogate
Art and Yorkshire: From Turner to Hockney, this is an exhibition of historic, modern and contemporary visual art that defines the spirit of Yorkshire.
From Versailles to Yorkshire: Sevrès and Moore at Harewood From April 18 – November 2
In 2014 Harewood's House and grounds plays host to a stunning display of works by French and British masters and contemporary artists: from the iconic sculptures of that quintessentially Yorkshire son Henry Moore to a tiny, exquisite tea set owned by the extravagant, ill-fated Queen Marie Antoinette of France.
The Fantastical Bike Parade April 26 Todmorden
A parade through Todmorden of fantastical bicycle creatures preceded by participatory workshops
Poised (2012) May 10 – June 29 Hull
The Ferens Art Gallery will work with Film and Video Umbrella and the artist Dryden Goodwin to present an existing video installation, 'Poised' (2012), in a new context whilst involving and inspiring local communities to produce their own creative responses to the exhibition.
Graham Watson exhibition May 15 – August Leeds
Exhibition of photographs by world renowned and respected cycling photographer, Graham Watson who has photographed the TdF from 1982 to present. Working in partnership with Rouler Magazine, White Cloth Gallery will also be exhibiting the work of Bernard Thompson – a photographer who concentrated on cycling from the early 60's through to the mid 80's.
Bike Show May 16 – July 12 Barnsley
Exhibition BIKE SHOW will show the influence of cycling culture on contemporary design. From technological advancements, to bikes made of sustainable materials to how to avoid bike theft, the exhibition will also examine the spectacle of the TdF –its history, its language and some Yorkshire riders who have ridden it.
I Fagiolini May 23 Beverley
I Fagiolini brings to life the music, mayhem, political intrigue and comic entertainment of Venice at Carnival through the music of Banchiere, Monteverdi, Gabrielli and Vecchi's madrigal comedy L'Amfiparnaso.
The Hunt May 26 – June 30 Pan Yorkshire
Treasure Hunt around Yorkshire, beginning with four mini hunts. Clues at these four events lead to a final hunt at an undisclosed location. At each location, Frolicked's distinctive puppets will make appearances, helping to guide hunters towards the prize.
The Last Train to Scarborough May 30 – June 14 Scarborough
This stage adaptation of Andrew Martin's 2009 novel will be a world premiere presented in association with the National Railway Museum in York and adapated and directed by Chris Monks.
Carnival Bentham by Bike May 31 Bentham, Craven
A trail of public artwork will be created at the Bentham Passing Place, a circular detour off the Way of the Roses cycle route. It is the first time Bentham havs engaged with a public art project and artworks will be in place by summer.
Yorkshire in Yellow 31 May – 7 Sept Gallery, Sheffield
Yorkshire in Yellow invites contemporary artists, designers, and creatives with a Yorkshire connection to design a tribute to the Tour's famous yellow jersey using yellow t-shirts as their canvas. These unique designs will be brought together to form a striking new display in the Millennium Gallery's main thoroughfare.
Cold Bath Slow Art June 7-8, June 14-15, July 5-6 Harrogate
To create celebrations on Cold Bath Road which engages with the community and celebrates the Tour de France in Harrogate, whilst simultaneously drawing attention to the benefits of sustainable transport.
Le Grand Voyage June 6,7 and July 5,6 Harrogate Theatre
An unforgettable theatrical experience throwing participants into the beating heart of the Grand Départ in a way like no other. This touring virtual reality bicycle ride, in which the participating cyclist gets to be a rider in an unusual version of the Tour de France, features the Yorkshire landscape – and more far-flung places. Created in collaboration with Il Pixel Rosso.
North Yorkshire Open Studios June 7-8, June 14-15 North Yorkshire
North Yorkshire Open Studios is in its tenth year and has grown to become one of the major events in North Yorkshire's cultural calendar. Professional artists open their studios to the public over two weekends and offer workshops, exhibitions, geocaching trails and arts walks.
Götterdämmerung June 14, June 18 + July 12 Leeds
Opera North is celebrating the Grand Départ as part of Yorkshire Festival 2014 with the final part of an exhilarating journey of its own. Götterdämmerung, or Twilight of the Gods, is the last opera of Wagner's epic Ring Cycle which will come to a conclusion just before the biggest cycle in sport takes off from Leeds.
Tour de Force Bicycle Orchestra June 20 – June 21 Huddersfield
Join hcmf// at workshops designed
to take recycling to a new dimension by building musical instruments from bike parts. hcmf// will help you explore your bicycle's tuneful possibilities and discover new sounds and music. Once made, you'll play bicycle music with the rest of your orchestra.
Wish you were here 21 June Grassington, North Yorkshire
Wish You Were Here is an opportunity for seven communities in North Yorkshire to celebrate what's truly special about their area by writing and performing their own original songs, aided by a great team of musicians drawn from NYMAZ's experienced delivery partners.
Tour de Brass June 21 and 22 Pan Yorkshire
TOUR DE BRASS is a weekend of brass-band concerts taking place across Yorkshire in locations along the two stages of the Grand Depart, culminating in a grand finale in York on the Sunday night with the Tour de Brass Yorkshire Prom concert performed by the world-famous Black Dyke Band.
Details about bands and locations will be on the Yorkshire Festival website and www.brassedon.org
The Really Big Sing June 24 Scarborough OAT, North Yorkshire
The Really Big Sing is offered to every school in North Yorkshire, culminating in 'A Really Big Sing' performance of the songs with up to 6,000 pupils and staff at the Open Air Theatre in Scarborough – bringing the Tour De France Cultural Festival to the Coast.
Bicyclism June 24 – July 7 Leeds City Museum, Millennium Square
Bicyclism is an exhibition, website, performance and publication about the people in and around Leeds that inhabit cycling, its history and its popular culture. The project will be curated, created and delivered by Leeds based artists, writer and musician Boff Whalley and photographer Casey Orr.
Lost Boy Racer June25 – 27 Lawrence Batley Theatre, Huddersfield
LOST BOY RACER is a quirky northern comedy-drama with a touch of blood-sweat-and-tears, a large dose of cycling wisdom lubricated with fun and farce, with some off-the-wall dance and bike antics and a love story of sorts.
The production will feature a special set made of bike parts from sculptor Tim Tolkien.
Bicycle with Barefoot June 27 -28 Halifax
A small scale dance show combining Indian dance with the creation of a bicycle painting, shared with the audience at the end of the performance at Eureka!
Beryl by Maxine Peake June 30 – July 19 Leeds
Beryl Burton was one of the greatest cyclists the world has ever seen. She was born less than 3 miles from West Yorkshire Playhouse and trained with Morley Cycling Club. Originally written for radio, TV star Maxine Peake has adapted her own script for the theatre.
Cart before Horse June 30 – July 6 Pan Yorkshire
Cart before Horse is a powerful new contemporary circus performance which will be created especially for
Le Grand Départ. It will include workshop activity around trick cycling and other circus skills and a piece which tours outdoors in six shows across Yorkshire.
The Woolly Bike Trail July 1 – 31
Cassandra Kilbride is a prolific yarn-stormer. For the Grand Départ, Cassandra is creating ten woolly bikes based on familiar Yorkshire themes, from woollen mills to whippets. Follow her thread between locations, or take part in a free workshop.
Festival of Colour Light and Space July 3 – 6 Sheffield
In its centenary year, Sheffield Cathedral will be working with Eye Music Trust and Yorkshire artists to undertake a creative outreach programme that will culminate in a 5 day creative showcase within the stunning. Colourscape arts installation on the Cathedral forecourt, inspired by the visit of the Tour de France to Yorkshire.
Bell Ringers Herald Cyclists July 5 & 6 Around TdF routes
Church bells across Yorkshire will welcome Le Tour with traditional English change ringing. As well as ringing bells on the route as the cyclists approach, ringers from around the country will be invited to join in a Festival of Ringing as part of the 100 day cultural event.