A large crowd defied incessant heavy rain to watch Town record an impressive victory over a Leeds side containing six senior professionals.
Craig Nelthorpe almost gave Town the lead within twenty seconds of the start when his snap shot flashed narrowly wide.
Leeds, with Dominic Poleon and new signing, Gboly Ariyibi, attacking down the wings, began to threaten, but Town had the better chances with Steve Mallory having a header cleared off the line, before shooting wide of the upright.
After twenty minutes Leeds had a great chance to open the scoring when Poleon's penetrative run was ended by a foul on the edge of the penalty area.
Luckily for Town, Stephen Warnock's free kick just missed the far post with Craig MacGillivray helpless to intervene.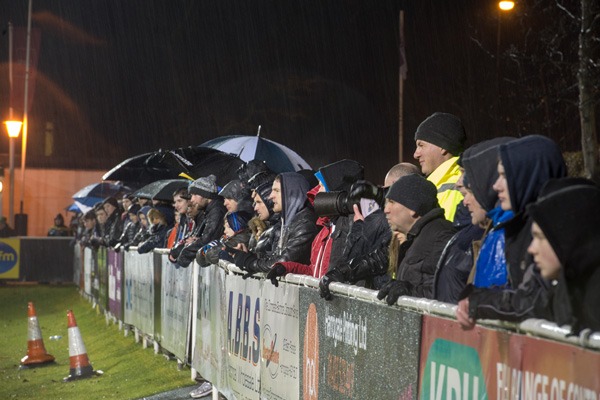 Mallory's defence splitting through ball released Liam Hardy, but Scott Wootton's timely tackle halted the Town forward,and Alex Cairns came out quickly to block Chris Hall's follow up.
Another dangerous Nelthorpe corner fell to Matt Heath who layed off to Hardy, but his drive was off target.
Zac Thompson sliced well wide as Leeds pressed after the break and it then took a last ditch tackle by Shane Killock to halt Poleon.
As in all friendlies there was an abundance of substitutions,and it was a Town sub, Nathan Cartman, who created the first goal when he broke clear and unselfishly squared to Nelthorpe whose shot had just enough power to trickle over the line.
On 76 minutes,Leeds captain Richard Bryan, brought down Jahmal Smith 20 yards out and Conor Sellars brought the crowd to its feet with a brilliant free kick over the wall to make it 2-0.
For Town,Peter Crook replaced MacGillivray in goal, and he soon earned his corn with a double save from Poleon and Lewis Walters.
Town put the result beyond doubt with eight minutes left when Smith's header over the top found Cartman and he beat Cairns from close range.
Leeds continued to play attractive attacking football and Killock cleared off the line before robbing Walters when he looked sure to score.
With three minutes left, Poleon crowned a fine game when he shot into the corner of the net to give Leeds a consolation goal.
Town
1 MacGillivray, 2 Samuels, 3 Merris, 4 Brown, 5 Heath, 6 Killock (c), 7 Mallory, 8 Nowakowski, 9 Hall, 10 Hardy, 11 Nelthorpe.
Used subs Bloomer, Sellars, Bolder, Metcalfe, Crook, Smith, Cartman, Birch.
Scorers Nelthorpe 63, Sellars 76, Cartman 82.
Leeds United 1 Cairns, 2 Coyle, 3 Warnock,4 Bryan (c), 5Wootton,6 Drury, 7 Ayiribi, 8 Thompson, 9 Hunt, 10 Lenighan 11 Poleon.
Subs 12 Grimes(gk), 14 Hutton, 15 Walters (68 mins),16 Dawson (68), 17 Denton (79).
Attendance 1354
By John Harrison