The Performing Arts students entertain the guests Carol singing in the Chapel.
Elderly residents of local Parishes and Care Homes have enjoyed some festive spirit, thanks to the good will and dedication of Year 8 pupils from Saint John Fisher Catholic High School. The students treated their distinguished guests to fine cuisine, musical entertainment, carol singing and a session of bingo during a seasonal Christmas Party.
The tables were designed and decorated with Christmas trees, gingerbread houses and an assortment of decorations. The highlight being a wonderful gingerbread Santa's sleigh, complete with reindeer, created by pupil Ben Shaw.
The pupils provided their own ingredients to make the culinary delights in the school kitchens after raising funds by working hard and completing chores at home.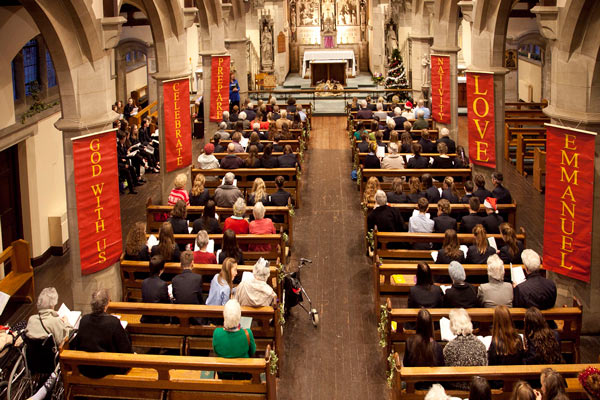 Christmas songs were performed by an impromptu band consisting of staff and pupils from the Music and the Arts Department. A choir sang carols and young performing arts students entertained the enthusiastic visitors with dance routines. The afternoon was rounded off with carol singing in the surroundings of the school's beautiful Chapel.
Head Teacher Paul Jackson said: Catholicism is at the heart of our school.

We value the contribution our students provide to the local community. The Christmas Party is a wonderful way to break down barriers between young and old, especially at this time of year.