Engineers deliver 'bumper broadband summer harvest' with 20,000 further premises passed this summer – bringing fibre broadband to half the county.
More than half of North Yorkshire homes and businesses are now able access high-speed fibre broadband.
Superfast North Yorkshire passed a further 20,000 homes and businesses between July and September – meaning a total of more than 73,0001 premises are now able to access high-speed fibre broadband as a direct result of the project.
The rapid progress means that more than half (52 per cent) of the county can now get superfast broadband – offering speeds of up to 80Mbps – when BT's commercial roll-out of fibre broadband is also taken into account.
Engineers from BT's local network business, Openreach, have been keeping busy over the last three months- clocking up more than 31,000 man hours and laying 100 kilometres of fibre optic cable – enough to stretch right across the county from Scarborough to Skipton
More than 20,000 North Yorkshire premises in around 50 towns and villages have been passed with fibre this summer– taking the total figure for the county to more than 198,000 homes and businesses.
A total of 29 new exchange areas have been enabled along with the installation of 77 new green fibre cabinets. A number of areas, which previously had no fibre broadband at all, have now been connected for the first time including around 3,000 premises in the rural communities of Boroughbridge, Pately Bridge and Kirkbymoorside.
Councillor Carl Les, chairman of Superfast North Yorkshire, said:

This is a significant milestone that has been achieved on time thanks to the dedication of the hundreds of engineers who have worked tirelessly on this project over the summer months.

Superfast broadband will open the doors to countless business opportunities in the county, boosting the rural economy and supporting thriving local communities.
Maria Miller, Secretary of State for Culture, Media and Sport, said:

We are seeing a transformation in broadband up and down the country. The nationwide rollout of superfast broadband is now well under way, with over 10,000 rural properties now gaining access to superfast broadband each week as a result of our program.  More than half of North Yorkshire premises are now able to enjoy all the benefits superfast speeds offer, which is fantastic news for individuals, businesses and the local economy, and this is just the beginning.
The Superfast North Yorkshire project was the first in the UK to deploy fibre broadband using Broadband Delivery UK (BDUK) funds following the signing of a £36.4m contract led by Yorkshire County Council and BT in July last year. It builds on BT's commercial fibre investment so that 90 per cent of North Yorkshire's 380,000 homes and businesses will have access to fibre broadband by the end of 2014.2
Ultra-fast broadband speeds of up to 330Mbps will start to become available 'on demand' as the technology is rolled out across the existing fibre footprint.3
Engineers from BT's local network business, Openreach, will have laid around 10,000 kilometres of optical fibre cable and installed around 660 new fibre broadband cabinets in streets the length and breadth of North Yorkshire by the time the project is completed.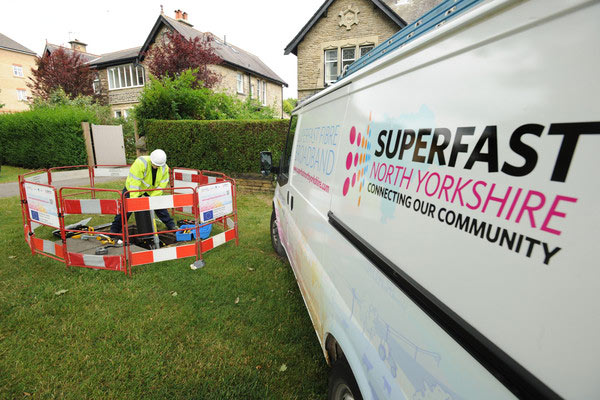 Bill Murphy, BT's managing director of next generation access, added:

This is a great achievement, particularly with all the challenges that rolling out a fibre network in such rural and remotely populated county like North Yorkshire brings.

Fibre broadband will bring the digital world right to the doorsteps of homes and businesses across the county. We know that small businesses form a key part of the local economy in rural areas. Faster broadband breaks down the barriers to doing business in the digital world like online trading, which helps to empower those small businesses to find new markets, sell new products, try new models and compete on an equal footing with larger businesses.
The high-speed network installed by Openreach is available on an open, wholesale basis to all companies offering broadband services so North Yorkshire households and businesses will benefit from a highly competitive market.
The majority of premises in North Yorkshire will be getting access to some of the best broadband speeds in the country via Superfast North Yorkshire and BT's associated commercial roll-out. The high speed service will boost the competitiveness of local firms and offer new ways of flexible working, entertainment and learning opportunities for local residents.
Fibre broadband gives users the ability to run multiple bandwidth-hungry applications at the same time such as sending and receiving large amounts of data much more quickly and efficiently. At home, fibre broadband enables a family to simultaneously download a movie, watch a TV replay service, surf the internet and play games online all at the same time. A whole album can be downloaded in less than 30 seconds and a feature length HD movie in less than 10 minutes, whilst high-resolution photos can be uploaded to Facebook in seconds.
BT was chosen as the private sector partner in the project following an extensive selection process by the county council. The company is contributing £10 million towards fibre deployment in "non-commercial" areas whilst the county council is using its £17.8 million share of BDUK funds and a further £8.6 million coming from the European Regional Development Fund.
To help businesses in North Yorkshire take advantage of the faster broadband speeds a support service has been put in place to provide free services such as training workshops, skills master classes and business development events. This will demonstrate how faster broadband connections can help to develop business and increase profits by maximising efficiency and productivity.  For more information call 0845 0020021 or email: enquiries@sfny.co.uk
For further information on the Superfast North Yorkshire programme visit www.superfastnorthyorkshire.com
Due to the current network topography, and the economics of deployment, it is likely that some premises within the selected exchange areas will not initially be able to access fibre-based broadband. Alternative solutions for these locations are being investigated.