Yorkshire jeweller, Christopher Stoner Fine Jewellery has decided to support The Haven, a national breast cancer support charity that has a centre in Leeds, this Breast Cancer Awareness Month (October) by creating an exquisite bespoke bangle for the charity to raffle at its 5th Birthday Ball on October 12th. The piece, which has been exclusively designed and donated to the cause. It is the only one of its kind and valued at £4,250.
The two arms of 18ct white gold bangle 'hug' either edge of the centre stone which is 'supported' by two round brilliant cut white diamonds representing Christopher Stoner Fine Jewellery, and two purple amethysts representing The Haven. The central part of the design is a fine pink sapphire which represents the heart of the cause that Christopher Stoner is generously supporting.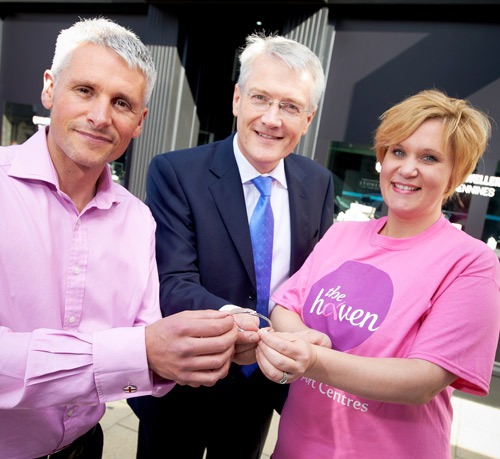 Victoria Whitely, designer of the bangle said:

I thought very carefully about how I could design the piece to represent both the partnership between Christopher Stoner Fine Jewellery and The Haven, as well as the care The Haven provides to those affected by breast cancer in the region.
Christopher Stoner, MD added:

We're delighted to be able to support such an important charity during Breast Cancer Awareness month and hope that this stunning piece will enable them to raise significant funds to help continue their programme of care.
Andrew Jones, MP said:

The Haven do outstanding work in our area supporting those with breast cancer. The money raised from the raffle of this generous gift will ensure that their work continues benefiting local people offering them help and support at a time of great need for them and their families and friends.
Elizabeth Barran from The Yorkshire Haven said:

We are over the moon and very touched by this generous and stunning donation from Christopher Stoner Fine Jewellery. We hope that at just £15 a raffle ticket, the Yorkshire public will dig deep and help us raise as much as possible!
Raffle tickets for the bangle draw cost £15 per ticket and are available to purchase through The Haven's website, www.thehaven.org.uk/havenbangle , at The Yorkshire Haven or at both Christopher Stoner Fine Jewellery stores. The winner will be drawn at the 5th Birthday Ball on 12 October 2013.