THURSDAY 19th September
Revolution has Disco Dave playing there on Thursdays. He's a good lad but he said he was going to send me some details about the night and thus far has not, so (and it's not even my fault for once) I remain unclear as to what he's playing on Thursdays… I'll ask him tonight but that's not much use for the purpose of writing a preview, so instead I'll tell you a few little known facts about Disco Dave instead: Disco Dave (real name David Discovery) Drives a Landrover Discovery (no relation) and comes from Abbindon-upon-Whimsey, a fictitious town near The mouth of the river Whimsey. He once represented the United Kingdom at The Eurovision song contest performing a cover version of The Human Leagues "Don't you want me (Baby)" where he changed the lyrics to "Don't you want me (Estonia)" in a blatant attempt to curry favor from that country. Unfortunately the translation was done in a shoddy manner and it appeared like Dave was asking all of Estonia outside for a fight. This resulted in the notorious 17 year war between the UK and Estonia during which 250 thousand people lost their lives. Fortunately The Human League were not harmed in the conflict. Dave also holds the world record for eating Macaroons, which is 6.
Skapegoat Kelly hit the Blues Bar for their monthly residency gig, also there is live music at the Alexandra, who have Staxx playing, who I HOPE are a Styxx cover band but I don't know that, I'm just picturing how awesome that would be…
YOLO R'n'B night as ever hit's The Viper Rooms nightclub this evening, plus there are other regular clubbing options. I DJ at my Party Rock night at Rehab, which is free to get in, that's downstairs, whilst upstairs has Dj Tex playing stuff with a more urban flavor (old people note, if you are describing something with an urban flavor it is much more cool to write "Urban Flava" because presumably people who like that kind of stuff can't spell for siht.)
Christies tonight holds it's weekly pub quiz, which is presented by Sean "The Bear" McGrath. Recently Sean has been taking screen shots of my little write ups about him, so I want to see how far I can go about him before he stops putting them on his facebook. For example, DID YOU KNOW that Sean invented those rubber things that girls put in their bra's to make their bra contents seem better. They are called Rubber Livers, which is Sean's middle name. Also he is the brother of that guy who is the brother of Wolvering in the film Wolverine. He looks JUST like him, although is technically 7.3 times harder than him. Sean's pub quiz starts at 8.30, or, if you prefer, Eight and a Half, which is also a vital measurement of Sean's.
FRIDAY 20th September
The Blues Bar welcomes Blind Dead McJones this evening for a night filled with Blues tinged frivolity from these British Blues Awards nominees. Check out their beards, they are splendid.
Rehab's weekly club night "Electro Circus" runs every week. That's what weekly means, however WEAKLY means to do something to a poor standard. For example: "Trev came back from holiday and wrote his weekly preview weakly because he wished he was still on holiday. Or if not on holiday, asleep".
Viper Rooms hosts its weekly cocktail night Lavish, which has Capital FM's Ollie Hayes.
Zoso bar plays host to The Guerilla Dub Reggae with drinks offers and deep reggae and dub getting played all night.
Moko Lounge tonight holds a black light party, which is lots of UV lighting and glow in the dark stuff. These nights are essentially just normal club night with different clothes but are really fun and people go a bit mental with it (or they do at ones I've DJ'ed) and also there is the added bonus that at least 6 girls wont know that it's on and will go wearing a white bra. The downside is if you are wearing a black top you will think you look like you've got dandruff. But you don't so don't let it bother you. What you should be worrying about is them little foamy bits you get in the corners of your mouth when you are excited, they make you look like a french dog.
I think The Den still has live pianists there on Fridays, I've not spoken to them for a bit… I do work there once a month and should probably attend to that, but am currently too busy reading everyone's exciting facebook status's about the new Grand Theft Auto computer game, or about the new I-Phone platform. As someone who doesn't have an I-phone or play computer games, I am finding it all incredibly thrilling. Like listening to women complaining about other women that they work with.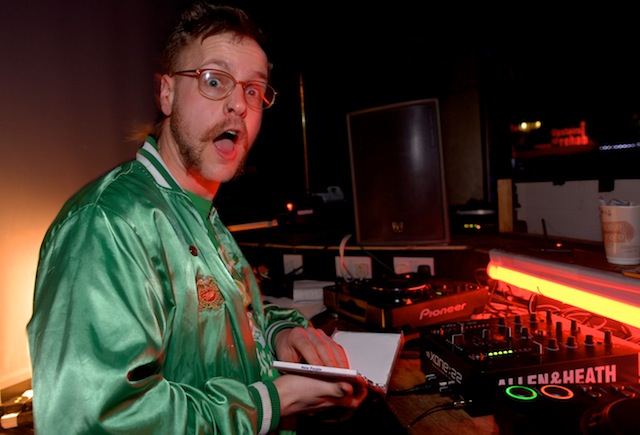 Retro Bar has the monthly mammoth event that is the Geek Pub Quiz this evening. I can't describe this any better than saying it's a funny pub quiz aimed at Geeks which I guess you will have surmised from the title, if you've never been to Retro Bar check it out, it's an interesting little place up on commercial Street.
The new venue in town, Grape & Graze, has got a "Live Lounge" event on this Friday. 3 acoustic acts, listed here alphabetically as I don't know the order they are on in : Aaron Bertenshaw, Biz Denton and James Hughes (that is a really good alphabetical list by the way, it works for both their first names AND their second names, result) all play tonight, I've not seen James but I know the other two are good at their stuff and The Grape & Graze take over at this long standing great location seems to be working a treat. Plus they have some good beers on and some fit bar staff so yeah, thumbs up all round!
SATURDAY 21st September
Saturday is Business as usual, the following events are on weekly, which whilst not very exciting for me to write about, clearly means they are doing it right so I'll not mess about and I'll just give you some listings, like what I am meant to do:
The Blues Bar presents Harrrogate living legend Jed Thomas and his band.
Revolution has soul & R'n'B in the front bar with Dj Tex and in the main room Disco Dave plays upfront dance and chart.
Your Dj Pieman is on the top floor at Rehab playing rock and Downstairs it's dance, both floors being free entry all night.
Vipers has Dj Jay Collins playing house and chart music upstairs, whilst in the lounge there's Angel Lee playing guilty pleasures and feel good music and is free entry before 11pm.
Risque is at Moko Lounge, which seems to be a mainly a house night.
The Den advertises live music on Saturdays when I'm not there, this week I'm having yet another Saturday off, as part time Djing is the new black, cos I'm at Mint Festival in Leeds. So I suspect it will be live music there.
Sean "poppa Bear" McGrath plays his cheesy disco down at Christies this Saturday. I've just realized his second name is McGrath, but I'm not sure if that's how you write it… It COULD be "MC G Rath". Does he rap when he is Djing? Can someone please tell me, and if at all possible video the results, I think as an MC he could be Harrogate's answer to The Wee Papa Girl Rappers. Or he could be the black Vanilla Ice.
SUNDAY 22nd September
Blues has The Sherlocks there in the afternoon and The Matt Goldberg Band will be rounding up the night there for another good day of live music.
Every week The Alexandra has the Sunday Soundcheck which is an acoustic night.
The Fat Badger has their Sunday Pub Quiz.
There are two clubbing options : Viper Rooms will be holding it's regular "Peek-a-boo" club night and, after what seems like ages off, I'm at Rehab with the "sort of request night". It technically IS a request night, but I'm not kidding, if you don't know the difference between asking for a song and shouting a song at me then going NEXT, I'm sorry, it's not a request night, it's a "go away" night.
More or less Cut n' Paste MONDAYS:
Your Dj Pieman holds his The Alexandra Pub Quiz with a roll-over cash jack pot this week of an OBSCENE £620 to be won. I think this is one of them things you get a prize for winning then you also get a chance to "open the box" or "pick a door" or something. Apparently there are 14 choices left. So IDEALLY in 13 weeks I will go for my annual Piemans pub quiz and be able to retire. Because £620 used to be one nights work for me, now it's about 3 months.
The night then continues with several options: Rehab is closed on Mondays so they invite you round the corner and down the road to Zoso where Dj's Max & Jakeplay a pretty much "anything goes" set. Pete Oliver hosts an open mic session at The Blues Bar and "Mokioki", the karaoki night at Moko Lounge, is the place that is open until you run out of money or standing up ability.
TUESDAY 23rd September
The Blues has an acoustic night this Tuesday, with (he gets around a bit doenst he?) Biz Denton, Adam Westerman and Tom Peacock.
The Tap n' Spile has it's folk night, that I've not been to for ages and really must get back there because it's really good.
Moko Lounge has two rooms open on Tuesday, in the main room it's upfront dance and electro, whilst in the VIP Room Jaye Selway presents her Rock Box, playing rock anthems.
Zoso plays host to The Electro Jam, the weekly open decks sesh where anyone can rock up an play ANYTHNG… Seriously, I would LOVE it, I WOULD LOVE IT, if someone turned up and played some of the songs I've been told I've GOT to play at a wedding I'm doing – just to nip this in the bud before it starts, I DO NOT do weddings, this is for a mate who is too big to be reasonably expected to take no for an answer. But really, playing Michael Bolton's "Once in a lifetime" is going to be a bloodclaat BANGING HANDS IN THE AIR dancefloor smash at the wedding so you should go down to Zoso and steal my thunder by playing it there. Twice. Back to back on two turntables.
There is a house night down at Revolution called "Back to Rev's" with 2 decent Dj's, Tex & Toby "Sixus" Skinner. Knowing what those guys are like, I reckon if you go "Back to Rev's" to see them, after that you can go "Back to Theirs" to smoke some banana skins.
WEDNESDAYS 24th September
Wednesdays are always :
Your Dj Pieman at Rehab
Paul Middleton's Angst band keep it Blue at The Blues Bar.
SHAMELESS SELF PROMOTION
I've got one of them Mixcloud profiles, Mixcloud.com/djtrevuk and I'm determined to put up a new show there this week as it's been a month since I bothered. In that time however my statistics have taken an IMMENSE leap and now my shows average 12 (T.W.E.L.V.E) listeners. When I get up to 20 (T.W.E.N.T.Y.) I will be holding an open top bus parade through the center of town. If, for some reason, you've enjoyed reading this, you might like my blog which is at facebook.com/djtrevuk but does contain stronger language than this and worse opinions.
Thanks for reading, drink responsibly and don't be loose with your affections.
Trev x x x