CHARLOTTE CORY: VISITORIANA at the Mercer Art Gallery, Harrogate 14 September 2013 to 12 January 2014
Charlotte Cory is one of the country's leading surrealist photographers. In the Mercer Art Gallery's entertaining new exhibition Cory puts her literary knowledge, her artistic talents, her wit and daring into the creation of a nineteenth century world all of her own.
Charlotte's world derives from her investigation of the history of photography, her admiration for Victorian paintings and her knowledge of and affection for the writings of the Brontës and their Haworth Parsonage home. Here she brings the Brontës to Harrogate. Inspired by their powers of literary invention she dares to tamper with the image of one of William Powell Frith's most famous paintings, Many Happy Returns of the Day, transforming the members of the Frith family into birds and animals with her own particular brand of photo-collage.
Cory's photo-collage portraits are more usually made from images taken from Victorian calling cards, or cartes-de-visites and her own photographs of stuffed animals, creating new pictorial narratives, Charlotte's work has even won Royal approval – HM The Queen owns a corgi queen image in the photography collection at Windsor Castle.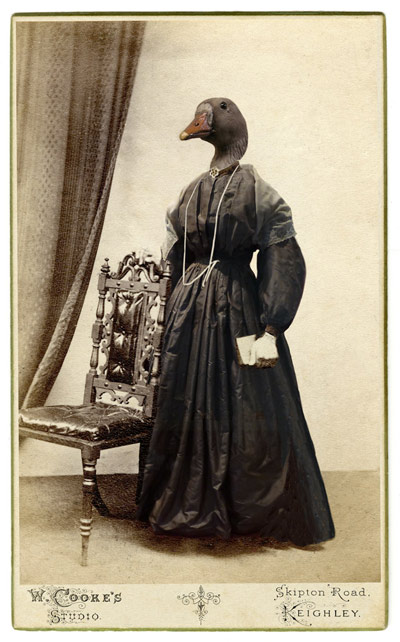 Charlotte Cory remarks:  "I first visited the Bronte Parsonage when I was 10.  I walked round mesmerised committing every room and item in it to memory.    Here in Harrogate all these years later, I ask about all the things I did NOT see at the Parsonage – and then I recreate many of them.  The shipwrecked trunk, the lost treasures, the unpainted pictures.  The Bronte sisters themselves never went into a photographic studio – so I take them, retrospectively.  And since they all clearly preferred animals to humans, I think they would be delighted with the results."
Charlotte Cory's Visitoriana at Harrogate has been organized in partnership with the Brontë Parsonage Museum, Haworth and the Long and Ryle Gallery in London. Cory sees all of these locations as being of importance to the Brontës: 'Haworth is home. Harrogate is nearby, and it's the place where they went to take the foul-smelling healthy waters… London meanwhile always represented somewhere enticing and alluringly unattainable to the Brontë family.' As three distinct exhibitions, each location allows a different focus and adds new substance to the family's story. This is the Brontës as they have never been seen before.
Photo opportunity at the Mercer Art Gallery Wednesday 11 September when the artist Charlotte Cory will be at the Mercer Art Gallery installing her exhibition. Call Jane Sellars on 01423 556182 for details.
The Mercer Art Gallery is open Tues to Sat 10 to 5, Sun 2 to 5. Closed Mondays expect Bank Holidays. Gallery closes at 4 pm November to March. Admission Free
Contacts & Further Information:
Charlotte Cory, Visitoriana, at The Mercer Art Gallery, Harrogate:
14 September – 12 January 2014 visit http://www.harrogate.gov.uk/mercerartgallery for details. For curatorial and press information, contact Jane Sellars Curator of Art, The Mercer Art Gallery, Swan Road, Harrogate, HG1 2SA 01423 556188 jane.sellars@harrogate.gov.uk
Follow us on Twitter @MercerGallery, and on Facebook www.facebook.com/mercergallery